Getting your hair cut and styled by a professional can make all the difference in how you look and feel. If you're looking to prep your hair like a pro, barbers in NYC is one of the most popular barbers in New York. 
If you're looking for a new barber, you would have to visit your best barbers shop in NYC to have a great men's haircut and learn how to keep it in good shape. Thereafter, all you have to do is maintain it properly. Here are some tips and tricks for prepping your hair like a pro.
First – Look for the Best Barber Shop in NYC
Since 1896, Pall Mall Barbers have been at the forefront of men's haircuts and male grooming and have set the agenda for style-conscious gentlemen for over 123 years in London. To this day, we are driven by our dedication to giving the highest quality experience to our clientele, for each of the 63,196 haircuts we delivered last year.
Our relentless dedication to deepening our knowledge of styling techniques and traditions across the globe has given birth to a world-class suite of products and services that combine cutting-edge London styling with the very best global male grooming techniques.
This focused approach has led to us becoming the largest and most awarded independent barbering business in London with over 52 haircutting seats and 23 award-winning products.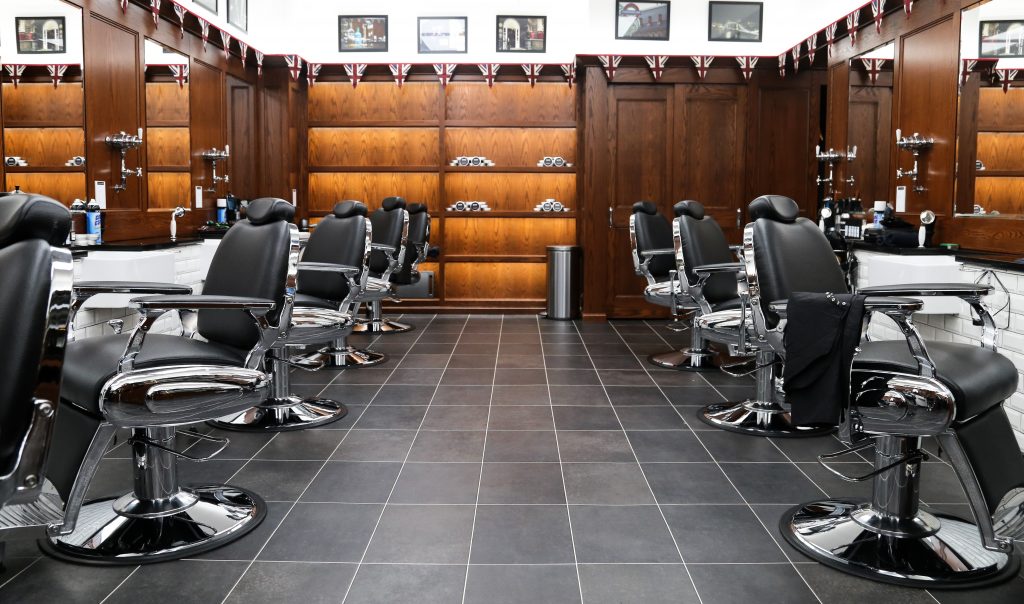 Pall Mall Barbers NYC
Pall Mall Barbers NYC is one of our most popular thanks to its perfect location. Our master barbers in NYC are experts and executioners in all men's haircuts, shaves, and beards from classic to modern haircuts. That's what makes Pall Mall Barbers one of the best barber shop in NYC
Pall Mall Barbers NYC operates to exacting standards and has a robust and comprehensive approach to delivering services and developing products and staff to ensure that every grooming experience and product that we develop is of the highest quality.
This focused approach has led to us becoming the most awarded independent and the best barbershops in Europe with 23 award-winning products and over 10 industry awards across our services and products.
Our team of barbers are trained through the  BarberTalk program to help clients talk about their mental health concerns. Duke of Cambridge – Prince William is a long-term advocate for mental health issues, and his visit to Pall Mall Barbers was covered globally by the press. 

Next – Make an Appointment with Best Barbershop in NYC
Make an appointment and be prepared to explain what kind of cut or style you're looking for. Be sure to schedule your appointment at least 24 hours in advance. This will give the barber time to consult with you about your desired style and make any necessary preparations. If you don't know where to begin, just tell your barber in NYC how long it's been since your last haircut, they will be able to work on your hair more efficiently. 
Show your barbers NYC photos of some variations of the hairstyle that you like. This will help them to suggest what can try to start with a hairstyle that will work for you by looking for pictures of people with a similar hair type to your own, e.g. don't show a picture of curly hair if you have straight hair or vice-versa. 
If the hair type is much different from your own, then the cut isn't going to look the way you picture it in your head. You could simply ask your barber in NYC what kind of haircuts suit you the most, and they would be able to advise you to learn how to communicate with your barber in NYC.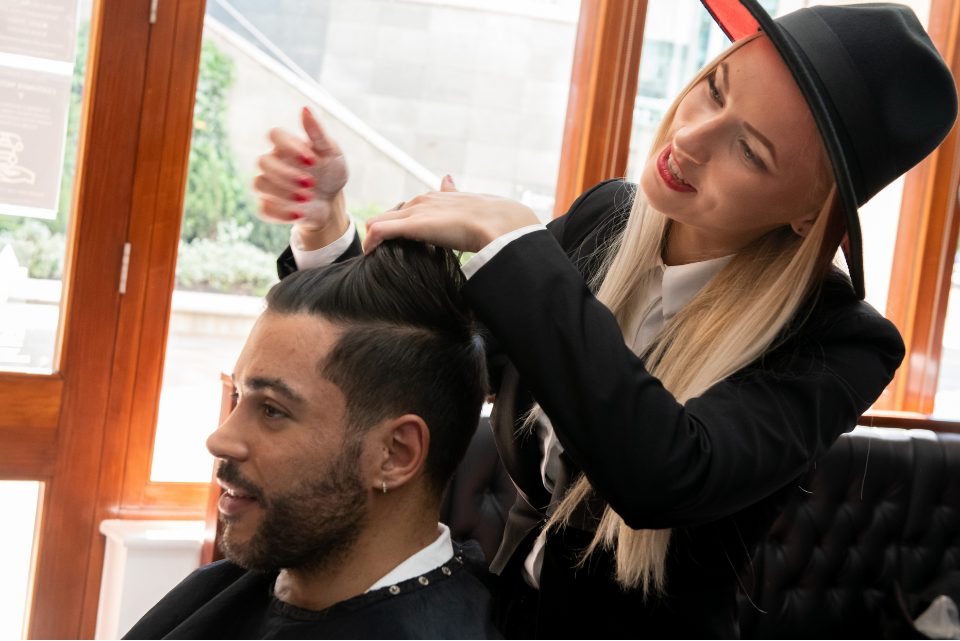 Ask your Best Barbershop in NYC What They Can Do For You
Your NYC barbers have experience in cutting countless heads of hair to be able to make recommendations, so don't be shy to ask what they think is best and trust their expertise.
You may have spent hours reading through guides like ours to put together what may be your perfect haircut. Although this may make you feel like preparation and research are enough, simply asking your NYC barbers for advice is vital. 
Don't be crushed if it turns out that he or she believes that what you want may not work for you. It avoids dissatisfaction with a disappointing result and a breach of trust with your NYC barbers.
Lastly – Listen To Your Best Barbershop in NYC
Listen to the stylist's advice and be open to trying new things – you might be surprised at how great you look! Barbershop in NYC recommends that you use quality and the best men's products at home. 
Our range of hair styling products for men has been developed over many years using the finest ingredients – ones that really work, and also smell great. And we've tried and tested them with the people that matter – our customers, to make sure that they definitely do what they say on the tin. 
Whether you want a smooth slicked-back look, like that of those Mad Men Don Draper and Peter Campbell, or maybe you prefer a more rugged, casual, and messy style like Prince Harry likes to sport, then we'll have just the right hair styling products for you.
Your barbershop in NYC will advise you and show you how to use the product properly – we always suggest that you use it a little bit first, warm it between your hands and then apply it. We've even created a load of videos to give you advice on how to use them if you can't call our barbershops. Why not head over to the Pall Mall Barbers YouTube Channel and have a look?

Argan Daily Cleanse & Style Set
If you're looking for a new way to boost your hair's health, then you should consider the Argan Daily Cleanse & Style Set. This product is a set of shampoo, conditioner and Pompadour paste that will leave your hair clean, smooth, and shiny. 
The set works on most types of hair including dry or damaged locks which makes it perfect for even those who have had trouble finding the right products in the past. Get ready to love every strand of hair on your head with this one simple solution! – barbershop in nyc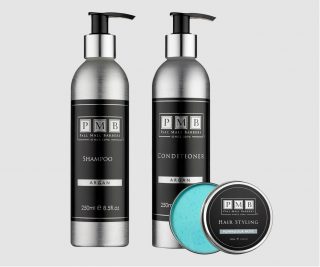 Argan Enriched Shampoo
Argan Enriched Shampoo is designed specifically for men's hair care. It has the perfect blend of ingredients to provide your hair with essential nutrients like Vitamin E, fatty acids, and minerals which are important for healthy growth. Plus it smells great!
The key to a healthy head of hair is shampoo. Argan has been used for centuries as an essential ingredient in cosmetics and beauty products. The antioxidants found in argan oil help keep your scalp and follicles healthy, while also providing nutrients that promote growth and reduce breakage. This rich shampoo will leave your hair feeling soft, smooth, hydrated, and looking fresh.
Argan oil comes from natural plant oil produced from the kernels of the Argan tree that is endemic to Morocco. We recommend our Argan Enriched Shampoo be used on daily basis to help blitz dandruff and relieve a dry and itchy scalp. Perfect for repairing split and dry ends, our argan-enriched shampoo helps to hydrate and indulge hair, leaving a soft and silky finish. – barbershop in NYC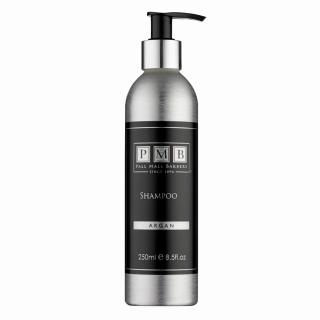 How to Use it?
Rinse hair in warm water. Apply shampoo and slowly work into a 'tingling' rich lather whilst massaging the scalp. Leave for 30 seconds and rinse completely. Repeat if required and finish with a conditioner for best results.


Argan Enriched Conditioner
A luxury and powerful argan-enriched conditioner for vitality. Our uniquely formulated product was designed specifically to improve the shine, and the strength of your hair with a natural plant oil produced from an endemic tree found only in Morocco! 
The Vitamin E-enriched formula Treatment will help hydrate dry split ends as well as strengthen strands against breakage so you can enjoy healthy-looking locks without worry all day long.
A luxurious and powerful argan-enriched conditioner for vitality, lustre. Our oil has been designed specifically to improve the shine and strength of your hair with a natural plant product produced from Morocco's iconic Argan tree; it contains vitamin E perfect if you're in need of hydration or dry split ends!
Directions: After washing hair with our Argan Enriched Shampoo, apply a small amount to your wet hair. Apply from root to tip. Rinse. For intensive conditioning leave in for up to 5 minutes before rinsing. – barbershop in NYC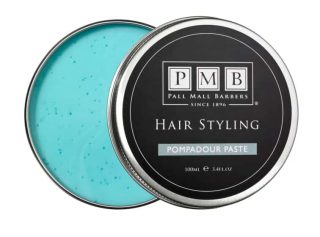 Pompadour paste
Pompadour Paste is a flexible gum that manipulates and separates the hair into your desired style. It helps to give you a medium-to-firm hold, enhancing shine while adding texture in addition to being easily washed out at any time! Perfect for achieving messy or matte looks depending on who it's going with–our pompadours are great no matter what length it needs to be done on too. – barbershop in NYC
Directions: Apply a small amount of paste on the thumb in order to manipulate and separate hair.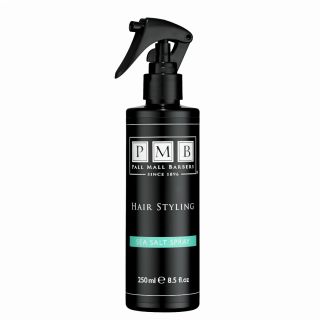 Sea Salt Spray
A hair styling product that allows you to create texture in just washed hair; removing that wispy, overly soft look and adding movement and subtle hold. You can also use Sea Salt Spray to refresh a style between washes on mid to long hairstyles. It is perfect for a messy, undone look with a subtle hold. 
Use it to create a fresh-from-the-beach look with added volume and thickness. Sea Salt Spray is a product that helps you style your hair into that wet, messy, "beachy" look everyone loves. It gives your hair beautiful waves due to the salt component in the spray. – barbershop in NYC
What's so good about it?
Get the unique texture of a day on the beach by using this product – goodbye flat hair, hello volume! Our best Sea Salt Hair Spray is perfect for a messy, undone look with a subtle hold. Use it to create a fresh-from-the-beach look with added volume and thickness. 
This is the perfect tool for adding grip and shape to your hair without adding any grease. Fantastic if you like your hairstyle longer on top and want to look stylish, but casual – and you don't want to take too much time over hair styling, with hair products for men in the morning. – barbershop in NYC
How do you use this product?
For texture to just-washed hair: You don't have to use a hairdryer with this one – just liberally spray all over the roots and lengths of towel-dried hair, work through the lengths with your fingers and you're done – let it dry naturally. Alternatively, for more volume and defined texture, you can spray this Spray all over and use a hairdryer to add shape; then finish the ends with styling wax or pomade (try our Workable Paste). For refreshing your style: Just spray the lengths only with the Sea Salt Spray, comb away from your face and style as desired.
If you want a messy, undone look with an added hold that will last all day long then our Sea Salt Spray is for you. It's perfect for men who need their hair not to hold but still have some semblance of control over its appearance in the windy outdoors. Shop now and get your hands on this product before it runs out! – barbershop in NYC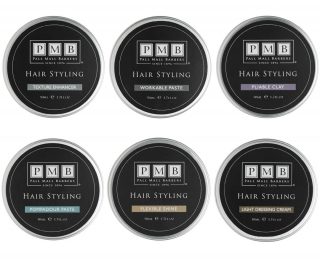 Men's Hair Styling Products
To keep your haircut looking super groomed, try one of our styling products specifically formulated for all your hair needs, from light styling creams to pompadour pastes for the slick 50s look. A little goes a long way so use these products sparingly.
Flexible Shine – Styling Product For Men
Pall Mall Barbers' flexible shine is ideal for creating messy, textured looks that can be reworked throughout the day and easily washed out. Our flexible shine styling product for men creates volume and provides a natural finish for the hair. It works perfectly on hair of all lengths, helping to keep a strong and slick look, without any stiffness.
Directions: Rub a small amount between the fingers and through damp or dry hair for great definition and a matte finish.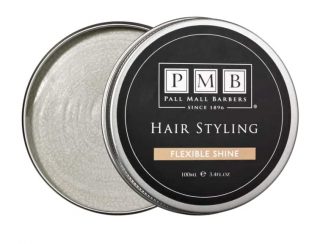 Workable Paste 100ml – Styling Product For Men
Pall Mall's workable paste is ideal for styling hair at home, helping you to achieve the trendy hairstyles we style on our clients in our London barbershops. Perfect to use on the go, our workable paste helps add a little shine to hair whilst still helping to achieve an immaculate and sleek style.-barbershop in NYC
Directions: Apply a small amount to wet or dry hair and work from the root to the tip, shaping it into the desired style.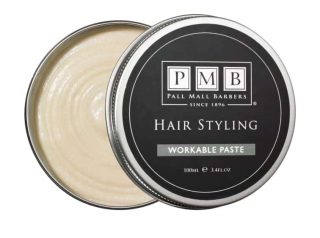 Light Dressing Cream 100ml – Styling Product For Men
Pall Mall Barbers' light dressing cream is a pliable moulding cream that gives a natural finish and shine and has a medium hold. Our dressing cream helps to obtain your desired style all day long, whilst still being exceptionally easy to wash out at any chosen time. Perfect for even the shortest of styles, our light dressing cream helps to create your desired style, without any added feeling of stiffness.
Directions: Apply a small amount using the fingers to dampen or dry hair, and work from roots to ends for natural shine.

Pliable Clay 100ml – Styling Product For Men
Pall Mall Barbers' pliable clay is a versatile clay that gives definition to short textured hair and creates styles that can be reworked throughout the day. It provides hair with a dry matte finish and it can be easily washed out at any desired time. Perfect for enhancing texture and adding volume to the hair, our pliable clay is an essential styling tool to keep at home. -barbershop in NYC
Directions: Rub a small amount of the styling product between the fingers and work from root to tip for a strong, matte hold with added texture.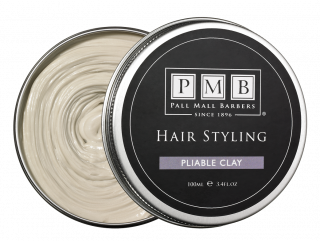 Texture Enhancer 100ml – Styling Product For Men
Pall Mall Barbers' texture enhancer is best used in short hair. It helps both thicken and add texture in just one application, giving the hair a strong yet supple hold with a natural matte finish that can be easily washed out at any desired time. Perfect to use both at home or on the go, our texture enhancer helps to add volume and style to the hair in a matter of seconds.
Directions: Apply a small amount to dried hair to be able to shape and reshape.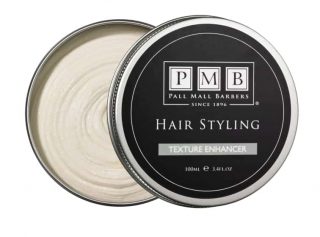 Pomade 100 ml – Styling Product For Men
Our luxurious pomade was designed specifically for those with thicker hair. With its distinctive and masculine scent, our fragranced oil will help to style hair with a classic and sleek finish. Providing a stronghold and helping to define and control the hair, it can be easily washed out after use. Suitable for all hair types, including short and medium lengths, our pomade oil will help to create both slicked back and side parting styles.
Directions: To apply use a small amount of damp or dry hair and style it into place.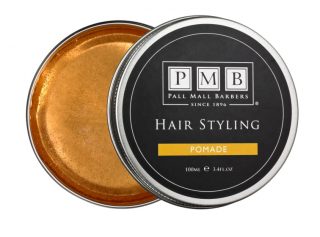 Prepping Your Hair Like a Pro with Best Barbershop in NYC
Men's grooming is experiencing a huge boom, with modern men taking care of themselves more than ever before, so we have put together these tips and tricks to prep your hair like a pro. Don't forget to get regular trims at the barbers in NYC every 4-6 weeks. Book in whilst you're at your previous appointment to ensure you keep your hair cut fresh, and your hair healthy. 
The saying "your hair is your best accessory" rings true in all situations. While you can put on a great outfit, it takes a suitable hairstyle to complete your look on both casual and formal occasions. 
So, a good hairstyle is important if you want to look stylish and presentable wherever you go. It also makes you feel more confident! Besides going to the best barbershop in NYC town for a grooming session regularly, it's important that you adopt suitable men's hair products to keep your hair in shape. Book your appointment now with Pall Mall Barbers NYC and you will never regret it!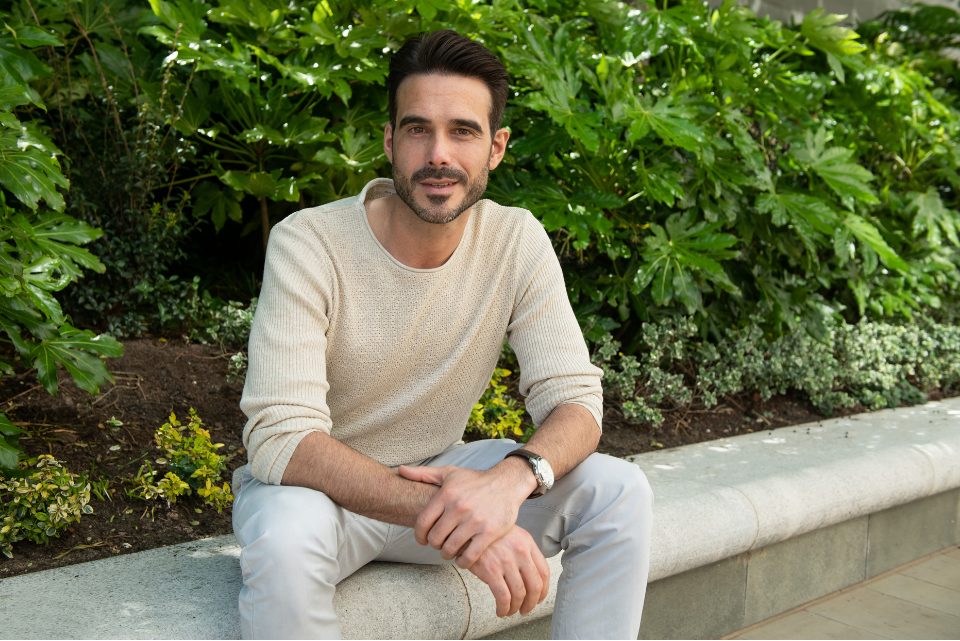 Barber | Barber shop in New York | Barbershop New York | Barbers Shop | Barber shop | Barber shops near me | New York Barber shop near me | Barber shop NYC | men's barber shop | men's barber shop near me | Barber nyc | barbershop | best barber shop nyc | barber shop in new york city | barber shops | barbershop in nyc