Pall Mall Barbers and the Press– our name represents quality, professionalism and expertise. Our salons reflect traditional barbershop styling – full of wood panelling, lean-over sinks and retro-style fittings.
Pall Mall Barbers is one of the oldest and most respected barbershop businesses in Central London. With our salons staying true to the traditional barber shop heritage, Pall Mall Barbers has become established as a sought-after location amongst media companies seeking an authentic backdrop for filming, photo shoots and live interviews.
Over the past 10 years, we have worked with the world's most iconic brands  & press such as Google, Jack Daniels, Hugo Boss, World Retail Congress, Club Wembley, Master Card, Champions League, BMW, Facebook and many others.

We have also seen more than 200 different press clips for high-profile companies such as GQ, The One Show, BBC, BBC Group Chat, BBC Art News, Channel 4, Sky 1, Men's Health, Sunday Brunch, Daily Politics, ABC News, ITV and many more. Thus, we are familiar with the demands of production companies, the requirements of journalists and the pressures of live radio.
Not only are our barber shops sought after, but so are the opinions of our barbers who are some of the most experienced and knowledgeable in the UK with over 300 years of collective international experience.
Our team of barbers' expertise and The Duke of Cambridge's visits are often referenced in leading national and international publications & media such as The Evening Standard, The Independent, Daily Mail, Royal UK, Tony Bowles Daily, The Gentlemans Journal, Paddington Central, Royal Life Magazine, The Manual, Onin London, The Resident, The Grooming Guru, The B. Mag, The Telegraph, British Library, Good Morning America, People, Gov. UK, The New York Times, Luxury London and many more.
They are comfortable in front of a camera, happy to be interviewed about their craft, giving advice or tips and can demonstrate their media skills on live models.

Some of our barbers have been invited into TV studios to provide barbering services such as on Channel 4's Sunday Brunch where the presenters had a live beard shave-off. Even ITV's Mr Selfridge called for the professional skills of one of our barbers when a shaving scene was called for and an actor that was able to authentically shave the lead actor with an open blade.
Luxury London.Co.UK, One of the popular blog websites in London featured Pall Mall Barbers as one of the best barbers in London.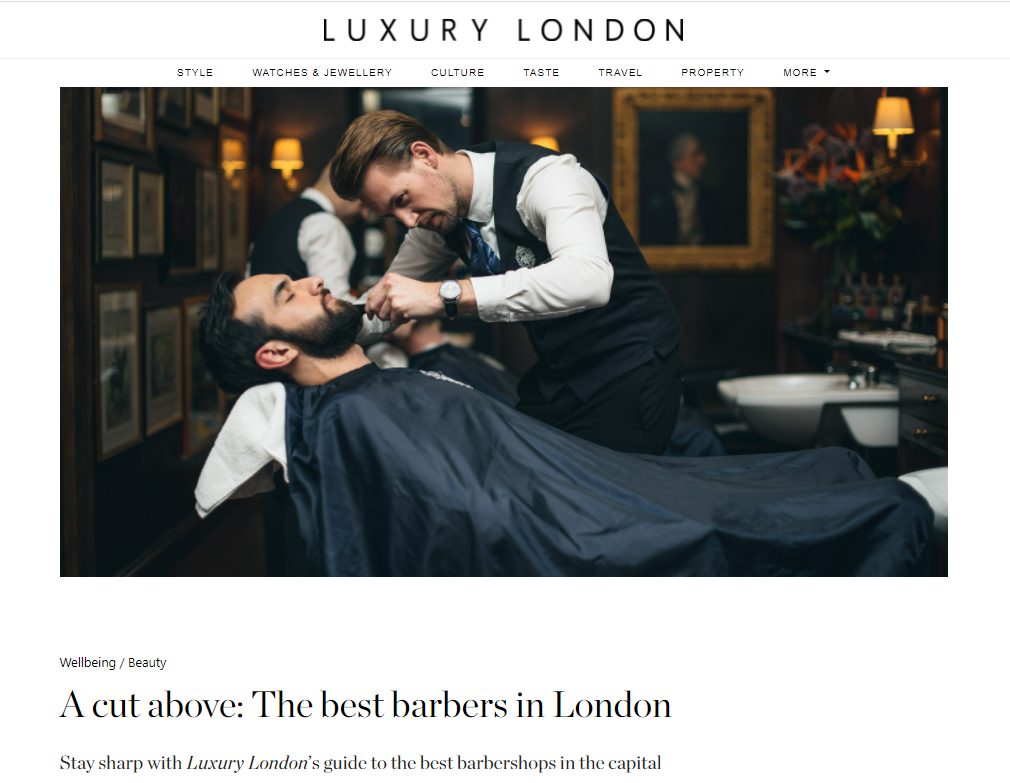 " Is there any relationship more vital than that between a man and his barber? Founded on a dynamic of trust and respect, the barbershop offers a sanctuary in which men can relax and take pleasure in being pampered, all while shaping their style. So it's all the more important that your barber is the right barber for you." – Luxury London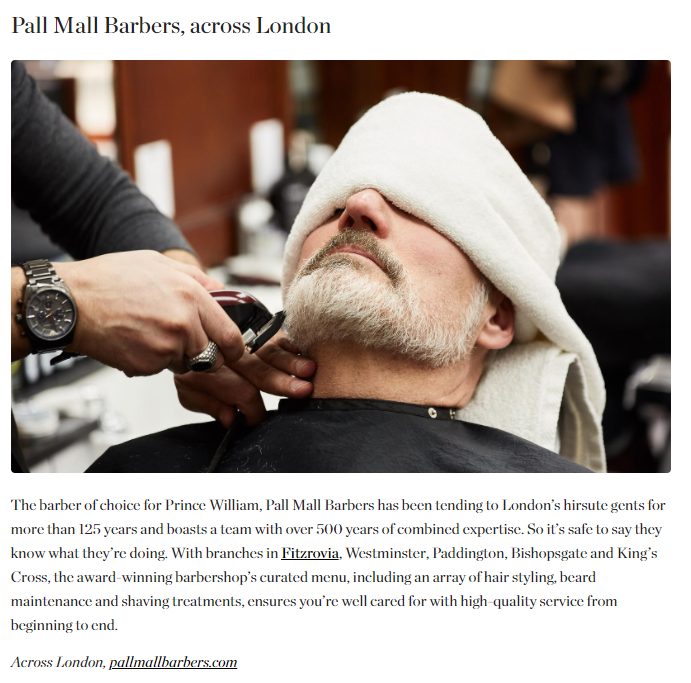 We continue to grow their media platforms by dishing out advice on how to style your hair at home or helping you recreate that classic look you've seen in a film or on TV. And with an ever-growing social media following Pall Mall Barbers are quickly becoming the go-to source for all things grooming. Whether it's advice on what products to use, how to tackle common hair problems or simply sharing their passion for great hair, Pall Mall barbers are always happy to help. So if you're looking for some expert guidance on your next hairstyle, make sure you check out Pall Mall Barber's media channels. You won't be disappointed. – press

Nearest Subway Stations
47-50 Streets Rockefeller Center Subway Station
7 Avenue Station
Times Sq-42 St
5 Avenue-Bryant Park Station
42 St – Grand Central Station
Lexington Av-53 St
Book an appointment with our awesome team of Midtown, this can be done via our Website Booking System. Alternatively, call the shop and speak to one of our friendly team members, who will be delighted to make a booking for you.
The service menu provides a full description of what to expect when you visit Pall Mall Barbers Midtown.
Please bring your own face covering with you for your appointment. We want to save the NHS. Please find information on our services and visiting restrictions in our COVID-19 section here. 
Barber | Barber Shop New York | Barber Shop | Barbers Shop | Barber Shops Near Me | New York Barber Shop Near Me | Barber Shop NYC | Men's Barber Shop | Mens Barber Shop Near Me | Barber Near Me | Best Barbers in NYC | Best Barbers NYC | Master Barbers NYC | NYC Barbers | Midtown Barbers | New York Barbers | Barbers in Manhattan | Barbers Manhattan | Best Barbers in Manhattan | Barbers in Rochester NYC | Astoria Barbers | Barbers Astoria | NY Barbers | Best Barber in Brooklyn | Brooklyn Barbers | Pall Mall Barbers NYC
Pall Mall Barbers Midtown
10 Rockefeller Plaza
Lower Concourse,
New York
,
NY
10020
United States (US)
Phone:

+1 (212) 586 2220