Our Story
Since 1896, Pall Mall Barbers have been at the forefront of men's haircuts and male grooming and have set the agenda for style-conscious gentlemen for over 122 years in London. To this day, we are driven by our dedication to giving the highest quality experience to our clientele, with over 70,000 haircuts we delivered last year.
Our relentless dedication to deepening our knowledge of men hairstyling techniques and traditions across the globe has given birth to a world-class suite of men grooming products and barber services that combine cutting-edge London styling with the very best global male grooming techniques.
This focused approach has led to us becoming the largest and most awarded independent barber business, with over 52 haircutting seats and 23 award-winning products.
A Rich Heritage
With a long-established history of providing hairdressing and grooming to gentlemen, our story dates back to London in the 1600s, when the Pall Mall was transformed from an area for croquet-like games played by royalty and nobility into the shopping and hairdressing destination for well-to-do gentlemen from across the capital and world.
As a destination, Pall Mall and St James' have long held a reputation as the home of the best men's outfitters, barbers, perfumers, and gentlemen's clubs – frequented by distinguished dandies, politicians, and the upper classes. With such proximity to royal households, many of these businesses are long-standing Royal Warrant holders as suppliers to the Royal Family.
Pall Mall Barbers was originally founded in 1896 as the Pall Mall Toilet Saloon at No. 27 Whitcomb Street, just off London's iconic Trafalgar Square. Since then, we've served countless gentlemen in our 122 years, helping them look their best and make their first impression count.
An inspirational tale
Our owner and founder, Richard Marshall, started working in barbering at the age of 12, sweeping floors and making tea in a barbershop in his hometown. He dropped out of formal education at 15, unable to read or write at the time, and his father encouraged him to find a trade – so he took up barbering as a full-time job. Richard took a qualification in barbering, winning his college competition two years running, as a student of the year and winning the South of England Championships consecutively – heading to the national finals. This award-winning mentality has driven Richard for his whole career. By the age of 21, Richard had moved to London and started barbering in Mayfair, just off Savile Row, building a loyal clientele and following. At 28, in 2005, he bought the original Pall Mall Barbers store from the previous family owners – growing the business to 6 central London stores and the beginnings of our international expansion.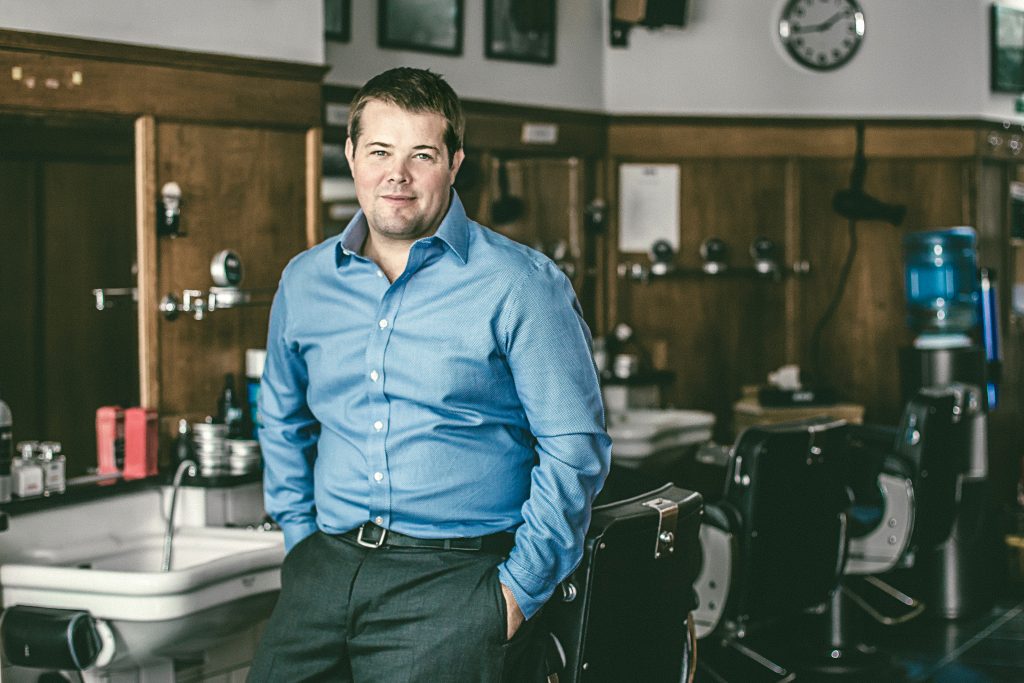 Barber History
A serendipitous discovery of an old business card for the Pall Mall Toilet Saloon, whilst renovating the original Pall Mall Barbers store, sent Richard on a quest to discover the history behind his new business. A lucky twist of fate landed photos of the original store in Richard's hands, found by a woman in Australia who had been sorting through a box of family belongings. London's barbershops have some of the most iconic shopfronts in the world. The red and white striped poles you'll find outside all our shops date back to the 1500's. Today we continue to focus on giving you the sharpest haircut possible. We offer the highest level of service with modern styles and a blend of modern and traditional techniques to deliver a unique, unparalleled experience.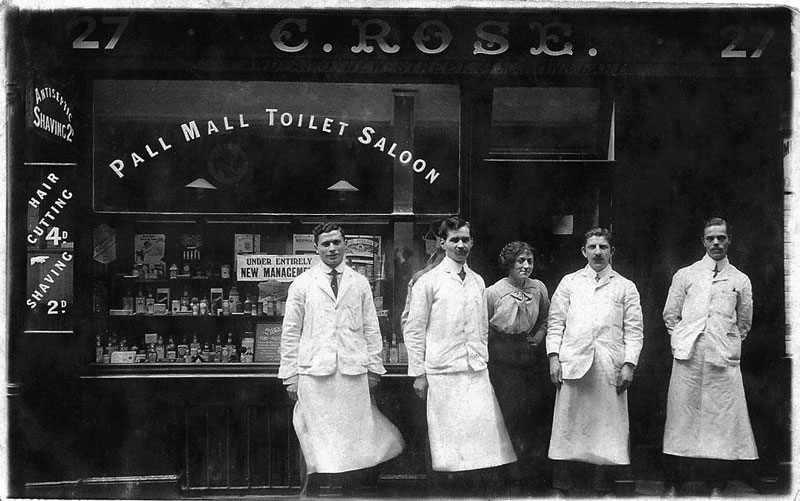 Purpose
We exist to empower gentleman to look and feel fantastic in order to take on the challenge of life and achieve their aspirations. Our dedicated team of male grooming professionals have a combined experience of over 450 and we are passionate about developing partnerships with our clientele through a deep understanding of what they are aiming to achieve. Every one of our clients receives a grooming experience that is bespoke to their individual needs.
Commitment to excellence
Pall Mall Barbers operates to exacting standards and has a robust and comprehensive approach to delivering services and developing products and staff to ensure that every grooming experience and product that we develop is of the highest quality. This focused approach has led to us becoming the most awarded independent and the best barbershops in Europe with 23 award-winning products and over 10 industry awards across our services and products.
Global Expansion
As the most highly reviewed barbers in Europe, we've set our sights on taking the traditional gentleman's London barbering experience worldwide and what better place to start than in the Big Apple? New York has long been a part of Richard's dreams of success – since watching Trading Places in his youth, he's wanted to have his own barbershop in New York City. We know that the gentlemen of New York will benefit from the attention to detail and expert knowledge and skill that our barbers bring to their work. Every visit to Pall Mall Barbers is more than just a haircut, it's a lifestyle choice.
We worked with MasterCard to provide 4,000 haircuts in the main square in Cardiff over three days. Fans could either choose 'Madness' having portraits and flags sculpted into their hair for a chance to win tickets to the final, or 'Priceless' an unforgettable PMB-quality experience with all the fanfare of the football. We featured celebrity appearances from David James and Ryan Giggs and a Barbershop quartet. MasterCard won an award for the popup initiative at The Pro Awards in 2017 and was also shortlisted for an award at the Sports Business Awards.