There is no shortage of barbers in the world, but finding the right one for you can be a daunting task. It's important to take your time and do your research before settling on a barber. We'll provide tips on how to find the perfect barbers that suit your needs. We'll also discuss the importance of finding the perfect barbers who take their time with each haircut and offer quality service. So if you're looking for a new barber, keep reading!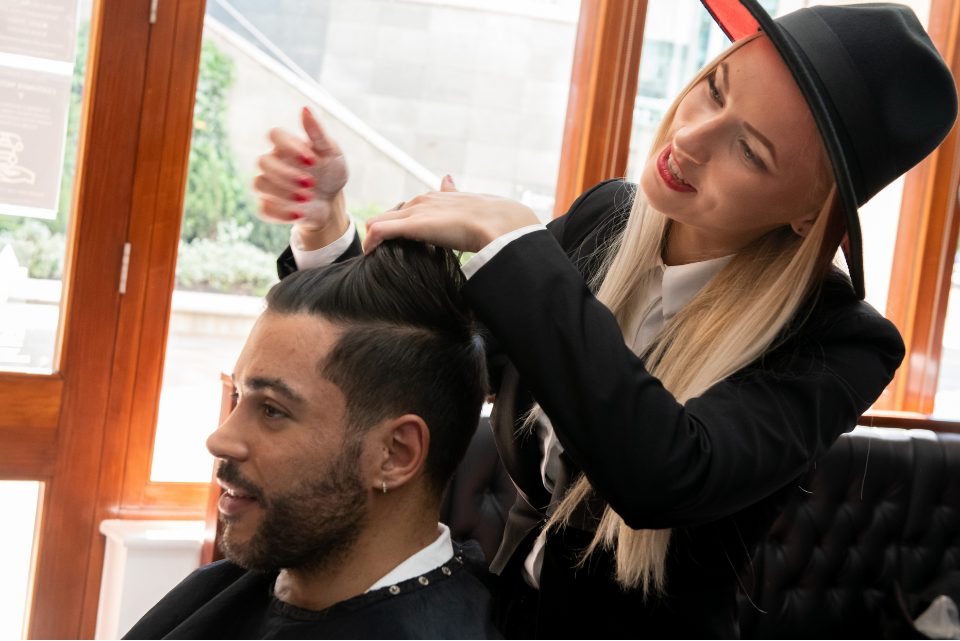 How to find a barber that suits your needs?
Finding the right barbers is an important decision. You don't want just any barber, you need a barber that will take care of your needs and provide quality service. Most of us have had a bad haircut at some point in our lives, but there are ways to avoid that situation. Finding the right barbers to cut your hair is an important task. You want someone who can listen to what you need and do it well while giving recommendations for future cuts.
To find the perfect barbers for you, we recommend asking friends and family members if they know of one or two good places in town. The best time to ask people is when they get their haircut done because this way you'll be able to see firsthand how satisfied they are with the place. Another option would be to look into reviews online and find out what people are saying about different places in your area.
It's important to take your time and do your research before settling on one, but what does that entail? Here are the four questions you should ask yourself when choosing a barber:
Do they specialize in any specific hair type (e.g., curly)?
What style of haircut do you want?
How much experience do they have with cuts for this hair type and length?
Will their prices work with my budget?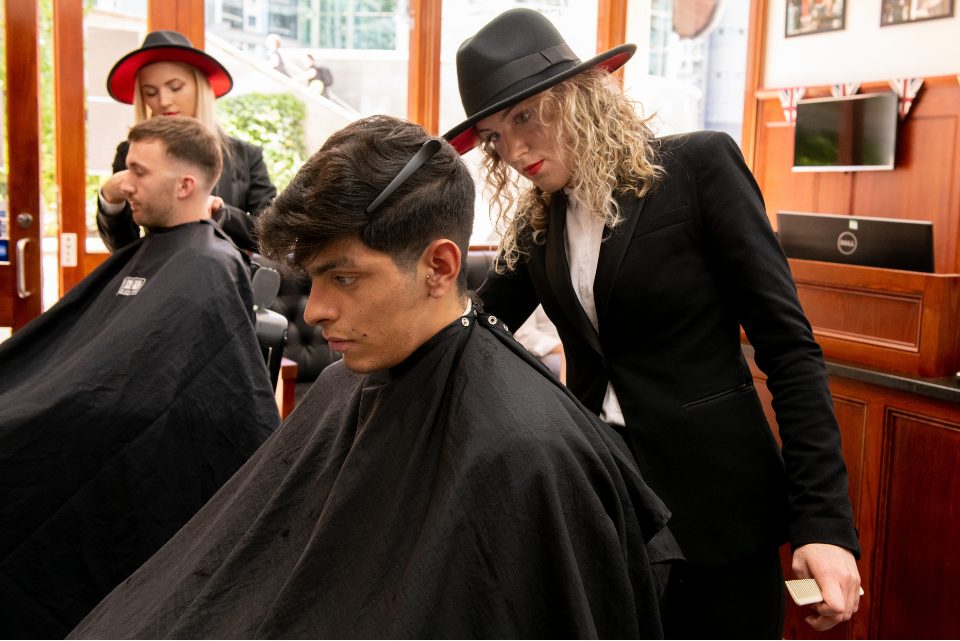 What to expect when you go for a haircut?
Men's Haircutting is a profession that has been around for centuries. It is one that requires skill, experience and artistry. When you go to a barbershop, you are placing your trust in the hands of the barbers. You want to be sure that you are going to walk out looking and feeling your best. So, what should you expect when you go for a haircut? Let's take a look.
When you arrive at the barbershop, the first thing the barbers will do is ask about your hair type and preferences. They will then give you a consultation to discuss what style would work best for you. Be sure to communicate with them any ideas or concerns that you have.
When you go for a haircut, treat it like an appointment. Be honest about what you like and dislike about your hair, and listen to your barber's recommendations. Tell the barber what you want to be done with your hair. You can either tell them yourself or show them a photo from Pinterest that shows exactly how you want it cut.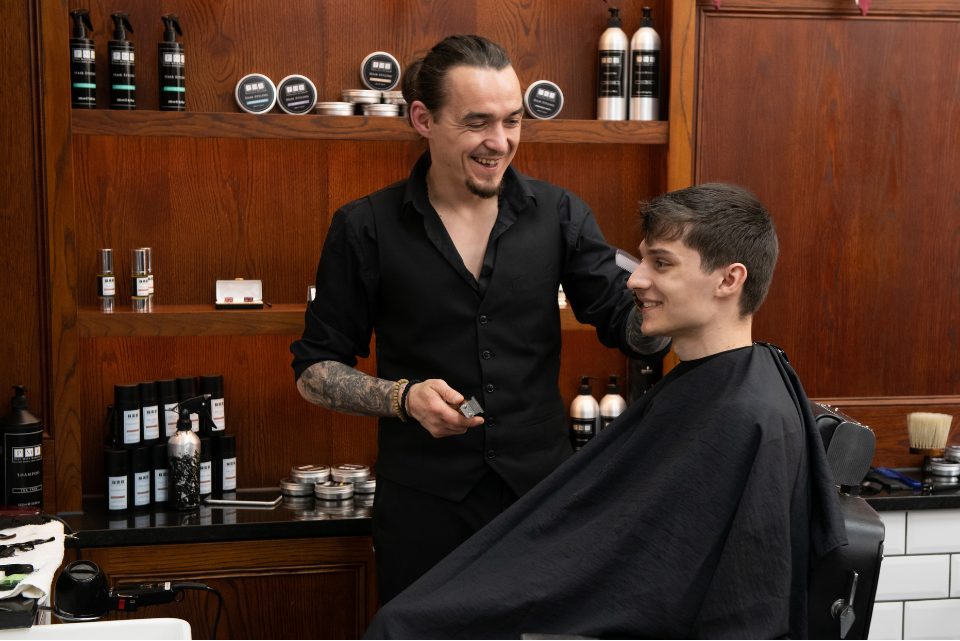 What to expect when you go for a haircut at Pall Mall Barbers?
If you are looking for a professional, yet comfortable barbershop experience, Pall Mall Barbers is the place for you. Our experienced barbers will take care of everything from basic haircuts to more complex styles. We understand that every man's hair is different, so we provide a variety of services to fit each individual's needs. With locations in London and New York City, Pall Mall Barbers is the perfect destination for any man looking for a great haircut.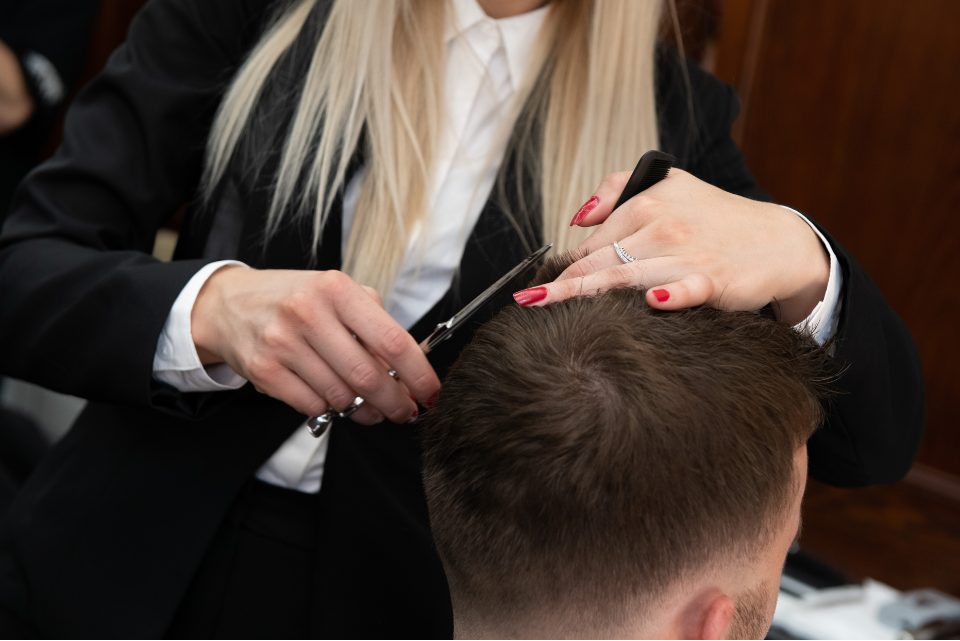 Do Pall Mall Barbers specialize in any specific hair type?
Pall Mall Barbers is a barbershop that specializes in men's haircuts. They have barbers that are experts in all types of hair, from short to long, curly to straight. So no matter what kind of hair you have, you can be sure to get a great haircut at Pall Mall Barbers. In addition to haircuts, they also offer beard and moustache trimming, as well as shaves. If you're looking for a great barbershop with experienced stylists, then Pall Mall Barbers is the place for you!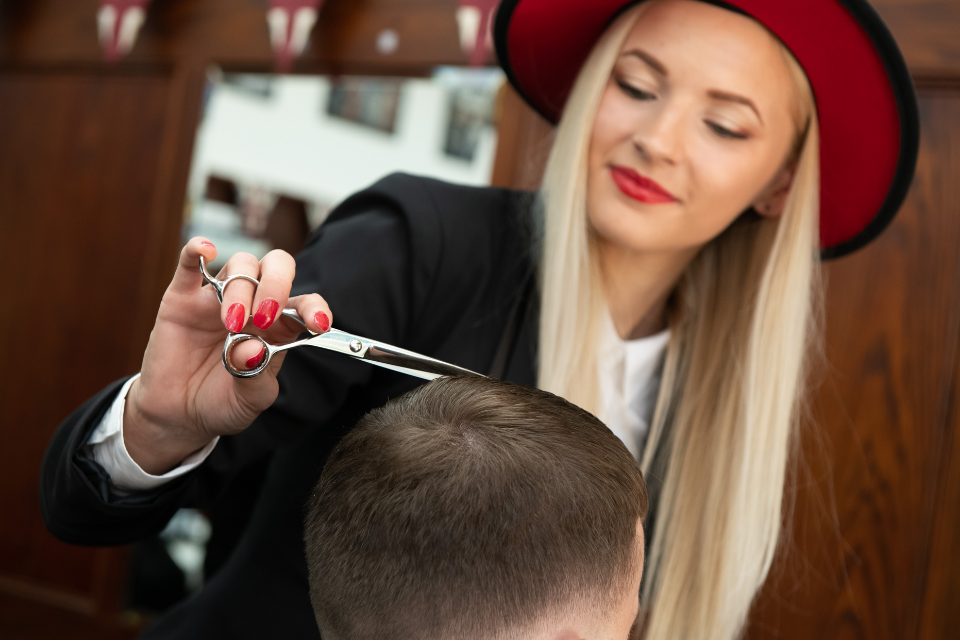 What are the benefits of getting a professional haircut from Pall Mall Barbers?
Every man needs to get a professional haircut at least once every two months. There are many benefits of getting a professional haircut, but the main reason is that you will look better. You can come to Pall Mall Barbers and we will give you an amazing haircut so that you have something to show off. We at Pall Mall Barbers understand how men's hair works and what it takes to make it look good for each individual who walks through our doors!
If you want to look professional, get a haircut. The benefits of getting a professional men's haircut are endless. We will discuss how getting a professional men's haircut can improve your looks and health as well as save you money in the long run.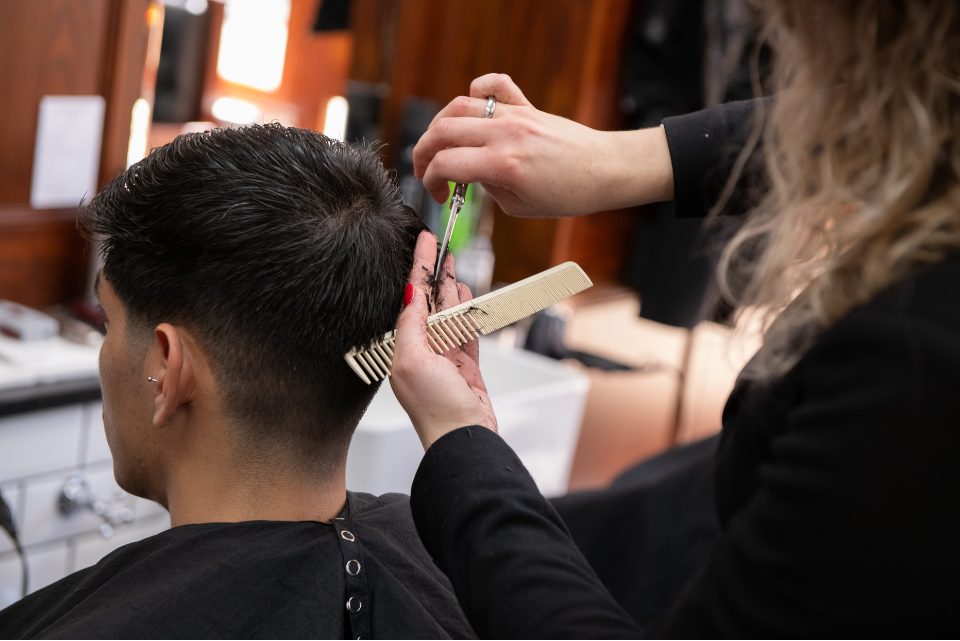 Looking for the best barbers on 5th Ave?
You can find our barbers on 5th Ave at 10 Rockefeller Plaza Lower Concourse, New York City, NY 10020, United States. Whether you're shopping, working or just passing by – why not grab yourself a deluxe grooming experience? Leave the stresses of the outside world at the door and sink into our leather chairs. You'll be expertly taken care of and you'll feel your anxieties evaporate immediately.
We're here to make you look good and feel good. One of the main reasons we consider ourselves the best barbers 5th Ave has ever had is the fact that we have so much experience. We arrived here from across the pond with a 125-year haircutting heritage. Our first store was opened in 1896. Since then, we've treated generations of gentlemen to awesome barbering experiences. You could be next!
Not sure what kind of haircut you want? Don't worry, the team at our barbers on 5th Ave is on hand to guide you towards your ideal appearance. They'll take into consideration your texture, head shape and other aspects before advising you on what they think is best for you. Let us be the architects and the artists of your haircut!

Beard Styling – Men's Beard Styling Near Rockefeller Plaza
Ah! The all-important beard trim and shape. Add character to your face, create definition and bring your personality forward with fantastic facial hair. At our Midtown barbers, you can rest with ease knowing that your beard is in good hands. Get sharpened up and look your best!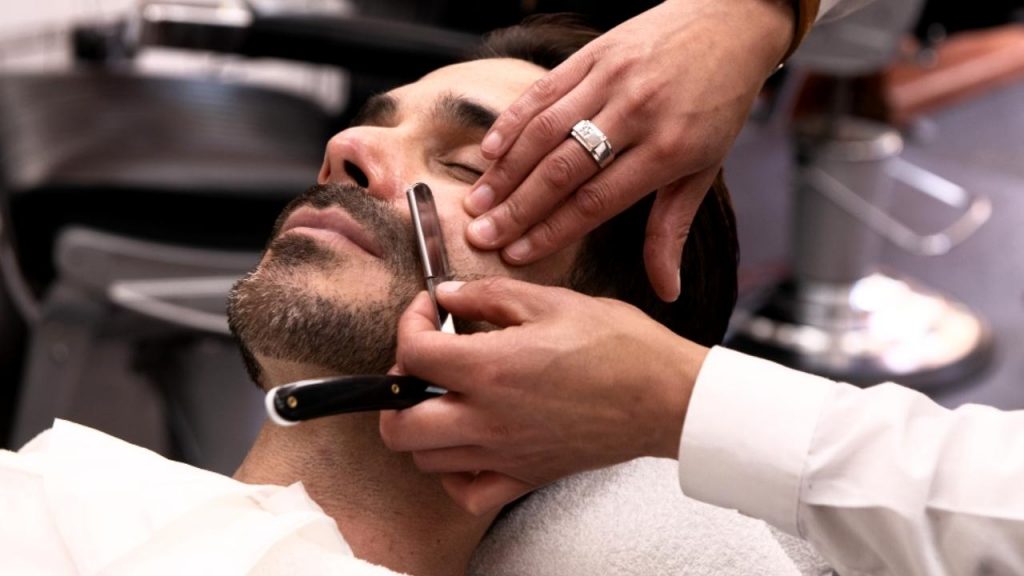 Pall Mall Barbers NYC
Our barber shop in NYC is located at the prestigious Rockefeller Center in Midtown Manhattan. Offering a menu of all modern services, including quality haircuts and beard styling along with luxury man grooming products for gentlemen who want to look their best!
Our barbers are known in the industry as some of the best barbers around. We have trained professionals from all over, with many having been featured on TV or Media outlets across North America! Our award-winning skills will be sure to make you feel like a new man when we trim away your beard stubble for one cut session only.
It's clear that our company excels at what it does because not only do customers rave about us but other businesses recognize this too!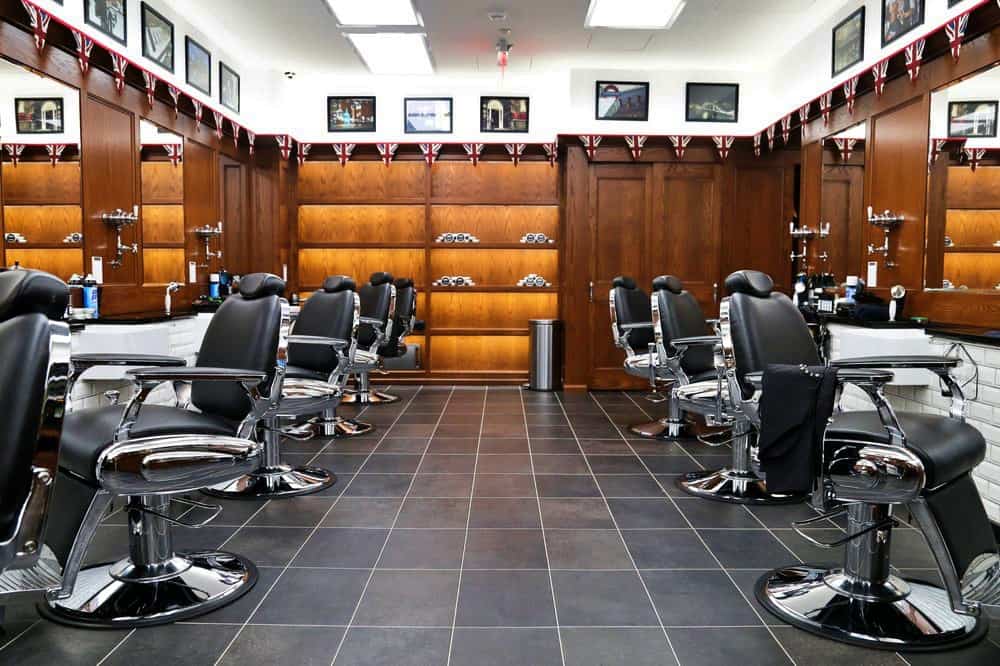 Best Barbers in NYC?
At the Pall Mall Barbers NYC, we pride ourselves in providing not just any old barber experience. Our skilled and trained staff are known throughout all of New York for their high-level skill set that will leave you looking your best with style!
We are passionate about developing partnerships with our clientele through a deep understanding of what they're aiming to achieve. Every one of our clients receives the best barbering experience from some highly skilled, experienced stylists who are bespoke for their individual needs and tailored advice on all aspects related to face-shaping based on style preferences as well as hair type or shape at hand.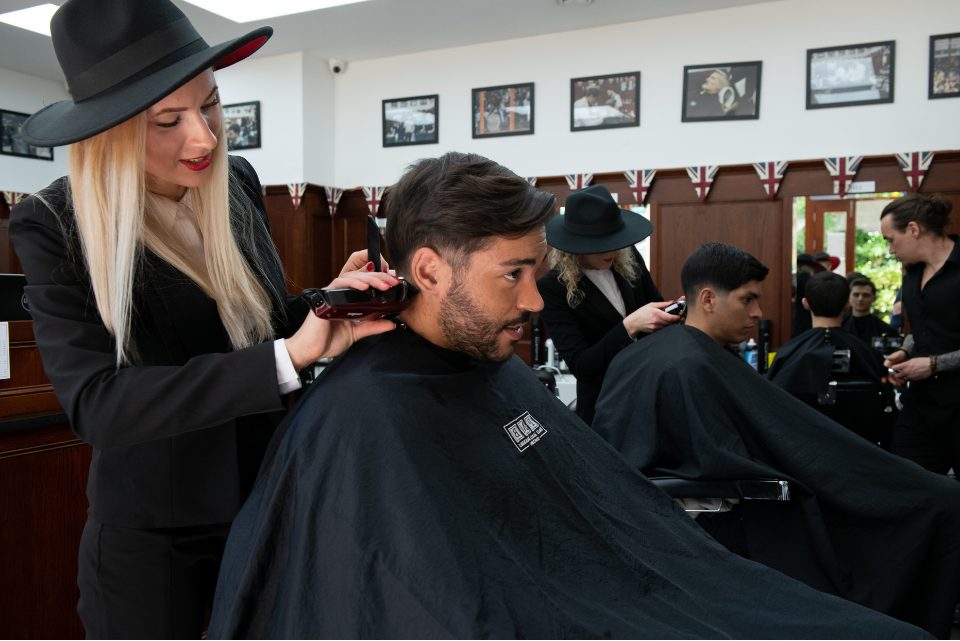 What's inside the Pall Mall Barbers NYC
If you've ever visited Pall Mall Barbers, you'll know that our salons' inside is styled very much in keeping with the traditional barbers shop interior. We're very proud of our barbering heritage, and whilst our skills and expertise are very much 21st century. We like to stay true to the wood panelling, lean-over sinks and swivel chairs of traditional barbers shop. This is probably why we're often used as the backdrop in photoshoots, interviews and filming. Many famous faces have been in our barbers shop, sometimes as a client but sometimes as the star of their show.
One recent photoshoot featured British actor Tom Hiddleston. You'll undoubtedly recognise him from the Thor films, but in the photos shot inside our Trafalgar Square barber shop he looked much dapper and was quite charming.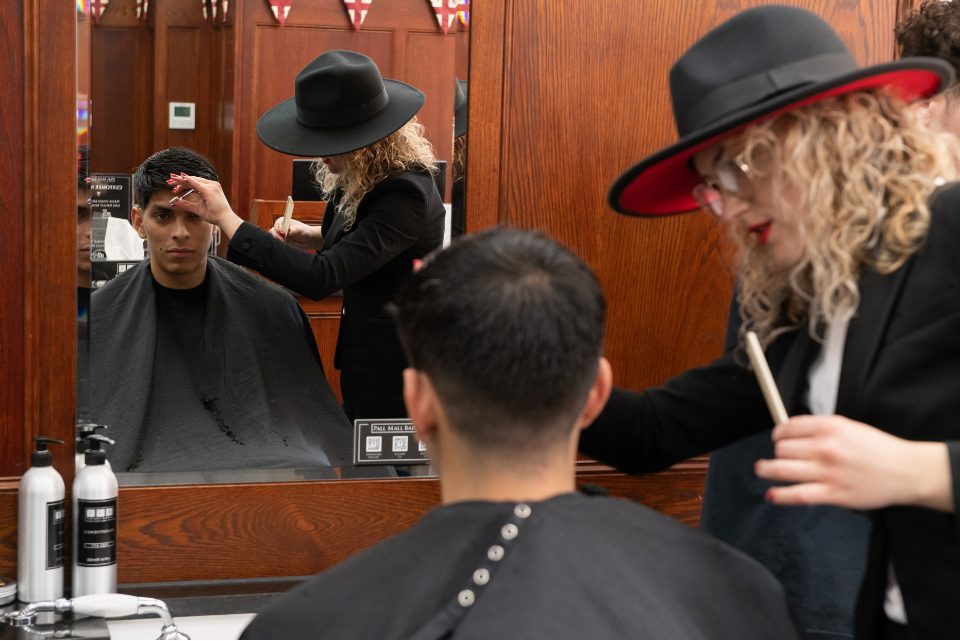 About Our Barber Services at Pall Mall Barbers Notting Hill
Pall Mall Barbers NYC services include the sharpest men's haircuts, finest wet shaves, and beard trims. Using its award-winning barbers products range, it's an experience that seamlessly blends our history with excellent services for the very best barbers NYC. One of the first things that people notice when they meet you is your haircut. Make sure you leave a great first impression! Our impeccable barbers services support men in their ambitions and comprehensively serve men's lifestyle needs.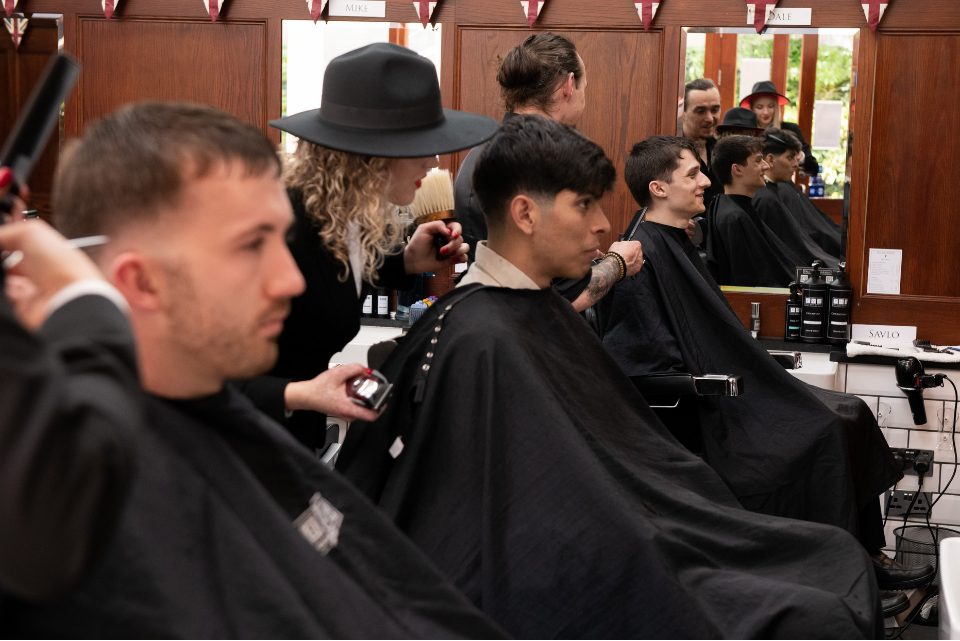 Every barbers service starts with an in-depth consultation which helps your barbers deliver the perfect barber service. So you can look and feel fantastic and make the right impression every time. Not sure what you want? Why not have a chat with our barbers to see what would best style to suit your face shape and personality?
You can get a full service that includes a consultation with our professional barbers to ensure you get the right look every time. However, if you are in a rush, a simple "just clippers" service will have you trimmed and ready to go in no time.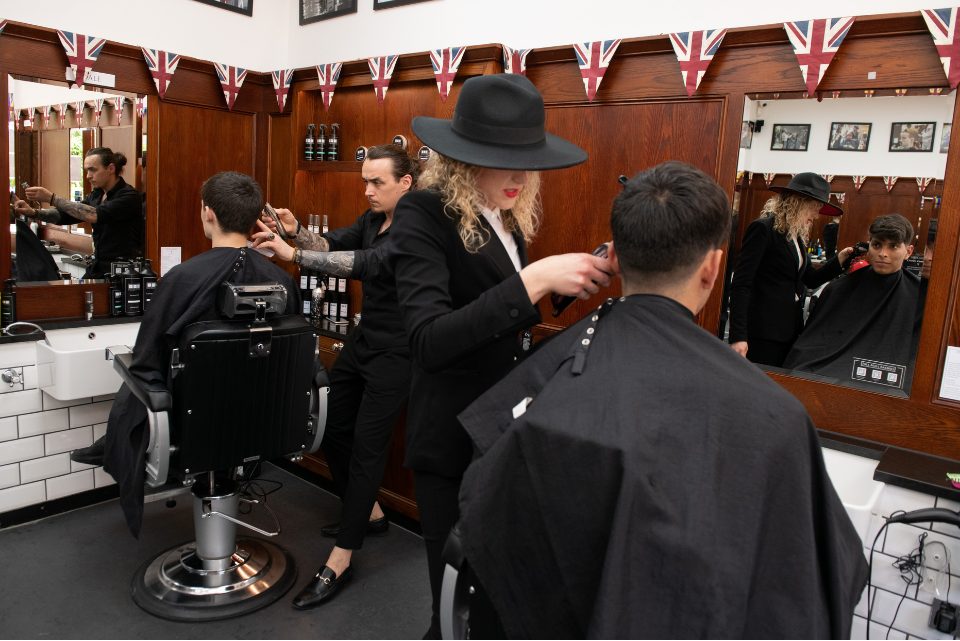 Pall Mall Barbers Products For Men
On top of that, we know how important it is to keep yourself looking groomed all year round. That is why we produce a vast range of luxury men grooming products inspired by our client's needs and lifestyles. It reveals a character with independence and determination for the city gentleman who chooses his destiny. The product range is used by our barbers in-store and can be purchased. Therefore, you can recreate that unique haircut with ease. With a little friendly advice from one of our highly skilled team of NYC barbers.
Our barbers near NYC are known as the best barbers near NYC. Our reviews, reputation, and results speak for themselves. The team of expertly trained and well-experienced barbers near NYC are on hand to serve you with barber services.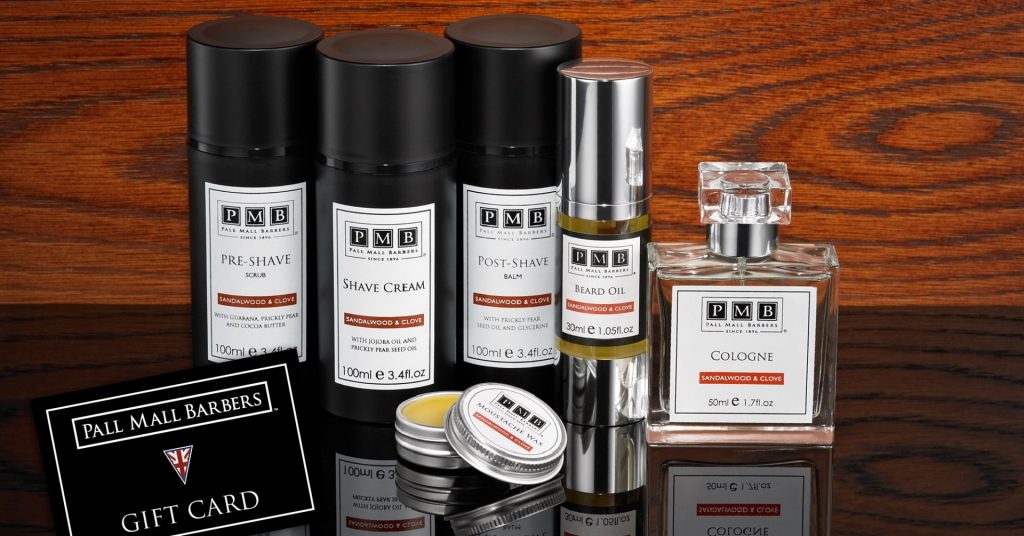 Hair Styling Products for Men
There are so many hair styling products for men on the market. How do you know which one to use?
The best way is to ask an expert like one of the barbers at our very own Pall Mall Barbers shops in NYC. With their collective experience of cutting and styling men's hair, they'll know exactly which hair styling product to use to get the look you want.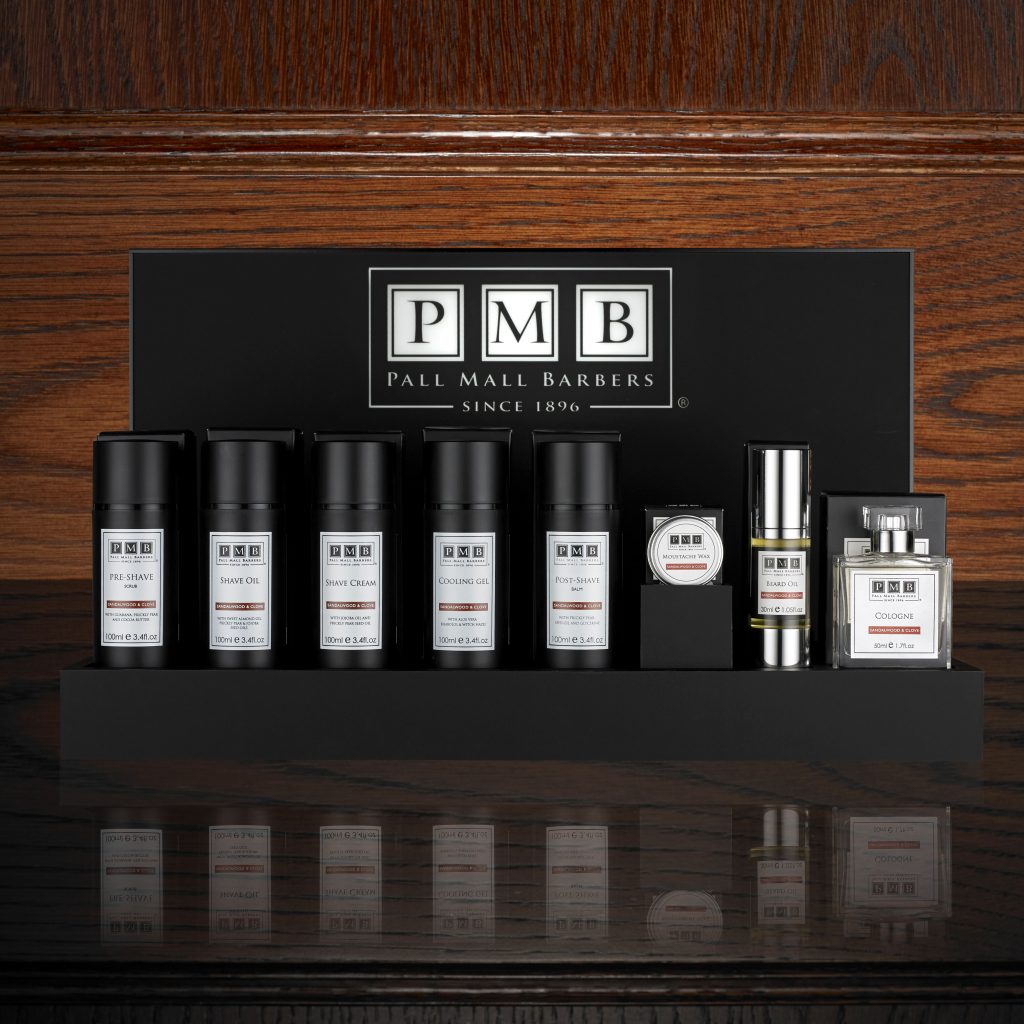 One thing we often find is that men like to stick to what they know. Whether that's the haircut, they've sported for years or the products they've been using. Have a chat with your barber next time you're in, and you'll be surprised to learn that you could get a better result or finish your hair with something other than the hairstyling product you've relied on for so long.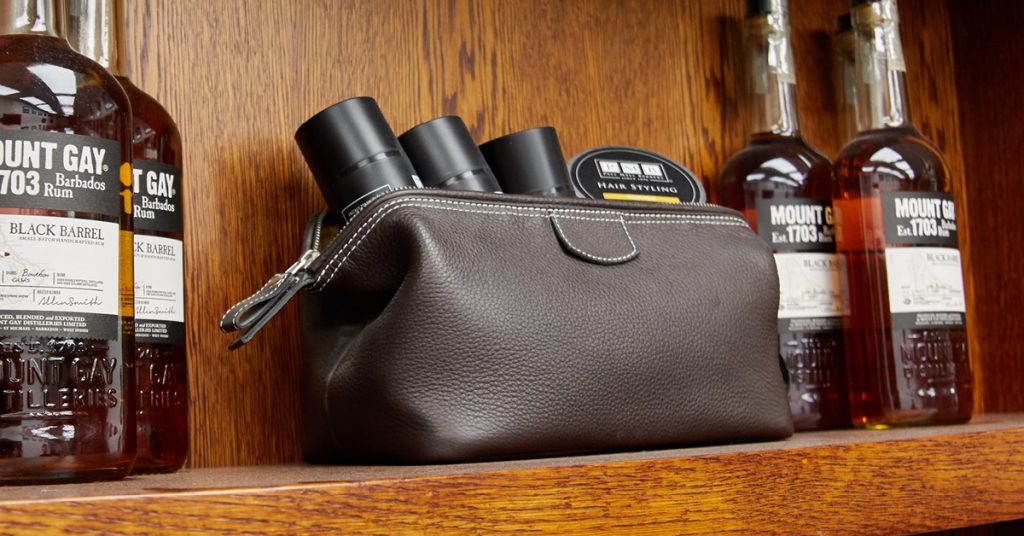 Range of Hairs Styling Products
Our range of hair styling products for men has been developed using the finest ingredients that work and smell great over many years. And we've tried and tested them with the people that matter. Our customers, make sure that they do what they say on the tin.
Whether you want a smooth, slicked-back look, like that of those Mad Men Don Draper and Peter Campbell. Or maybe you prefer a more rugged, casual and messy style like Prince Harry likes to sport. Then we'll have just the right hair styling products for you.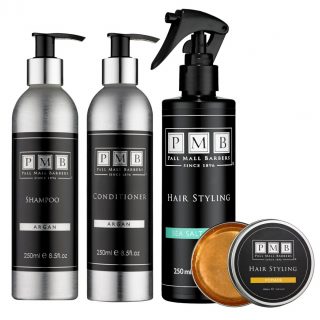 Your barber will advise you and show you how to use the product properly. We always suggest that you use a little bit first, warm it between your hands and then apply it. We've even created a load of videos to give you advice on using them if you can't call our barber shops. Why not head over to the Pall Mall Barbers YouTube Channel and have a look?
Check out the full range of hair styling products for men, watch a few of the videos and then go ahead and order them online too. What could be easier?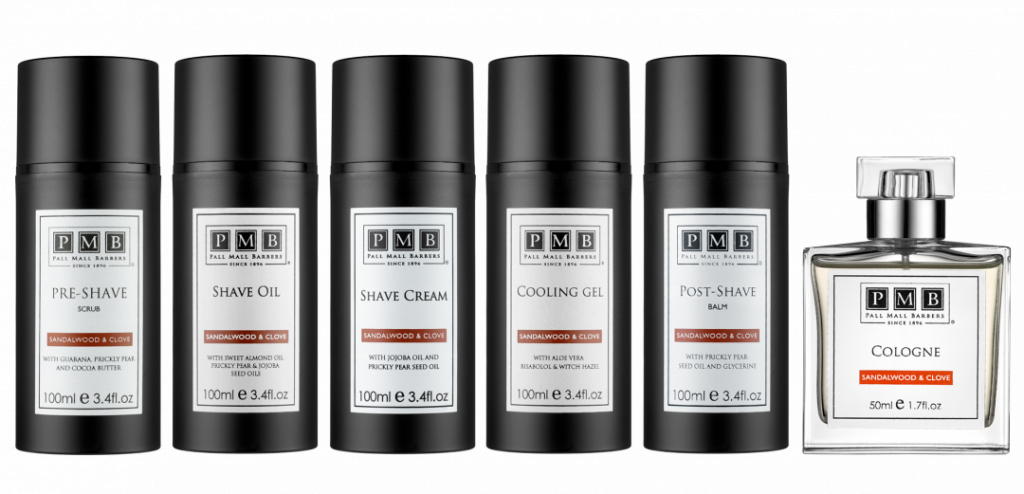 Best Haircut Around Town
Getting a professional men's haircut can be relaxing and enjoyable, but it also comes with many benefits. When you book an appointment at Pall Mall Barbers, not only are you getting the best hair cut around town – you're also making sure that your hair grows back healthier and stronger. Finally, our professionals will make sure to ask if there's anything else they can do for you before sending you on your way! Book Now!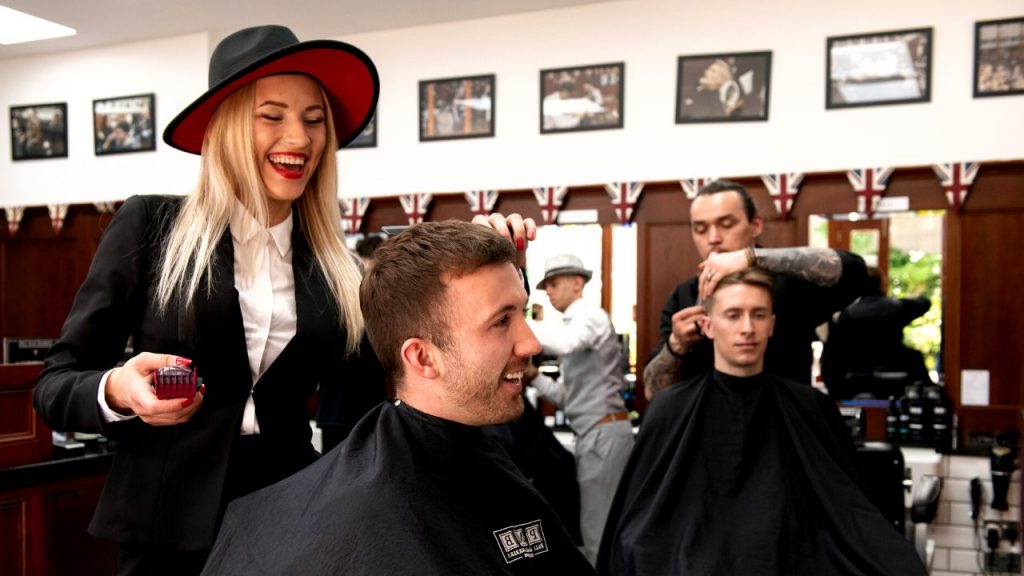 Pall Mall Barbers Midtown
10 Rockefeller Plaza
Lower Concourse,
New York
,
NY
10020
United States (US)
Phone:

+1 (212) 586 2220
Barber | Barber Shop New York | Barber Shop | Barbers Shop | Barber Shops Near Me | New York Barber Shop Near Me | Barber Shop NYC | Men's Barber Shop | Mens Barber Shop Near Me | Barber Near Me | Best Barbers in NYC | Best Barbers NYC | Master Barbers NYC | NYC Barbers | Midtown Barbers | New York Barbers | Barbers in Manhattan | Barbers Manhattan | Best Barbers in Manhattan | Barbers in Rochester NYC | Astoria Barbers | Barbers Astoria | NY Barbers | Best Barber in Brooklyn | Brooklyn Barbers | Pall Mall Barbers NYC