Firstly, find a good barber to walk out of the barber satisfied
The best way to walk out of the barber with satisfaction. Find a barber who will treat you right!
Pall Mall Barbers is one of the oldest and most respected barbering brands in the world. Since 1896 PMB has been at the forefront of the city's male grooming scene and has set the agenda for the style-conscious gentleman for over 120 years. Pall Mall Barbers Midtown Address: 10 Rockefeller Plaza Lower Concourse, New York City, NY 10020, United States

The best way to walk out of the barber with satisfaction. Find a barber who will treat you right!
Pall Mall Barbers is one of the oldest and most respected barbering brands in the world. Since 1896 PMB has been at the forefront of the city's male grooming scene and has set the agenda for the style-conscious gentleman for over 120 years.View Us on Youtube 
Timing is everything
If you don't know where to begin, just tell your barber how long it's been since your last haircut, they will be able to work on your hair more efficiently.
A picture says what you can't
Show your barber photos of some variations of the hairstyle that you like. This will help them to suggest what can try to start with a hairstyle that will work for you by looking for pictures of people with a similar hair type to your own, e.g. don't show a picture of curly hair if you have straight hair or vice-versa. If the hair type is much different to your own, then the cut isn't going to look the way you picture it in your head. You could simply ask your barber what kind of haircuts suite you the most, they would be able to advise you.
Ask Your Barber What They Can Do for You
Your barber has experience in cutting countless heads of hair to be able to make recommendations, so don't be shy to ask what they think is best and trust their expertise.
You may have spent hours reading through guides like ours to put together what may be your perfect haircut. Although this may make you feel like preparation and research is enough, simply asking your barber for advice is vital.
Don't be crushed if it turns out that he or she believes that what you want may not work for you. It avoids dissatisfaction with a disappointing result and a breach of trust with your barber.
Make your first impression count – Nearby barbers open now – we are on a mission to be the Best New York Barbershop has to offer for our clients. Our barbers near Rockefeller Center Station, we are known as the best barbers near Midtown – our reviews, reputation, and results speak for themselves. Our team of expertly trained and well-experienced barbers near Midtown East NYC on hand to serve you with the barber services. If your searching for a barber near me, barbers near me, barber, barbers, barbershop, best barber, best barbers, barbers new york, new york barbers, nearby barbers open now.
Barber's Favorite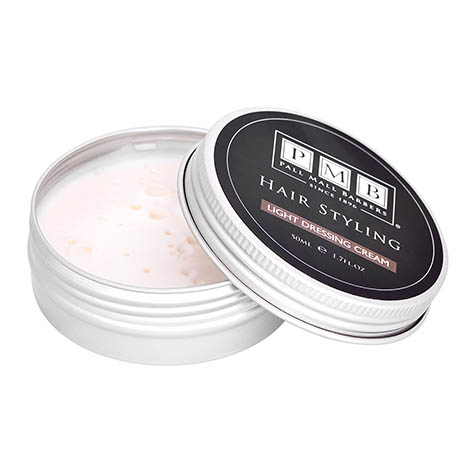 Did you know we develop our styling products, with the expertise of our barbers who have a combined experience of well over 500 years between them? One of our barbers' favorite products, Light Dressing Cream which works well all year round for lightweight hold and styling – and benefits anyone with medium to longer length styles. To use, apply a small amount using the fingers to damp or dry hair, and work from roots to ends for natural shine. Ask your barber about it next time you're in a store.
Find us at
Pall Mall Barbers Midtown Address: 10 Rockefeller Plaza Lower Concourse, New York City, NY 10020, United States
Please see a map of the concourse below.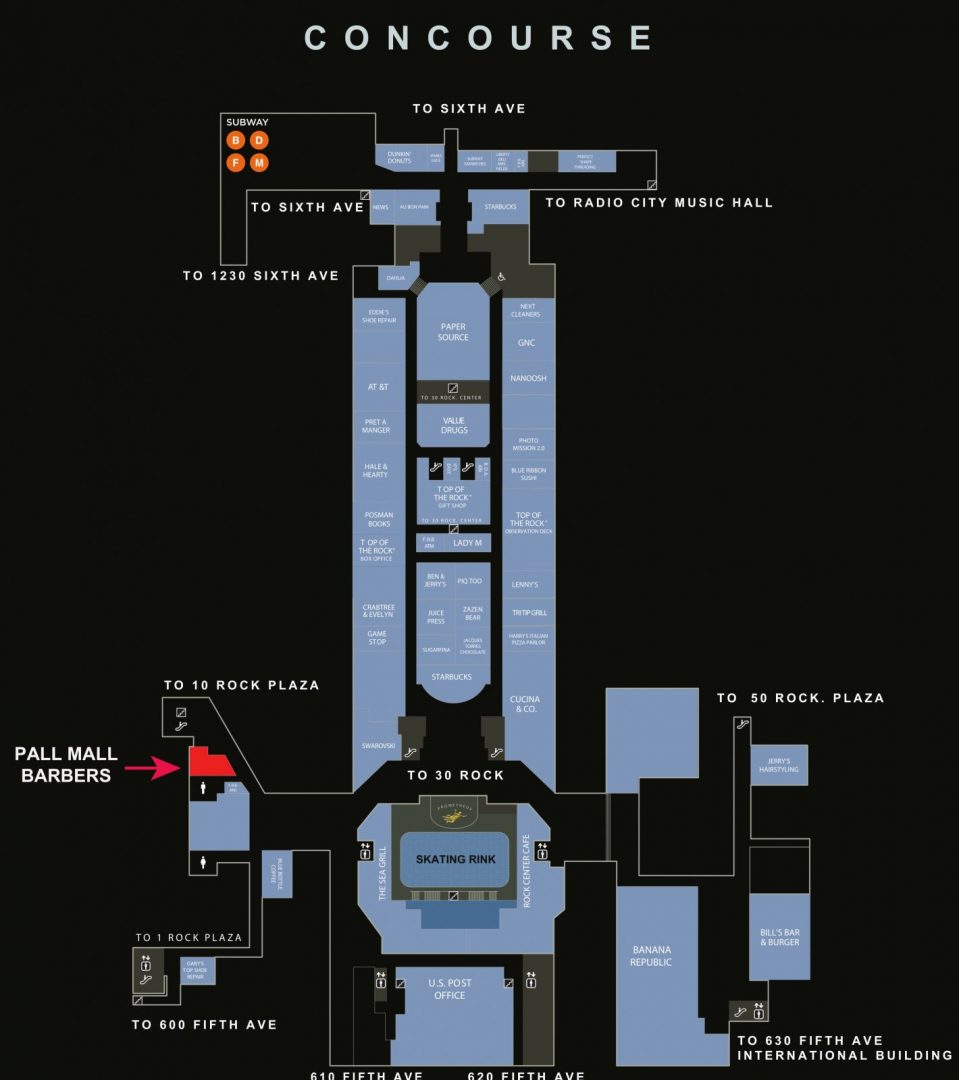 How to book an appointment
Book online here and follow the quick and easy booking process.
Book via the Pall Mall Barbers App available on the App Store and Google Play.
Call the store directly on +1 (212) 586 2220.
WhatsApp: +1 (646) 877 2602
Walk in.
Contact Details
Phone: +1 (212) 586 2220
Email: hello@pallmallbarbers.nyc
WhatsApp: +1 (646) 877 2602
We offer complimentary Rum and Whiskey for all the gentlemen during your stay in our store.
Follow @pallmallbarbers.nyc