If you are searching for short hair for men's ideas you are in the right place. So, do you want to have the Bradley Cooper Hair Style or short hair for men? We can't guarantee you'll end up with a face that attracts millions of pounds or people, but we can do our best. The Bradley Cooper hair style is a production with three possible endings as the award-winning, Hollywood heartthrob has rocked three main styles over the past few years. When you pop into our New York barbers, we will advise you as to which one suits your head shape, texture, and overall look – short hair for men.
Have you seen The Irishman?
Advice from Matthew at Pall Mall Barbers Midtown on how to achieve The Irishman Hair Style. The Irishman It's an epic movie. The old boys are back on screen (De Niro, Pesci, Pacino) and behind the screen too (Scorsese). It's a rather long film but it ticks all the boxes if you're an avid watcher of any of the aforementioned stars. The visuals were fantastic, you couldn't find a more immersive set of scenes and the technology was genuinely impressive. Speaking of the looks, some of you might be wondering how to get some of those classic hairstyles you saw in The Irishman. Well, courtesy of our Midtown barbers, you'll be able to achieve the exact style you want, from the Irishman Hair Style so take your pick for short hair for men.
How To Get The Robert De Niro Look From The Irishman
Bob is the centre of the story, he's the gritty, working-class truck driver who gets handsomely tangled up in the world of mafioso. Speaking of handsome, incredible CGI work transforms early 70's De Niro into mid 40's Frank Sheeran. His hairstyle is clean and sharp, something that can be easily conjured up by our London barbers. If you want the Robert De Niro hairstyle from The Irishman, you should ask our barbers in Midtown New York.  Tell them you want a short scissor-cut on the back and sides, which graduates down from the recession. With this style, you can choose a tapered/ natural neckline or a fuller/ straight neckline – either one will look good. Ask the talented craftsman or woman at our Midtown barber shop to give you a fully connected haircut with no space between the top and the side. This will enable the hair to be styled backwards without any strands falling over the edges, and creating an overhang from the top.
Now, once you've left our Midtown barbers you can start to maintain the look at home. You'll simply need to use a hairdryer and brush to create the style. Use the nozzle of the hairdryer to direct the hair backwards, this will allow for easier styling when applying product. When applying product spread through your hands before applying and then ensure to work into all the hair, using the pliable clay recommended by your favourite Midtown barber shop near me for a matte finish or if you prefer, a pomade to add more of a shine.
How to Get the Al Pacino Look From The Irishman
In a similar fashion to De Niro's, you can easily achieve Al Pacino's hairstyle from The Irishman. He plays the brash-talking, bold-walking Jimmy Hoffa but there's nothing too challenging about this look. It can be made by using a number 4 low around the bottom, or with a short scissor cut. The back and sideburns also have a taper to give the sharp look that Pacino supports throughout the movie. The cut is graduated through the sides to allow for a bit of length nearer the top to push backwards. The hair on top is short but slightly longer than that of the sides to allow for it to be styled backwards for 2020 Gentlemen Haircuts.
To achieve this style at home you'll need to dry the hair in a backwards direction using the nozzle to direct and the brush to flatten the hair into shape. To achieve the wet look that Al Pacino has throughout the film you will want to style your hair with the pomade recommended by your favourite Midtown barbers.
How to Get the Ray Romano Look from The Irishman
With such a star-studded line-up it's easy to forget that the legendary Ray Romano was in this movie. Ray wears a classic side part style in this film. You should ask your Midtown New York barber for a scissor cut, taking the hair above the ear and with the side part on the recession. This style works with either a tapered neckline or a fuller finish at the bottom, so preference is key when looking at the neckline. If you like this style but would prefer for it to be a shorter cut, you can ask for a number 4 around the bottom and that will allow you to keep the style but with a shorter finish around the ears.
To create The Irish Man Hair Style – Ray Romano Look at home you'll need a comb to get the side part straight, this is done by using the tip of the comb to run forwards from the back of the parting to the front while the hair is damp to create a nice straight line. Use a hairdryer with the nozzle attached and a brush in your other hand to create shape and direction when drying. This sort of style is best styled with our pompadour paste to give a strong hold on the fringe when creating volume, or our pomade for more of a shine. Not sure what to get? Simply ask your favourite Midtown barbers and they'll advise you for the best tips on short hair for men.
Hair Styling Products for Men – Pall Mall Barbers Products
Matthew McConaughey's hairstyle – The Gentlemen
Mickey Pearson is an American businessman slash drug lord, with a hugely successful marijuana empire. Bringing all of his usual charm and style to the character, Matthew McConaughey looks as suave as ever.
How to get Matthew McConaughey hair style from the movie The Gentlemen
We spoke to our best barbers in Midtown New York about how to get the hair styles from the movie.
What should I ask the Barber for?
Matthew McConaughey has had a similar hair style for a few years now. If you are looking to get Matthew McConaughey's hair style, then ask your barber for a medium length square cut, with enough hair to move around and graduate the lengths.
How do I style Matthew McConaughey's haircut from The Gentlemen?
This style is very easy to maintain and produce because the only thing you have to do is to dry your hair with a towel and add some sea salt spray! I recommend Pall Mall Barbers Sea Salt Spray for perfect hold and to add volume to the curly to make it look more natural. If you want even better results, use a hairdryer and finish with hairspray.
Barber's advice for hairstyling Matthew McConaughey – Dos and Don'ts
The most important thing about this haircut – during the cut at least – is that your barber should use scissors on wet hair. Afterwards, you'll want to keep your hair hydrated with conditioner while showering. I recommend Pall Mall Barbers Argan Enriched Conditioner for Men, short hair for men a luxurious Argan enriched conditioner for vitality and luster. It was designed specifically to improve the shine and strength of the hair.

Top Tip
Pall Mall Barbers Shampoo is great – it leaves the hair feeling fresh and revitalised, with a great shine. And what's even better is it can be used on all hair types.
Charlie Hunnam's hairstyle – The Gentlemen
How do I style Charlie Hunnam's haircut from The Gentlemen?
First, you should use some clay or sea salt spray through the length of the hair to provide hold – after that, take a brush and a hairdryer at medium heat to dry the hair back, keeping it smooth. To add some volume at the top roll the brush with the hair. To finish, use a light application of paste or some hairspray.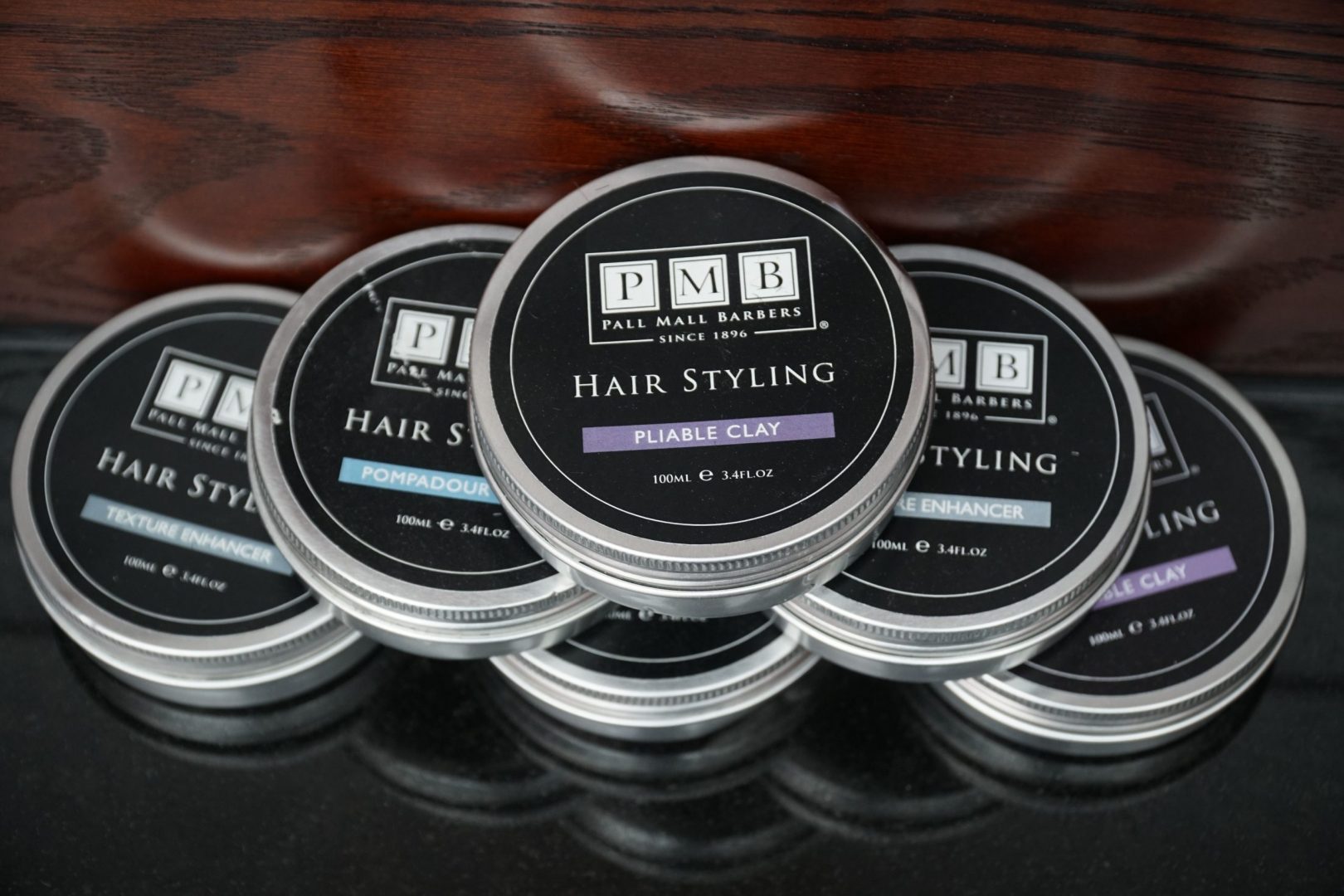 Barber's advice for hair styling Charlie Hunnam – Dos and Don'ts
Don't cut your hair short, always keep it hydrated with a daily conditioner after you wash with shampoo, and use a styling clay or paste.
Henry Golding's hair style – The Gentlemen
Henry Golding, fresh from leading roles in Last Christmas and Crazy Rich Asians, plays Dry Eye – a rival gangster who wants in on Pearson's empire.
How to get Henry Golding's hair style from the movie The Gentlemen
What should I ask the Barber for?
Henry's hair is worn in the classic slick-back look, that is easy to maintain. If you want to wear your hair just like Henry Golding's character in the Gentlemen, but don't know what to ask for, it couldn't be simpler: ask your barber to give you a 3 back and sides, medium height fade and slick back style on the top.
How do I style Henry Golding's haircut from The Gentlemen?
You don't want to have too much length left on top, but just enough that you can slick back. For you to create the style at home, you should warm a small amount of wax between your fingertips, then apply to dry hair, running fingers through the hair from front to back and shaping the hair into the desired position. For hold, you should finish off with a small amount of hair spray.
Barber's advice for hair styling Henry Golding's – Dos and Don'ts
Whilst the slick back look is very versatile and allows you to style your hair in many different ways, if you have a receding hairline the slick back will make it seem more obvious.
Get Leonardo DiCaprio's Once Upon a Time in Hollywood look