This is the story of an actor who destroyed his hair to play a role and then restored it to majestic glory, placing him on the front cover of GQ magazine. What happened? How did he do this? Let's explore.
Firstly, the movie Rocketman is a wonderful motion picture. NME awarded it 10/10 while the harsh critics of Rotten Tomatoes put up a generous 88%. Most of the people who expressed their adoration for the movie spoke about the magnificent portrayal of Elton John by the Merseyside-born Taron Egerton.
As well as his notable acting, there are deserved plaudits for his physical transformation. He (and of course, the hair and make-up team) pulled off a phenomenally accurate depiction of the British pop star.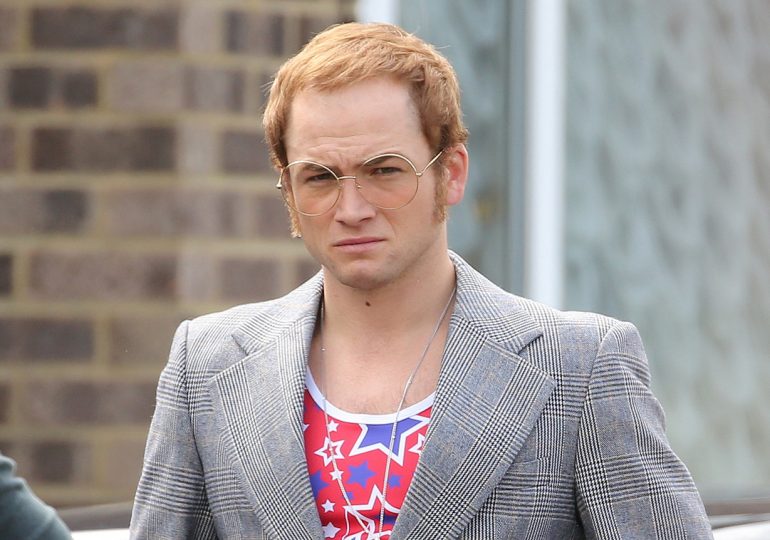 Here's how Taron achieved Elton's hairstyle
The main objective was to get the over-thinned, receding effect without using prosthetics. Taron refused to use prosthetics, preferring to be the real deal and use his own hair. To do so, the stylist would have had to thin the hair on top carefully by employing shears or a razor. Then, deliberately they would have thinned the hair too much to make it look as though Taron was balding.
Voila! But then, Taron immediately wanted to transform back to his usual stylish self. So, how did the young actor go from bald and thinning to handsome and winning?

Where is Pall Mall Barbers NYC?
Pall Mall Barbers Midtown Address: 10 Rockefeller Plaza Lower Concourse, New York City, NY 10020, United States
Step 1 – The Great Shave
While others would be singing 'don't go shaving my head!', Taron wasn't messing around! He knew the meaning of sacrifice. Taron took no prisoners and shaved his entire head to create a blank canvas.
Most people who have thinning hair will not be so bold, they would usually attend their barbers regularly to have their hair shaped and tidied, gradually restoring it. Shaving it all off and starting from scratch is certainly the more courageous option!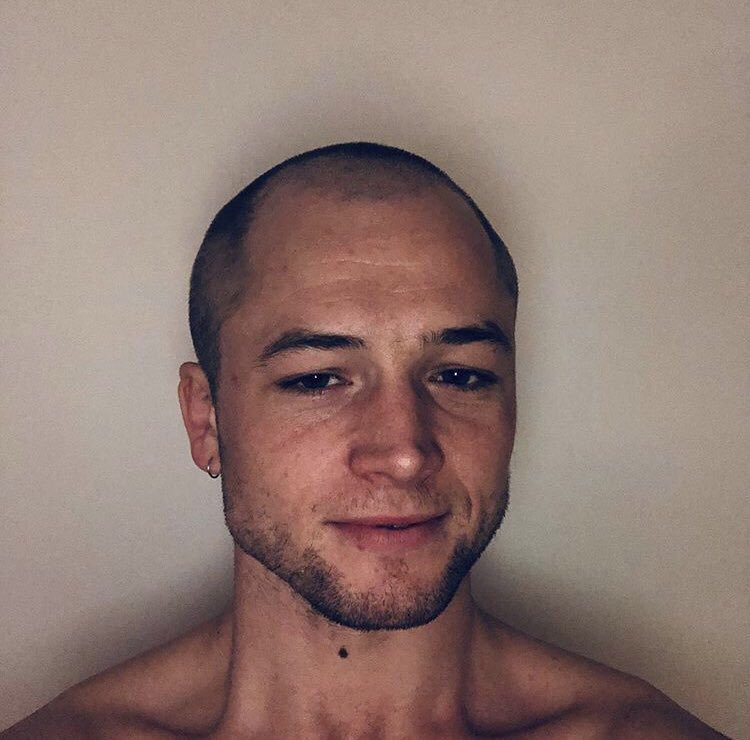 Step 2 – The Bearded Wonder
To counteract the dramatic change in his appearance which come from going bald, Taron decided to take time to cultivate some facial hair upon his countenance. In plainer terms, he grew a little beard because as you can see, even a touch of stubble makes all the difference to somebody's appearance. Suddenly the smooth egg-like resemblance has become decorated with an interesting feature of fur. Balding men should grow beards to draw attention to their faces – simple!
Step 3 – The Spectacle
The movie business is all about the show. It's paramount that an actor should create a spectacle whenever the lights are on them. Taron took this literally and adorned some glasses. This is a great addition because, whether they are sunglasses or actual prescription specs, they distract an onlooker's eye from the blank baldness slightly north of the frames.
What does he look like now?
After taking those steps, Taron found himself with hair on his head which had grown out gradually. There was no need to rush, panic or resort to chemicals because of the previous smart steps he took. He kept the back and sides short alongside a tidy neckline which is always a bonus.
The magic of this is that by keeping the back, sides and neckline sharp and clean, you can allow the top of your head more time to be rough and grow how it naturally wants to. It won't look unruly or distasteful because there is a party of pruning and a showcase of sharpness taking place elsewhere around the head and face.
Clever! Right? Now, he has a number 1 or 2 back and sides with it left smartly swept on one side on top. The length is fairly short and that handsome stubble is still standing.
Nearest Subway Stations
47-50 Streets Rockefeller Center Subway Station
7 Avenue Station
Times Sq-42 St
5 Avenue-Bryant Park Station
42 St – Grand Central Station
Lexington Av-53 St
Book an appointment with our awesome team of Midtown, this can be done via our Website Booking System or by using the free PMB app (available on iOS and Android). Alternatively, call the shop and speak to one of our friendly team members, who will be delighted to make a booking for you.
The service menu provides a full description of what to expect when you visit Pall Mall Barbers Midtown.
Please bring your own face covering with you for your appointment. We want to save the NHS. Please find information on our services and visiting restrictions in our COVID-19 section here. 
Barber | Barber Shop New York | Barber Shop | Barbers Shop | Barber Shops Near Me | New York Barber Shop Near Me | Barber Shop NYC | Men's Barber Shop | Mens Barber Shop Near Me | Barber Near Me | Best Barbers in NYC | Best Barbers NYC | Master Barbers NYC | NYC Barbers | Midtown Barbers | New York Barbers | Barbers in Manhattan | Barbers Manhattan | Best Barbers in Manhattan | Barbers in Rochester NYC | Astoria Barbers | Barbers Astoria | NY Barbers | Best Barber in Brooklyn | Brooklyn Barbers | Pall Mall Barbers NYC