The 88th Rockefeller Center Christmas Tree lighting ceremony on Wednesday, December 2nd will be closed to the public. The tree will be lit during a live national television broadcast on NBC at 9:45 pm.
WHAT TO EXPECT:
The 88th Rockefeller Center Christmas Tree will be lit and on display starting Thursday, December 3, through early January 2021 from 6 am to 12 am daily. The tree lighting on Wednesday, December 2, will be closed to the public. You can enjoy the ceremony by watching the live national broadcast on NBC.
To ensure a safe experience for everyone, visiting the plaza will be a bit different this year. There will be special tree viewing entrances and traffic patterns, tree viewing time limits, and masks and social distancing will be required at all times.
How to arrive and see the tree:
Tree viewing entrances will be located on 49th and 50th streets and 5th and 6th Avenues ONLY. Once you have entered, you will follow social distancing markers as you proceed to the tree viewing zones on 49th and 50th streets. Center Plaza, where the tree is physically located, will be closed to the public.
Each distancing floor marker accommodates four people. There can be no more than four people in one pod (a six-foot diameter circle decal outlined on the ground.) Groups of more than four people will be separated into two or more pods.​
Once you have reached the tree viewing zone, you have a five-minute time limit to enjoy the tree and take photos.
Masks are mandatory at all times.​
Social distancing will be enforced by specially trained staff and NYPD and visitors should maintain a distance of six feet between themselves and other parties.
This year, we will be utilizing virtual queuing to help manage the flow of visitors viewing the Tree during busy times. Look out for QR codes around Rockefeller Center to begin virtually queueing when the lines are long. Once you have signed up, you will receive a wait time and SMS message when it is your time to return to view the tree.
How to visit shops and restaurants:
The Channel Gardens (located between 49th and 50th Streets just west of 5th Avenue) will be open for retail customers and office tenants only. This area is not open for tree viewing.
Shops and restaurants in the Concourse can be accessed from 49th and 50th Streets.
To stay informed about all the details, be among the first to know by signing up for The Center newsletter.
Nov. 14—The Tree arrived at Rockefeller Center.
Dec. 2—The Tree will be lit for the first time on Rockefeller Plaza.
Dec. 25—On Christmas Day, the lights shine for a full 24 hours.
Dec. 31—On New Year's Eve, visiting hours are from 6 am to 9 pm.
Pall Mall Barbers Midtown
Best Barber for the New York Gentlemen – Pall Mall Barbers Midtown one of the most respected barber shop in New York, providing the best barber services for the modern man.
We are empowering and developing every gentleman's distinct style for over 500 years of combined experience in the barber industry and we know exactly how to make your first impressions count.
Our Midtown barber shop services including the best men's haircuts, finest wet shaves, and beard trims – using very own award-winning barber product range, it's an experience that seamlessly blends our history with excellence services the best New York barbers. One of the first things that people notice when they meet you is your hairstyle. Make sure you leave a great first impression!
Pall Mall Barbers Midtown Address: 10 Rockefeller Plaza Lower Concourse, New York City, NY 10020, United States
Please see a map of the concourse below.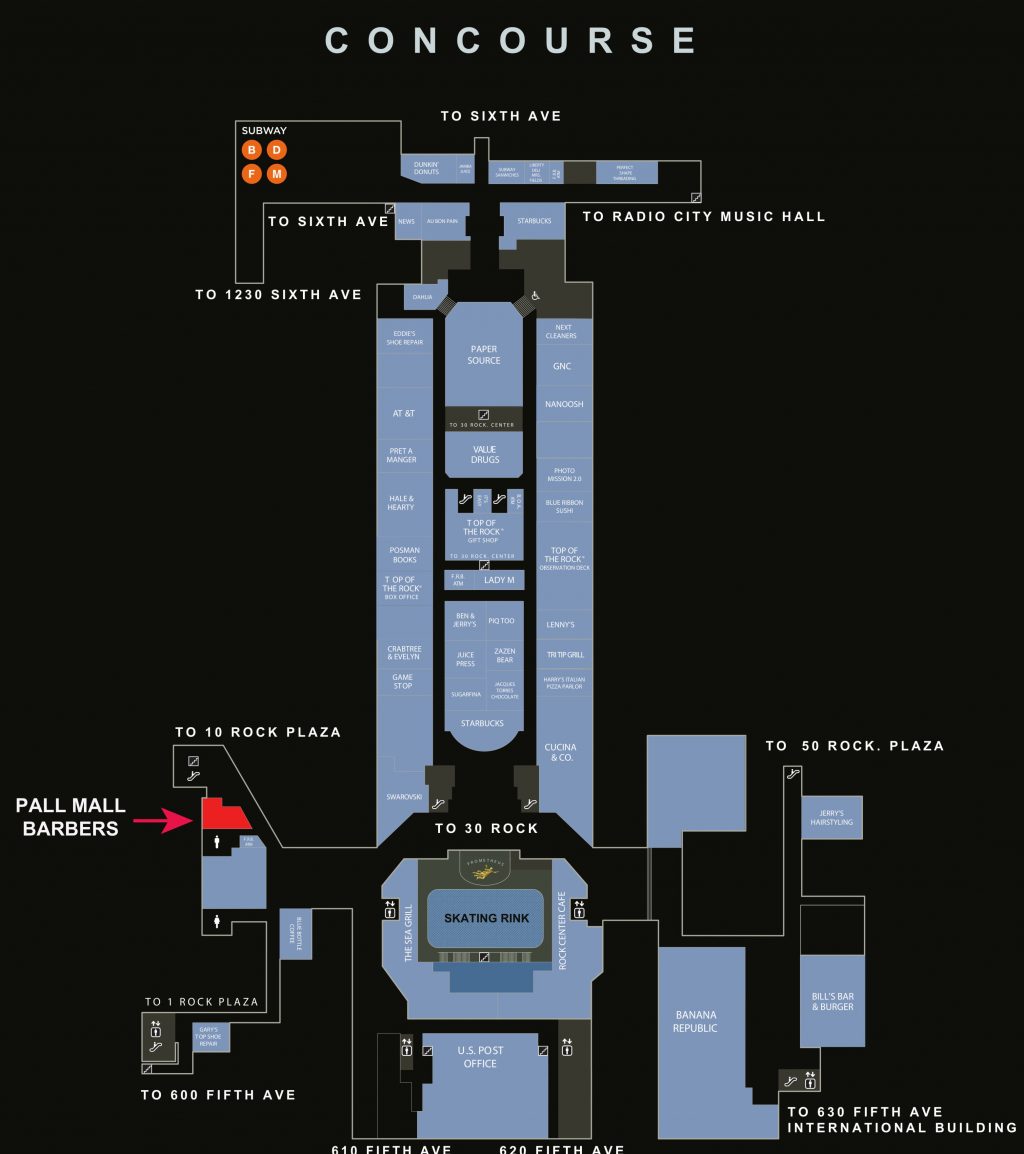 Every barber service starts with an in-depth consultation which helps your barber deliver the perfect barber service, so you can look and feel fantastic and make the right impression, every time. Not sure what you want? Why not have a chat with our barbers to see what would best style to suit your face shape and personality?