Texture Enhancer 
Texture Enhancer 100ml –Men's styling products –  Pall Mall's texture enhancer is best used in short hair. It helps both thicken and add texture in just one application, giving the hair a strong yet supple hold with a natural matte finish that can be easily washed out at any desired time. Perfect to use both at home or on the go, our texture enhancer helps to add volume and style to the hair in a matter of seconds.

At our barbers' shops in London, we sell a range of men's hair styling products. Everything from hair clay, mud, gel, creams and more and we would be delighted to explain you how to use this styling products.
The Pall Mall Barbers Texture Enhancer , best hair styling products for men is a great styling product for men with thick hair. Style your hair using a small amount and rub through damp or dry hair.
Pall Mall's Texture Enhancer is best used in short hair, this resinous styling product helps both thicken and add texture at once. Giving the hair a  strong yet supple hold with a matte finish.
Call into one of our barbers shop in London for more mens hair styling products and hair styling tips, as well as the full range of mens barber and hair services.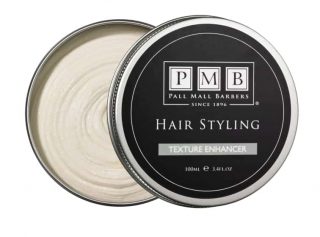 Directions: Apply a small amount to dried hair to be able to shape and reshape.
100 ml e 3.4fl.oz
Inspiration
We know how important it is to keep yourself looking groomed all year round. That is why we produced a vast range of luxury men grooming products, inspired by our client's needs and lifestyle. It reveals a character that asserts itself with independence and determination, for the city gentlemen who chooses his destiny. We stock our products in-store and online to help you keep your hair and beard looking fresh and healthy at all times, allowing you to maintain it yourself between visits to our shop. All our products are formulated with the highest-quality ingredients, made in the UK. 
Staying on top of it is essential if you want to ensure that you are ready for any situation and always looking your best, and we want to help you do just that.
men grooming products, men hair product, men hair products, men hair styling products, men wax, texture enhancer