Our previous blogs spoke about some great haircuts for men with short and medium- length hair. Today, we will pair some great haircuts with beard styles to help you out even further with your grooming routine. If you don't settle for a clean-shaven look frequently, then we can assume that you like the idea of sporting a good beard. As with haircuts, men also like to experiment with their facial hair. Some settle for a gandalfian beard, some for a goatee, and some for a simple stubble.
The important thing here is to ensure that your haircut and beard style complement each other to give you a well-rounded look. You can always speak to your best barbers in London and seek some advice. Of course, the ultimate choice is up to you! But, do take a look at our top recommended combinations of the best medium haircuts and beard styles!

Do Beards Make You Look Hotter?
Just like a great haircut, a great beard can, of course, make you look hotter. Traditionally, facial hair has been associated with masculinity and is considered a rugged feature of men. However, clean-shaven looks hold an equally reputed stand today. Also, men's hairstyling trends are a constantly evolving subject. So, ultimately, we think it all boils down to choosing what's suitable for you and your hair type and wearing a good dose of confidence.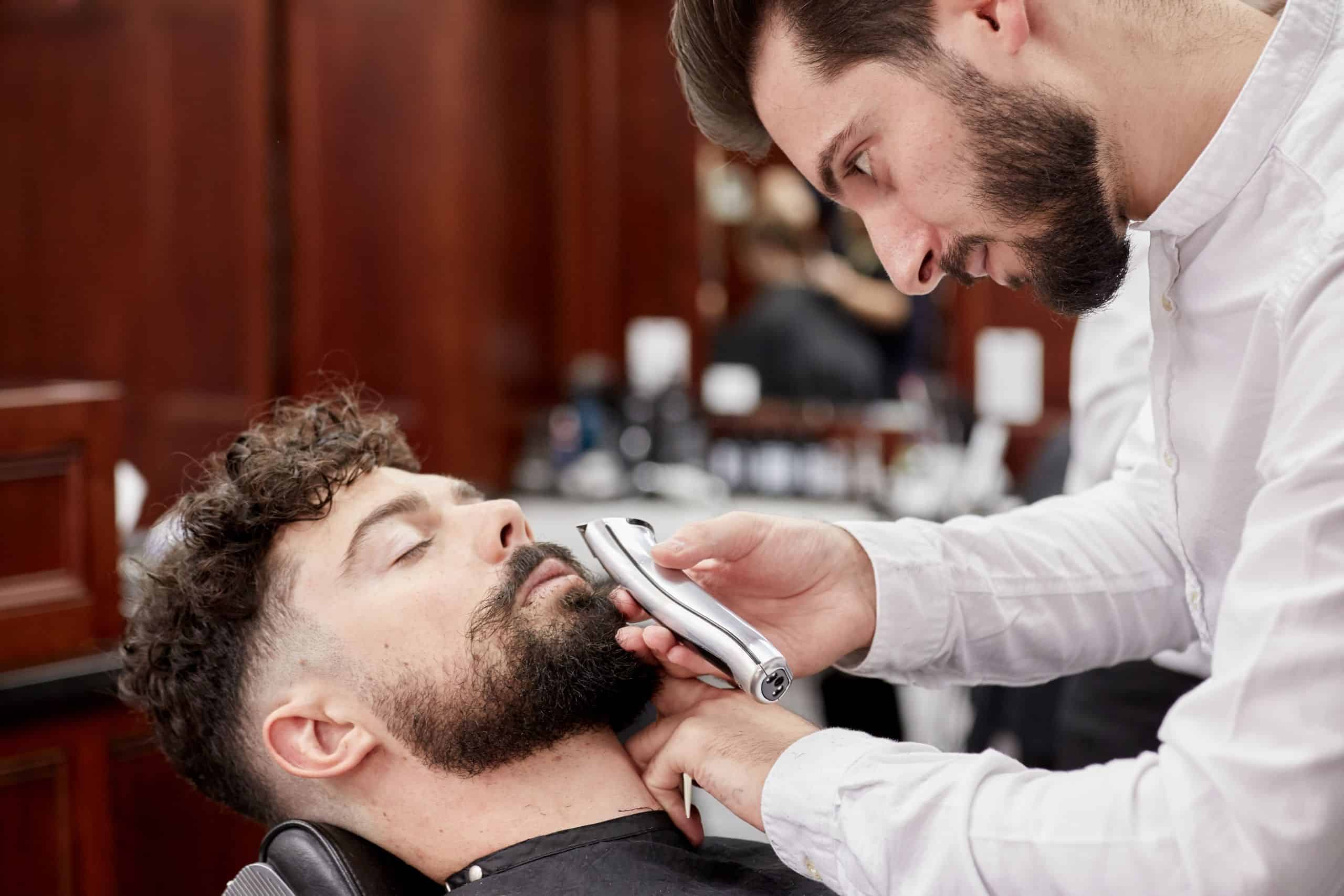 Which Beard Is Best for My Face?
Sure we have provided you some great beard styles below that can be paired with each hairstyle. But, there are some factors you need to consider before you pick one. Your face shape plays an important role here, and it's best to consult an expert from your barbershop near me to figure out what works for you. Then, the density of your facial hair plays a role as well. Finally, the effort you are willing to put in to maintain your beard style matters too!
Tips on Nourishing Your Beard
Caring for your beard is equally important as caring for your hair to ensure it is nourished, hydrated, and attractive! As the best barbers in London, we have one great product to recommend to you. Whether you have a short or full beard, it's important to use beard oil as a part of your regular grooming routine. Using beard oil can help your facial hair appear lush and healthy while hydrating the skin underneath at the same time.
If you have a long beard, you may need an additional product to keep it in good shape, but otherwise, this oil is all you need! Moreover, applying beard oil can help you tame wispy flyaways that make your beard look unkempt – unless you are going for a messy style! Additionally, your barber will also advise you to shampoo and condition your beard a couple of times a week to keep it clean and healthy. So, with those tips, we are moving forward.
Best Medium-Length Haircuts with Beard Styles
Bro flow + Light Scuff / 5 O'Clock Shadow, The effortlessly stylish look of bro flow, is the reason why it's a go-to hairstyle for men with medium-length hair. This is where hair is combed to the back and sides, letting the locks flow naturally! Of course, you need to grow your hair out a bit to achieve this celebrity-approved style – but it's such a minimal, relaxed, yet attractive choice! Use a styling product with a light hold like our Light Dressing Cream or a Sea Salt Spray, especially if you are going for a rugged look.
The Sea Salt Spray can also help you mimic the typical wavy beach hair and make your hairstyle look even more attractive! A light scruff or a 5 o'clock shadow works well with bro flow hairstyles as it enhances the effortlessly stylish look. In other words, it refers to a beard that is just a few days old. Your facial hair will not be very prominent in this case. So, if that's not what you have in mind, go for a full beard!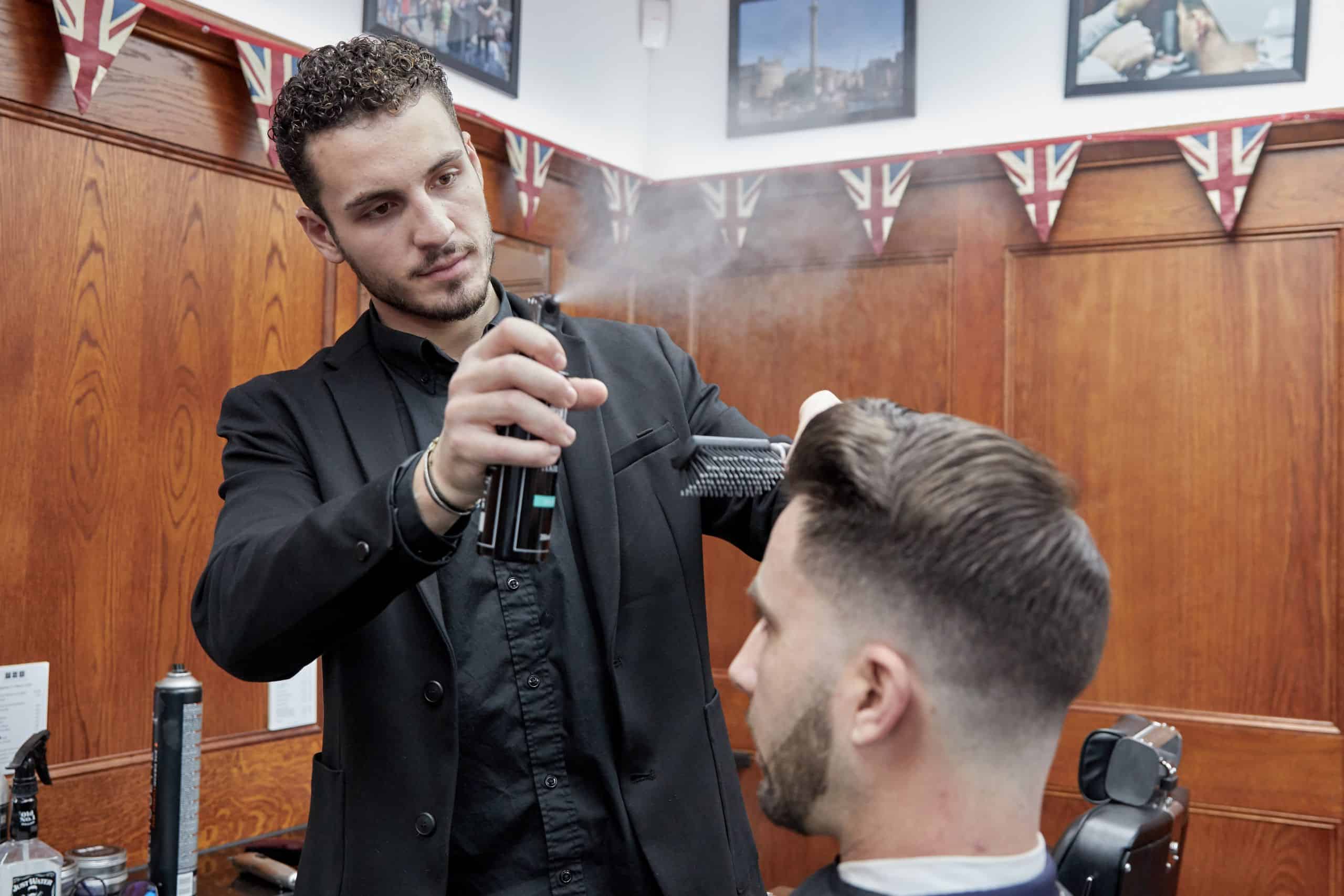 2. Slicked-back Undercut + Medium Stubble / Power Beard
If you want to keep your hair well-groomed and neat, a slicked-back style is what you should go for. A slicked-back undercut combs all the hair on top backwards, leaving no hair behind. Of course, this means the hair on top needs to be quite long for you to sport the look nicely. The sides and the back are cut short or shaved, depending on your preference and the contrast level you want to achieve. Slicked-back hairstyles need a good styling product to tame your hair strands to get a smooth and sleek look. If you are looking for a product with a lighter hold, Flexible Shine Paste by Pall Mall Barbers is an excellent choice.

For a firm grip, consider our Pomade by Pall Mall Barbers which would keep the hairstyle intact throughout the day! A medium stubble is well-received and straightforward, especially when attending formal events with your slicked-back undercut. We are talking about facial hair that's about 1-2 weeks old. However, if you want to go for a long beard style, consider the power beard. It takes some time to grow and requires a lot of patience! The Hollywoodian beard – facial hair maintained along the chin, jawline, and mouth is another option to consider. But, it's best to consult an expert from your barber shop near me first!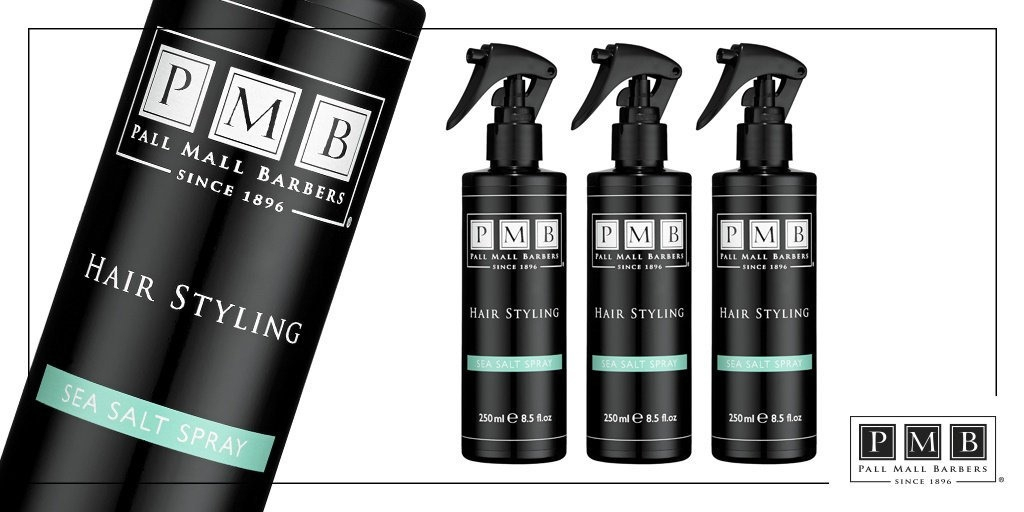 3. Side-swept Haircut + Corporate Beard / Boxed Beard
A side-swept haircut is ideal for short, medium, and even long hair. Essentially, your hair is hard-parted and combed to the opposite side. Side-swept haircuts are very versatile, allowing you to try different styles. You can either leave the forelocks to form a fringe or keep the hair out of your face. Best of all, it suits many hair types as long as you use a good product to style it well!
If you want to retain the natural look of your hairstyle, our Light Dressing Cream is a great option. It provides a moisturized feel to your hair with a light hold and shines. You can also use the Pliable Clay by Pall Mall Barbers if you want to achieve particular hairstyles. A corporate board will look fantastic with a side-swept men's haircut especially if you are going for a prim and precise look. It's a full-grown beard that's trimmed neatly and evenly – hence, the name! A boxed beard is another choice that you can consider.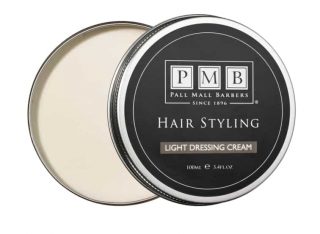 Pompadour is another hairstyle that pairs well with a beard, sharpening your masculine look better than ever! While you may know about this hairstyle already, a pompadour is a hairstyle with more volume on top compared to the back and sides. The hair on top is combed upwards and then backwards to create a wavy form. The voluminous top elongates the length of your face, which is great, especially if you have a round face shape. The Pompadour by Pall Mall Barbers is a product specially developed for pompadours, offering the right amount of hold and shine. Whether you are attending casual or formal occasions, this product can help you style the pompadour to your liking! It's best to keep your facial hair trimmed, neat, and even in length to suit the polished look of pompadour. A short yet full beard can enhance the masculine look of pompadour. You can also go for a chin-strap beard, especially if you have thin facial hair.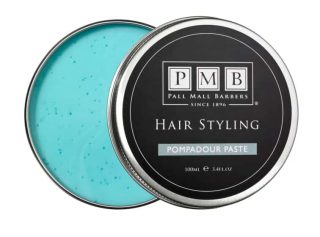 Looking for a low-maintenance hairstyle? Then, the French crop is an option you should definitely consider. A French crop hairstyle leaves the hair on top longer than the sides and the back. The distinct feature of this haircut is the textured hair on top with a cropped fringe. You can sweep the fringe to the side or style it to be in the middle. The sides can take a low-high fade, depending on your preference. Styling your French crop requires very few products. Ideally, choose one with light or medium holds like our Pomade, Light Dressing Cream, or Pliable Clay by Pall Mall London Barbers. A Van Dyke beard or goatee pairs well with French crop hairstyles. A Van Dyke beard consists of a moustache and chin beard while the rest of the facial hair is shaved off. A goatee is when you only have a chin beard, and the length of it can vary according to your preference.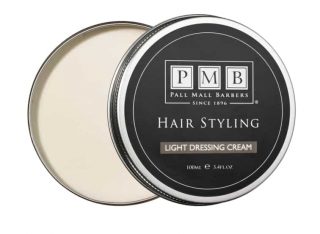 In faux hawk hairstyles, the hair on the sides is clipped short, while the middle strip of hair is fashioned into spikes. It's a great hairstyle for men who love spikes but want a less dramatic version of the Mohawk. Unlike a Mohawk with shaved sides, a faux hawk can emulate an undercut or fade to go with it. As for the hair on top, you can create individual spikes or simply brush your hair upwards to form messy tufts. Faux hawk haircuts need a handful of styling products to keep the style intact. The Pompadour Paste or Pomade by Pall Mall Barbers is suitable to style faux hawk as they give a medium hold with the flexibility to restyle your hair any time of the day! Alternatively, you can also use the Flexible Shine Paste if you want to go for a sleek look. A well-trimmed beard is a great pairing with faux hawks as it complements the subdued look. So, short or medium stubble is a good option. It doesn't take away the attention from your fauxhawk and balances the look at the same time.
A high-top undercut is exactly as it sounds and may not be for the faint-hearted. Jokes aside, it's one of the trending men's haircuts among those who want to look bold with a voluminous top, and a drastically high skin fade undercut on the sides and back. You can style the top into a neat quiff or go for a shaggy look – either way, it's going to stand out in a crowd! Your high-top undercut can have some shine boost with our Flexible Shine Paste or a matte look with our Pliable Clay. If you don't want a stronghold, take a tad bit of our Light Dressing Cream, and you are good to go! A full beard or a thick scruff works great with high-top undercut hairstyles. It brings a well-rounded look and balances your high-top with dense facial hair. But, if you are going for a messy look with your hair, a well-trimmed beard is good to downplay the unkempt look a bit.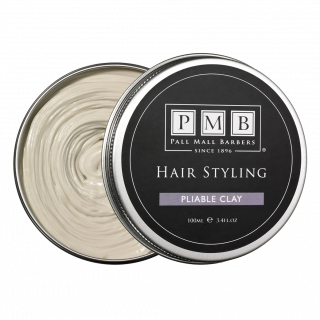 There are so many options for textured hairstyles, but all of them focus on creating layers and adding definition to your locks. Your hair will also appear voluminous due to the layers, which is why it's highly recommended for those tackling thin or wispy hair. Alternatively, textured haircuts can also tone down the volume of dense hair. So, it works both ways and is ideal for curly, wavy, and straight hair. The product you should use depends on the kind of style you want to achieve with the textures.
If you want to create messy tufts, a Light Dressing Cream should suffice. But, if you are going for a fixated look, you need a product with a medium-strong hold like Pomade by Pall Mall Barbers. There are so many beard styles for textured hair. Everything from stubble to chin strap beard to Verdi should work well with textured hairstyles. But, if your textured haircut is long, it's best to maintain your facial hair short.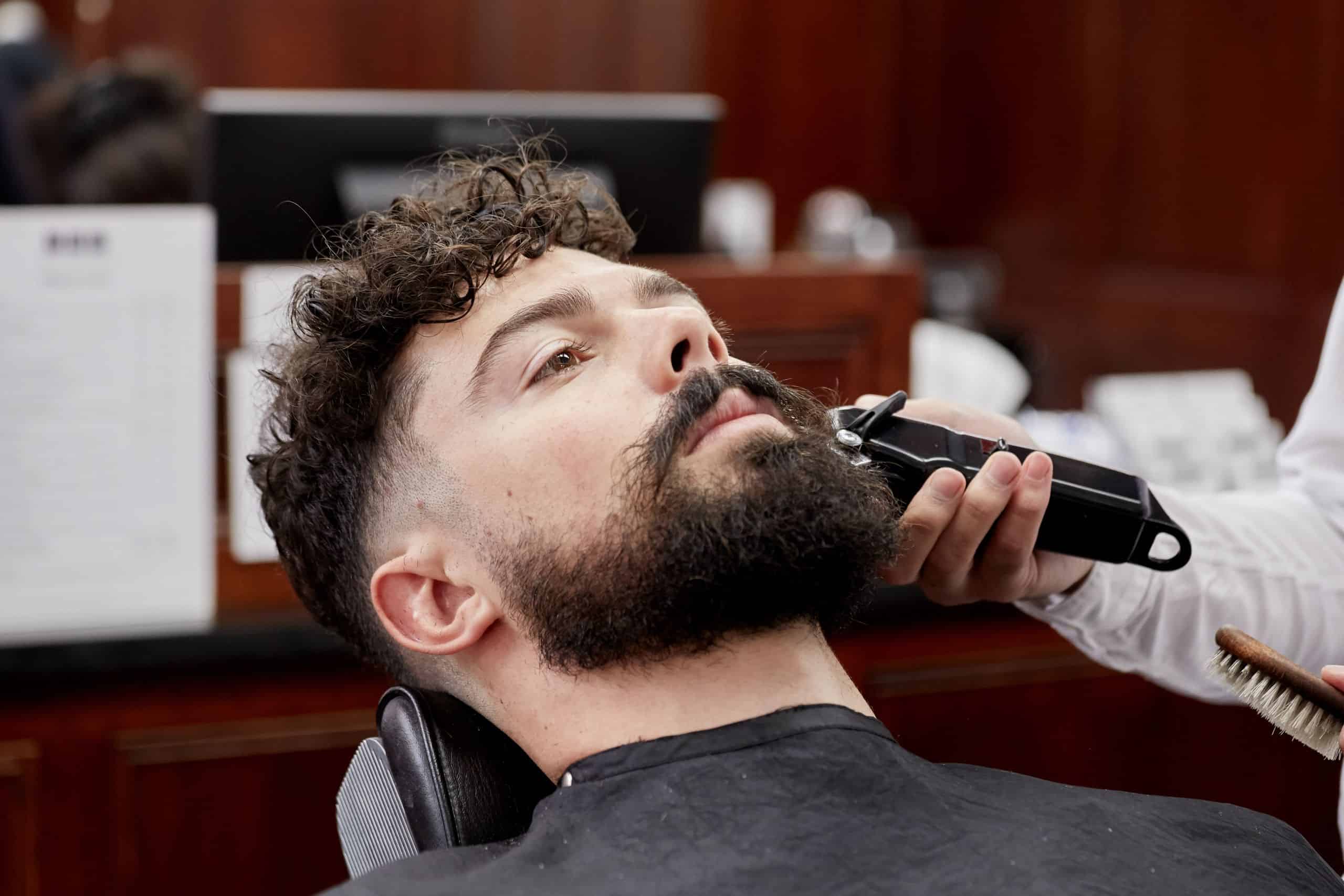 Pall Mall Barbers in NYC
Have more options in mind but wondering whether they will suit you? Don't worry. Consulting one of our expert barbers can help you decide easily! We at Pall Mall Barbers are always ready to deliver you the best service possible. As the best barbers in London, we help our clients with all their hair care needs, from offering top-notch haircuts to high-quality hairstyling products!
Nearest Subway Stations
47-50 Streets Rockefeller Center Subway Station
7 Avenue Station
Times Sq-42 St
5 Avenue-Bryant Park Station
42 St – Grand Central Station
Lexington Av-53 St
Book an appointment with our awesome team of Midtown, this can be done via our Website Booking System or by using the free PMB app (available on iOS and Android). Alternatively, call the shop and speak to one of our friendly team members, who will be delighted to make a booking for you.
The service menu provides a full description of what to expect when you visit Pall Mall Barbers Midtown.
Please bring your own face covering with you for your appointment. We want to save the NHS. Please find information on our services and visiting restrictions in our COVID-19 section here. 
Barber | Barber Shop New York | Barber Shop | Barbers Shop | Barber Shops Near Me | New York Barber Shop Near Me | Barber Shop NYC | Men's Barber Shop | Mens Barber Shop Near Me | Barber Near Me | Best Barbers in NYC | Best Barbers NYC | Master Barbers NYC | NYC Barbers | Midtown Barbers | New York Barbers | Barbers in Manhattan | Barbers Manhattan | Best Barbers in Manhattan | Barbers in Rochester NYC | Astoria Barbers | Barbers Astoria | NY Barbers | Best Barber in Brooklyn | Brooklyn Barbers | Pall Mall Barbers NYC