Best Barbers London has? If you find yourself wondering which Central London barber shop to trust? You need to ask yourself what your criteria are. If you are searching for 'barber shop Luxury London Barber Shop', hoping to stumble upon an experienced, established, stylish best Barbers London – you're in luck. We created this article to save you time, headaches and bad haircuts! There are three key things that make us the ideal place to get men's haircuts in London. What are they? You're about to find out. View Your Youtube Videos

Best Barber in Central London?
The best way to make sure your head is in good hands, is by checking the ratings and reviews online, right? Sure, we can go on and on about how great our Central London barbers are (and we will!) but it's also a good idea to check out other people's opinions. When you type 'barber shop luxury London Barber Shop' into Google, you should come across Pall Mall Barbers Paddington. This is the best barber shop and other folks seem to agree too. At the time of writing, we're at 336 reviews with an overall rating of 4.7/ 5. Incidentally, if you came here simply looking for the address of the best Paddington barber shop, here it is Best Barbers London – 23 Sheldon Square, Paddington, London W2 6EY. 
What makes us the best Barbers West London has ever had?
A trawl through London's archives will help you discover that the Pall Mall Barbers Paddington brand can trace its heritage of hairdressing way back to 1896. We've been serving the city's gentlemen with exquisite services for almost 125 years and we're not stopping any time soon – you can expect us to treat you with the best men's haircuts Paddington has ever seen. Since our humble beginnings, we've expanded city-wide, nation-wide and worldwide.
One of our best-loved locations is this one and it's one of our favourites too – the grand architecture of the district, the esteemed gentlemen who pass through and the relaxed lifestyle are all a perfect match for us.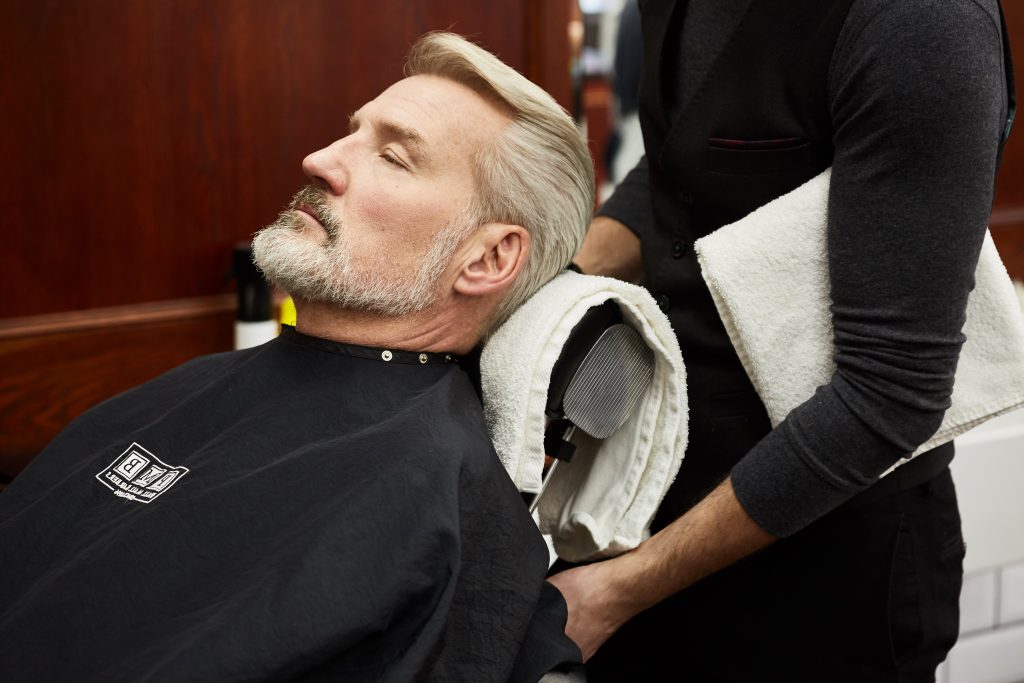 Having such a fantastic history means we are constantly working to ensure that our legacy remains intact. We aren't stopping in terms of evolving the way we operate, we will always innovate and try to find new ways to impress and add value to our customers' in-store and after-care experience.
However, there are some traditional elements that are enshrined in our story and are here to stay. One of those things can absolutely be found in our store and it is our classic wet shave. Besides the products becoming more premium and the razors being superior quality. The way in which we deliver this treatment is with tradition in mind. Everything we do at our salon must provide you, the customer, with the best experience – that's why we take time with our services and ensure you're enjoying it.
Men's hairdresser
We feel that an experience at a men's hairdresser should be therapeutic and an escape from the often overwhelming outside world. We care a lot about mental health issues and have even been recognised by the Duke of Cambridge for our work on the matter. So it's paramount that we treat the gentlemen who enter the Best barber west London has ever had as best as we can. Allowing them to relax. Why drown your sorrows and celebrate your accomplishments in a bar when you can do it in the sophisticated company of a legendary barber shop. Best Barbers London
Hair –Pall Mall Barbers Paddington – Best Barbers London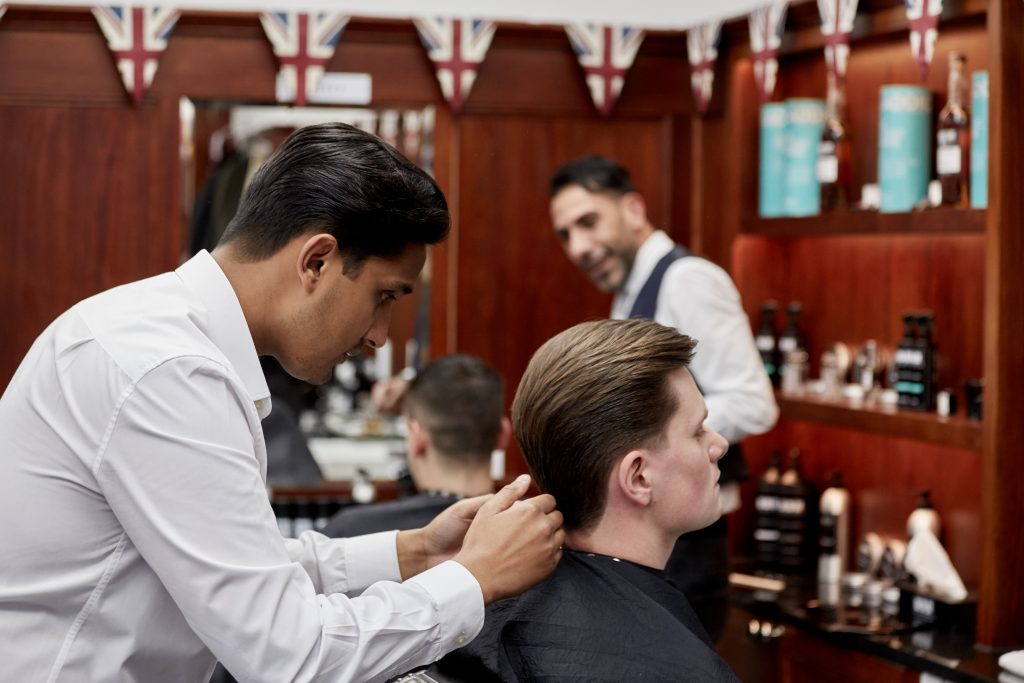 Whether you're looking for something new or just want a better version of your 'usual', getting your hair cut and styled is a big deal. It's going to have an impact on how you feel, how you're perceived and it's something we take seriously. Hair is our art and craft. It's our science and business too. This means when you enter our place to experience the best men's haircut West London has to offer. You can rest assured that you're coming into a place where your head is in safe, experienced hands. We'll discuss your desired look, offer some advice and then execute the perfect cut and style!
Beard Styling – Pall Mall Barbers Paddington – Best Barbers London
Facial hair needs styling too! Getting your beard trimmed, shaped and sharpened is a great way to add definition and character to your appearance. With steady, experienced hands and a keen eye for style, our store is staffed with experts who can design your beard like an artist creating a masterpiece.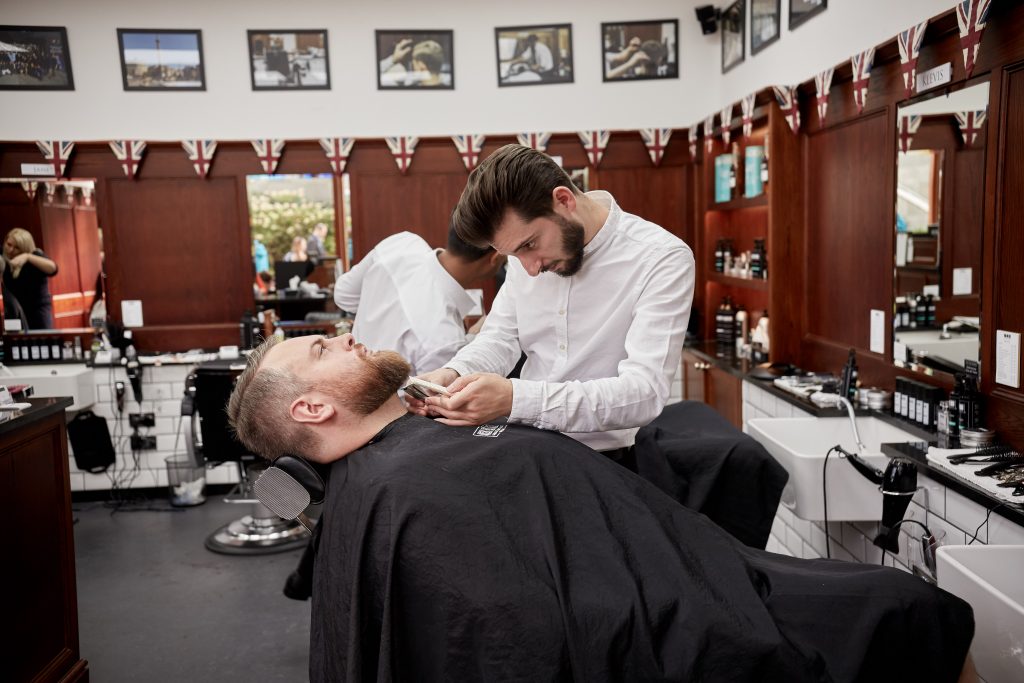 Shaving – Pall Mall Barbers Paddington – Best Barbers London
As mentioned, the classic wet shave is one of our star services because we've been doing it for so long and refined it to perfection. Nothing beats the feel of our luxurious foam and the refreshing swipe of our sharpened blades as they groom your face to model. You'll feel rejuvenated, re-energized, and ready to roll!