Connor McGregor Haircut
When he's not starring in a knockout highlight reel or a trailer for the greatest trash talkers in history, Conor McGregor is busy making himself an icon… Oh, and maintaining a great haircut. When we think of the classic McGregor image, we think about ballsy, tight-fitting suits and a swaggering walk which could rival any catwalk model. Above his shaded eyes there rests another feature which we undeniably associate with The Notorious, namely his haircut. Always slick and predictably sharp, Conor's well-kept crop is cut in a way which has been imitated by millions of fans after him. All of those fans will be watching the Irishman in his next exciting bout against controversial rival Khabib Nurmagomedov in Las Vegas, which is due to take place on Saturday 6th October.
Conor McGregor's story is well-known, rising from humble plumbing apprentice to Dublin's finest fighter of all time. His unwavering commitment to martial arts and his audacity to push boundaries in rings with different shapes are all testaments to his character and confidence. At age 30, 2018 marks Mystic Mac's 10th active year in the fight game which he is hoping to celebrate with a monumental win in the octagon. The last time we watched Conor fight was against Floyd Mayweather and we all know how that went but the real winner was his pocket.
What is the Conor McGregor Haircut?
The signature Conor McGregor haircut consists of a high skin fade on the back and sides with a hard side parting on top with the hair immaculately swept to one side.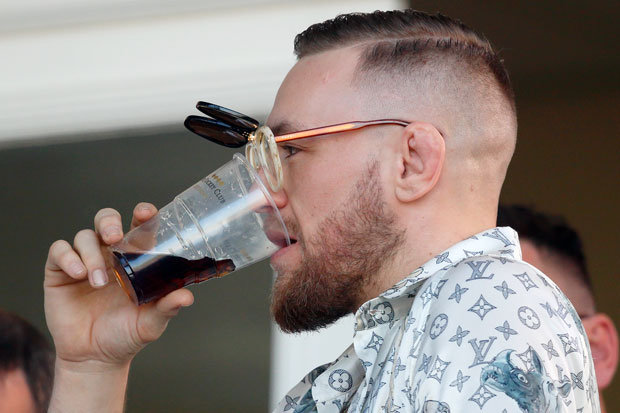 What to ask your barber for?
Ask your barber for a short scissor cut on top with a hard side parting using a razor for extra definition. Make sure your barber leaves enough length on top for the hair to be manoeuvred to one side.
A high skin fade will do just the trick on the back and sides. If you don't want to go super short, ask your barber for a 1 or 2 grade instead.
What product to use?
To get the shine and hold, apply a small amount of good pomade through the hair, sweeping to your preferred side.
To keep your new style well-maintained and groomed to perfection throughout the day, you might need to invest in high quality, discreet comb. Nothing screams gentleman louder than an exquisite folding pocket comb.
Pomade
Our luxurious pomade was designed specifically for those with thicker hair. With its distinctive and masculine scent, our fragranced oil will help to style your locks in a classic way that's both sleek but also provides some stronghold because of the fragrance! Suitable for all types including short or medium length scalps – you can use this product without sacrificing any styling needs at all.
Directions: To apply use a small amount of damp or dry hair and style it into place.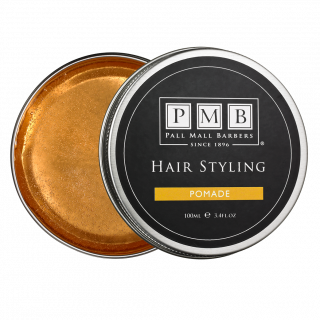 Visit Pall Mall Barbers New York to get the Conor McGregor Haircut
The Conor McGregor haircut can be yours with the help of our Manhattan barbers who know a thing or two about this particular cut. Pall Mall Barbers in Manhattan boasts the most talented team of men's hairdressers in NYC and they are ready, with blades in their hands, to fashion you the look you desire. As with any style of hair, it must be properly produced in the first place in order to maintain it – to do this you need to find a good barbershop in New York. Pall Mall Barbers certainly fits that criteria as our barbers are all experienced and experts in traditional barbering in New York City but equally equipped to magic up the modern styles and techniques.
Conor may be bearded but you might like to carry a stubble or a clean-shaven look to accompany the new style so don't forget we are the beard specialists in Midtown too, don't look anywhere else for getting your beard grooming in Manhattan – get your head right and head over to Pall Mall Barbers in the Rockefeller Centre.
If the Conor McGregor haircut appeals to you and you want to get in the spirit of the fight on October 6th, you should head to the best barbers in NYC to make it happen!
---
Nearest Subway Stations
47-50 Streets Rockefeller Center Subway Station
7 Avenue Station
Times Sq-42 St
5 Avenue-Bryant Park Station
42 St – Grand Central Station
Lexington Av-53 St
Book an appointment with our awesome team at Midtown, this can be done via our Website Booking System or by using the free PMB app (available on iOS and Android). Alternatively, call the shop and speak to one of our friendly team members, who will be delighted to make a booking for you.
The service menu provides a full description of what to expect when you visit Pall Mall Barbers Midtown.
Please bring your own face covering with you for your appointment. We want to save the NHS. Please find information on our services and visiting restrictions in our COVID-19 section here. 
Barber | Barber Shop New York | Barber Shop | Barbers Shop | Barber Shops Near Me | New York Barber Shop Near Me | Barber Shop NYC | Men's Barber Shop | Mens Barber Shop Near Me | Barber Near Me | Best Barbers in NYC | Best Barbers NYC | Master Barbers NYC | NYC Barbers | Midtown Barbers | New York Barbers | Barbers in Manhattan | Barbers Manhattan | Best Barbers in Manhattan | Barbers in Rochester NYC | Astoria Barbers | Barbers Astoria | NY Barbers | Best Barber in Brooklyn | Brooklyn Barbers | Pall Mall Barbers NYC