Are you a newbie to the haircare game, looking for some expert help? Or have you tried a variety of products from here and there only to find none of them working out for your hair? Either way, this article is going to help you.
Before you start sticking into a particular haircare routine religiously, it's important to know that the products that work out for someone else may not work for you. It takes a bit of trial and error.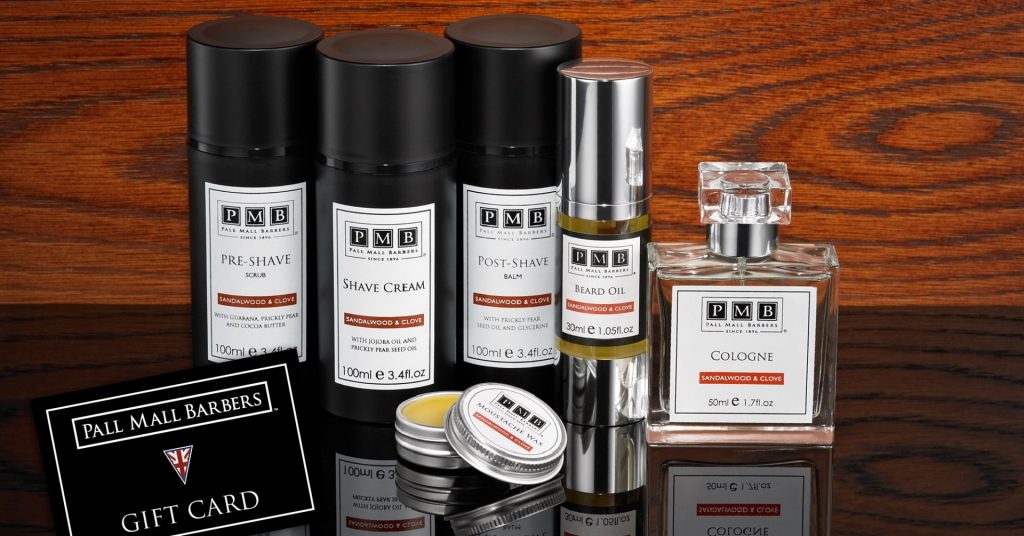 However, starting with the basics is a good idea than hoarding everything that everyone recommends to you. Then, you can expand based on what suits you best. That's the pro tip our best barbers at Pall Mall Barbers give clients. So, here are the essentials that every gentleman should own!

1.     Comb/Hairbrush
It might seem obvious that a comb or a hairbrush is the first accessory that you should own. But, as expert barbers in London, we like to point out that it's vital that you select one that suits your hair type and length. Yes, ditch the comb your grandma gifted years ago or the brush you found in the apartment you moved into. You might be combing your hair all these years but still be doing it wrong with the wrong comb/brush!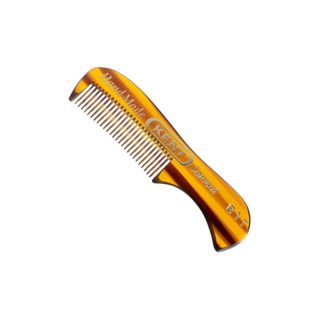 Combs
When it comes to combs, we recommend you select a wide-tooth comb if your hair is curly or wavy and is usually difficult to untangle. It's best to avoid fine-tooth combs to avoid breakage unless you have fine, straight hair.
If you are looking for a handy pocket-sized comb that you can carry anywhere, get your Men's Pocket Comb by Pall Mall Barbers. Another great option is the Extra Small Men's Moustache and Beard Comb!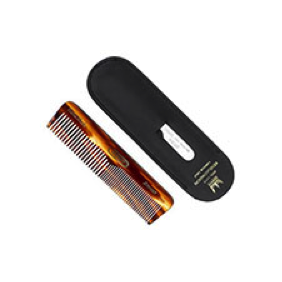 Hairbrushes
Hairbrushes come in different shapes, and their bristles come in different materials too. Choosing the right one for your haircare can help you achieve a smooth look and style your hair easily at the same time.
There are cylinder, oval, rectangle, and square shape brushes that you can purchase based on your preference. The cylinder one, in particular, is helpful if you want to achieve waves or curves! There are also military palm brushes that come with an elastic band behind them. It makes brushing easier as you can slip your hand underneath the band and run it through your hair.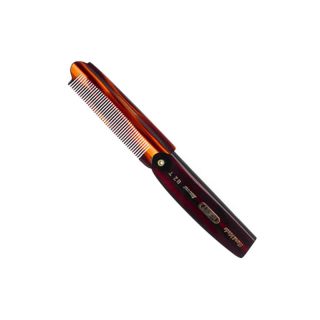 Hairbrushes by material
Natural bristles (wood or boar): These brushes help you apply haircare products like Light Dressing Cream or oil more evenly. Boar bristles are ideal for fine/straight hair as the bristles are spaced close to each other. On the other hand, wooden bristles are ideal for those with thick or coarse hair! They can also help promote blood circulation in the scalp. Brushes with natural bristles cause static hair.
Synthetic bristles (nylon or plastic): You will find the bristles in these brushes a bit wider than boar-bristle brushes. They are ideal for wavy/curly/coarse/thick hair. They can be used to detangle your hair too. If static hair is a problem, you have to go with synthetic-bristle brushes.
Hybrid bristles (natural and plastic): They are a combination of the above and therefore are suitable for all types of hair.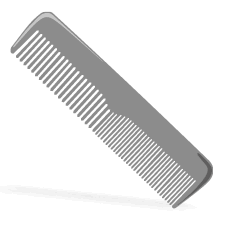 1.     Shampoo
The purpose of the shampoo is to cleanse your hair, remove build-up and dirt, and keep your hair good-smelling and healthy! Experts advise limiting your use of shampoo to twice or thrice a week, especially if you have dry hair. Daily use of shampoos can strip the natural oils in your hair and make it appear dry and coarse.
That being aside, choosing a shampoo is also equally important. So, if you have been using just about any shampoo that you can get your hands on, it's time you switch up to better practice! Study your hair, its texture, and porosity and determine what products you need to wash and maintain well.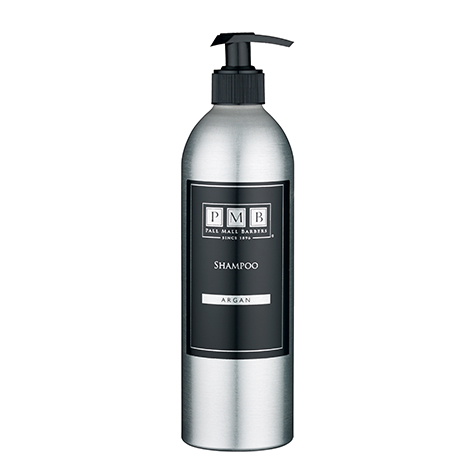 We, best barbers in London recommend you select a shampoo that doesn't contain harsh chemicals, silicone, and parabens, as they can damage your hair in the long term. If you have normal hair, you wouldn't need a specially formulated shampoo. However, if you have oily hair, you would need to select a cleansing shampoo that will remove excess oil.
Similarly, if you are dealing with an itchy or dry scalp, you have to select a nourishing shampoo that contains the right ingredients to fight it. In this case, we highly recommend you try Tea Tree Shampoo by Pall Mall Barbers. Ideal for normal to dry hair, the shampoo contains the goodness of tea tree and eucalyptus oils to hydrate and soothe your irritated scalp. Tea tree is also renowned for hair growth. Regular use will also improve the fullness of head hair, reducing breakage and damage.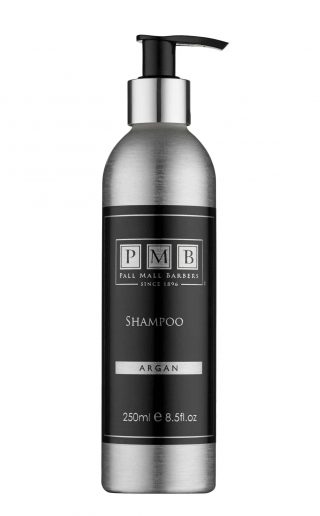 For gentlemen dealing with dandruff, split ends, thinning hair, or excess loss of hair, we recommend you try the Argan Enriched Shampoo by Pall Mall Barbers. It contains argan oil and vitamin E, two renowned ingredients for healthy and voluminous hair. The fatty acids in the shampoo will moisturize your hair. With regular use, our customers have experienced silky and shiny hair that's easy to manage and style.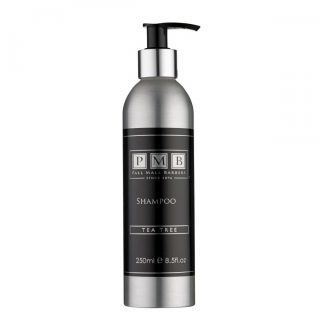 2.     Conditioner
Remember the time when your barber said conditioner isn't necessary for hair? No? That's because there wasn't any! A conditioner is a must-use if you want to retain and lock moisture in your locks. If you aren't already aware, the shampoo tends to strip the moisture in the hair during the cleaning process and what the conditioner does is compensate the lost moisture with its many ingredients! Experts confirm that conditioner plays a great role in protecting the cuticle of the hair, preventing breakage, and promoting healthy hair.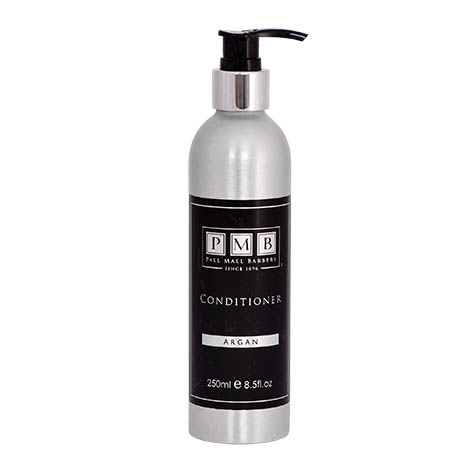 Again, just like the shampoo, it's vital that you choose the conditioner based on YOUR haircare needs! If you need help, our best barbers in London will identify the right conditioner for your hair. There's the basic conditioner that does a solid job in locking moisture, a deep conditioner especially for dry hair that needs extra attention, and a leave-in conditioner or dry conditioner that you don't have to wash off.
Unlike shampoo, you can use conditioner more regularly, even without shampoo. A few times per week works best according to our best barbers. Once you have shampooed and washed your hair thoroughly, apply conditioner from mid to ends of the hair, focusing on the tips more. Don't apply it to the scalp, as it can make your hair look very oily. Leave for a while and rinse off.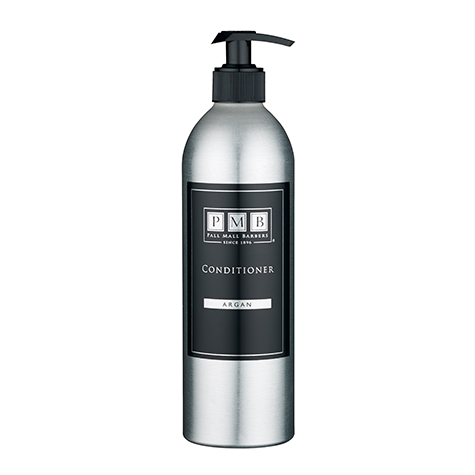 You can always go with the condition that's designed to complement the shampoo you use. If you use our Tea Tree Shampoo, we recommend you use the Tea Tree Conditioner for best results. It offers a smooth finish that you would surely love! We also have Argan Enriched Conditioner to enhance the results of our Argan Enriched Shampoo. It improves your hair lustre, making it look attractive even when you don't use any products.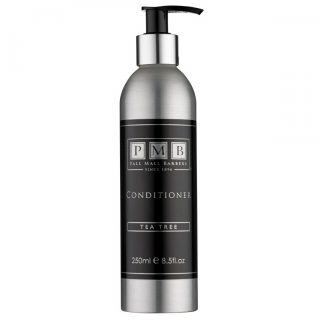 3.     Blow Dryer
Unless your default haircut is a buzz cut that takes no time to dry and needs no styling, a blow dryer is an essential tool you need. If you think about it, a hairdryer also comes in handy during times when you have to rush to the office and don't have time to air-dry your hair well after a shower.
Blow-drying helps you style your hair more effectively as it sets the hair in the manner you prefer. It also absorbs moisture in your hair without causing a lot of frizz – that's especially a problem if you have medium to long-length hair.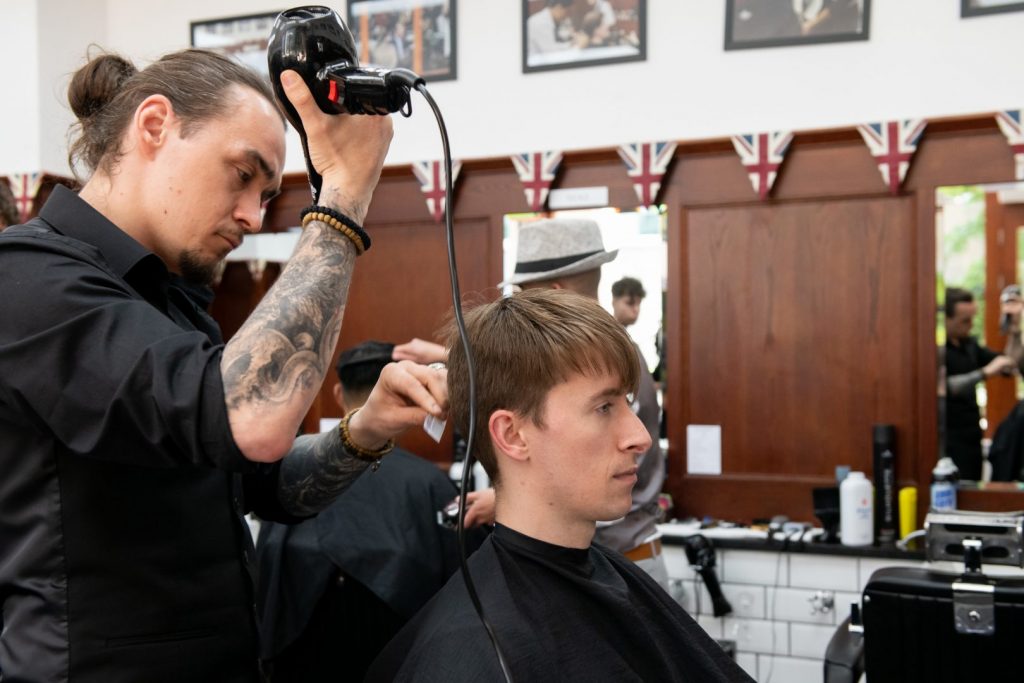 A blow dryer needs to be used when your hair is damp. So, remove excess water using a towel and grab the ideal comb/brush for your hair. A brush works better. Depending on the thickness and length of your hair, section it evenly and start blow-drying one section at a time.
If you are trying to create a side-swept look, you need to blow-dry the hair in that direction. If it's a combed back or pompadour hairstyle, use an upward and backward direction. It could take a bit of time, especially if you are new to using a blow dryer in the haircare routine. However, once you get the hang of it, it will be much easier! Using a blow dryer means you will have to use little effort to style your hair. So, it requires less amount of the product you use, whether it's clay, pomade, or anything else.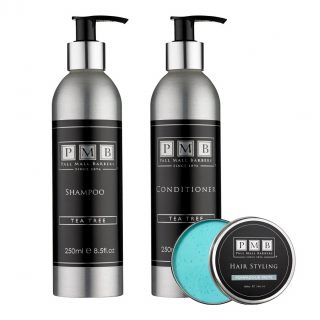 Our best barbers recommend you invest in a good-quality hairdryer. You will find plenty of cost-effective yet solid choices in the market. You can even ask your expert barber about reliable brands. Additionally, using a heat protectant can help you prevent potential hair damage, especially if you are using the hairdryer every day. But, our barbers recommend you air-dry the hair in situations when you don't need to style your hair.

4.     Sea Salt Spray
Sea salt spray is one of the most versatile hairsprays in the market. If you want to achieve a naturally-styled look without making it seem like you have applied a product, sea salt spray is the answer! It is known for improving the volume, definition, and texture without making your hair look greasy and oily. If you are dealing with fine hair, a few spritzes can make your hair appear voluminous. Even for thick hair, sea salt spray is perfect as it doesn't weigh down your hair like other heavy styling products.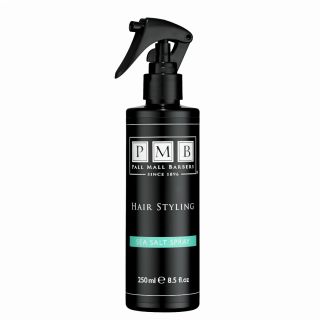 Sea salt spray is also popular among gentlemen who like to sport a messy, wavy beach look or an incredibly sexy just-rolled-out-of-the-bed look! You can also use it as a pre-styler to make your hair more manageable before applying a styling product like pomade or clay.
As sea salt is renowned for absorbing moisture, it's a great choice for those with oily hair. It will make your hair appear less greasy. You can use it both on damp and dry hair. If you are after a shower, you can spray it on damp (not wet) hair, making twists and scrunches with your hands for styling. If you are using it as a pre-styler, blow dry your hair before adding the other product.
However, our barbers don't recommend using sea salt spray often as it strips the moisture off your hair. Use in moderation as with every other product.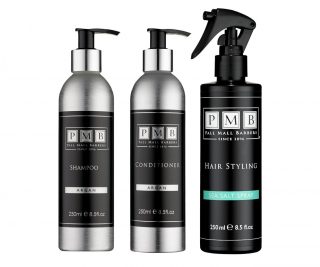 Need a good sea salt spray to invest in? Pall Mall Barbers Sea Salt Spray is very quick and easy to use. Our 250ml bottle is handy for you to carry around as well. So, if you are heading on a summer vacation, seeking tropical hotspots, don't forget to take the spray with you.
You could be someone sticking to one particular style all the time or someone who likes to experiment with hairstyles a lot. Either way, we think a styling spray that helps you improve the texture and volume of the hair is a must-have!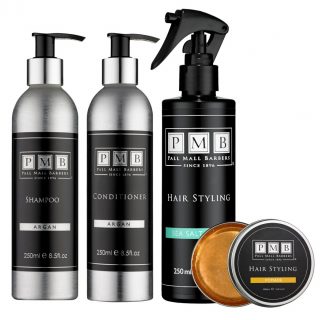 5.     Hairstyling Cream
Finally, you need to have good quality haircare products to try different looks or stick to the hairstyle that you love. When it comes to hair styling products, the choices are endless. It could be overwhelming to pick and choose, especially if you are new to it.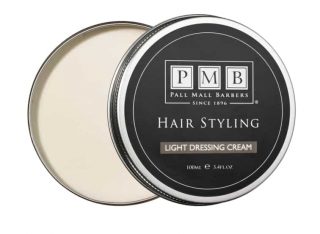 One key tip by our expert barbers is to examine your hair. Depending on the texture and thickness, you can settle on the suitable hairstyle(s) and select the appropriate products. The face shape is a defining factor when determining the perfect hairstyles or haircuts for your hair. If you want a guide on picking the right style for your face shape, read our article here!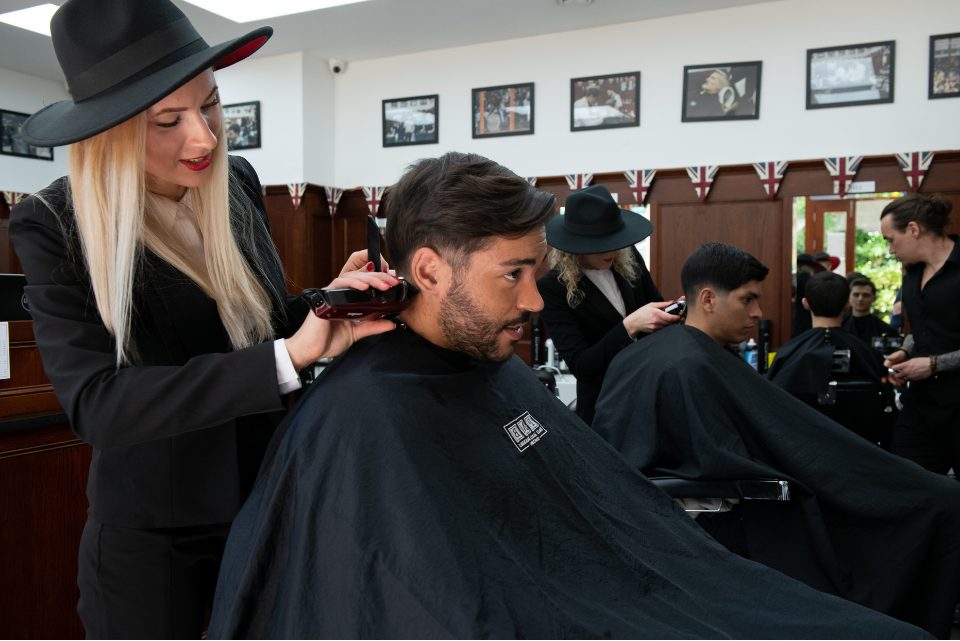 Now before you choose products, identify the hold and shine provided by each. If you want a naturally-styled look, you need to select one with a light hold. If you need to style a pompadour or quiff, you need a strong hold product like a pompadour. You can also settle for a product with a medium hold product like pomade. Then, you also have to decide if you need a product with a matte, low-shine, or high-shine finish. If all of this sounds Greek to you, don't worry. We have an extensive guide on hair styling products, and you can read it here. It will get you right on track in no time.

The most important thing, according to our best barbers is investing in good quality haircare products. You will be able to use them for a significant period without a hassle, and they are designed in a way it's easy to apply and wash off. Pall Mall Barbers has a range of hair styling products for all types of hair.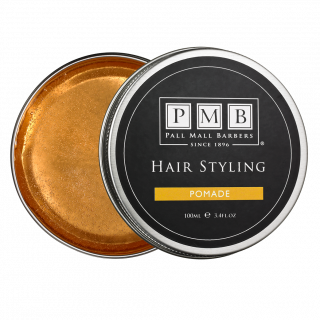 Get your desired products from us. We offer,
Shop for all your haircare needs at Pall Mall Barbers' shop!

Pall Mall Barbers Midtown
10 Rockefeller Plaza
Lower Concourse,
New York
,
NY
10020
United States (US)
Phone:

+1 (212) 586 2220