It's been a fantastic year for us at Pall Mall Barbers – we've won even more awards, opened our first UK barbershop outside of London, and the team are going from strength to strength – as well as having royalty visit us and working with number of exciting brands. 2020 already promises to be another exciting year, but let's look back at some of the highlights. View Video with Pall Mall Barbers Midtown.

A Royal Appointment
His Royal Highness The Duke of Cambridge, Prince William, visited our Paddington to talk with our barbers about our work with the Lions Barber Collective. The Lions are a group of barbers trained through the BarberTalk program to help clients talk about their mental health concerns and discussing subjects such as depression, anxiety, and stress.
A Visit from the Future King
Prince William was welcomed to the barbershop by our Founder & CEO Richard Marshall. Crowds surrounded the barbershop, gathering outside to get a glimpse of the Prince in person. He spoke with our barbers and the team from Lions Barber Collective at length about the importance of talking about and addressing mental health issues. He was gifted with our award-winning products, and joked to our barbers that he didn't really need too much help in the way of haircuts anymore! Richard Marshall said it was 'an incredibly special occasion which gave me a great sense of fulfillment and accomplishment'.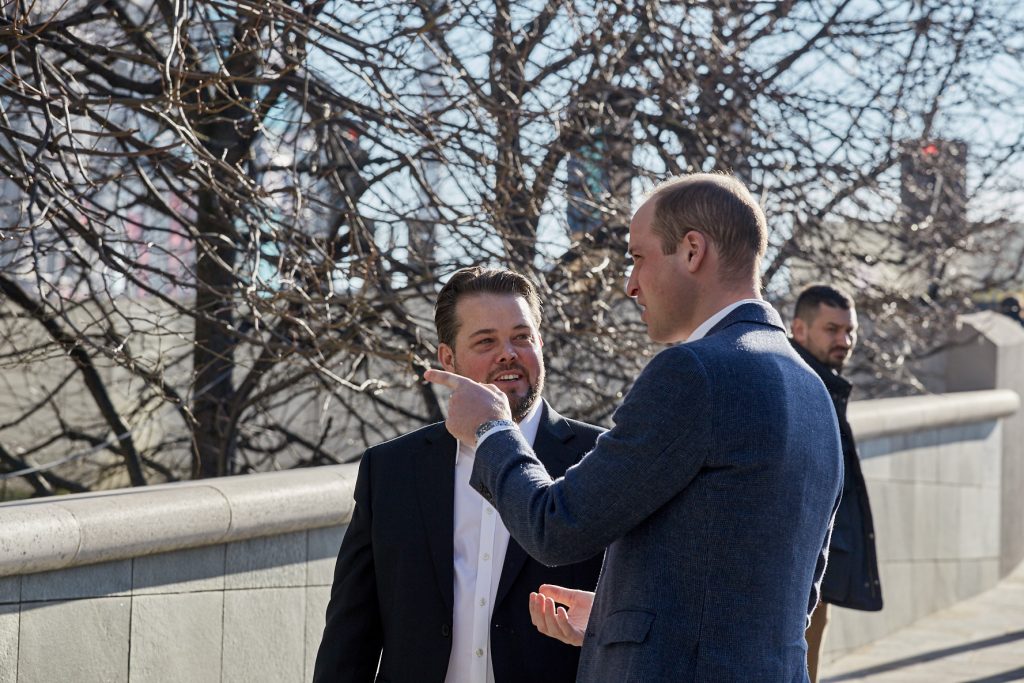 Global Media Coverage
Ongoing work that Prince William his wife the Duchess of Cambridge and his brother Prince Harry are doing to draw attention to the mental health crisis has been incredibly valuable – and those conversations are generating plenty of press coverage across the world.
The visit attracted media attention globally, with Richard Marshall interviewed on ITV News London and General Manager Daniel Davis interviewed live on Sky News. The Royal Household also covered the visit, with Kensington Palace and the Heads Together initiative tweeting and sharing articles about it. The press from Daily Mail, Channel 5, Hello, People, Daily Express in the UK all covered the momentous visit. The news spread as far and wide as Australia and Canada!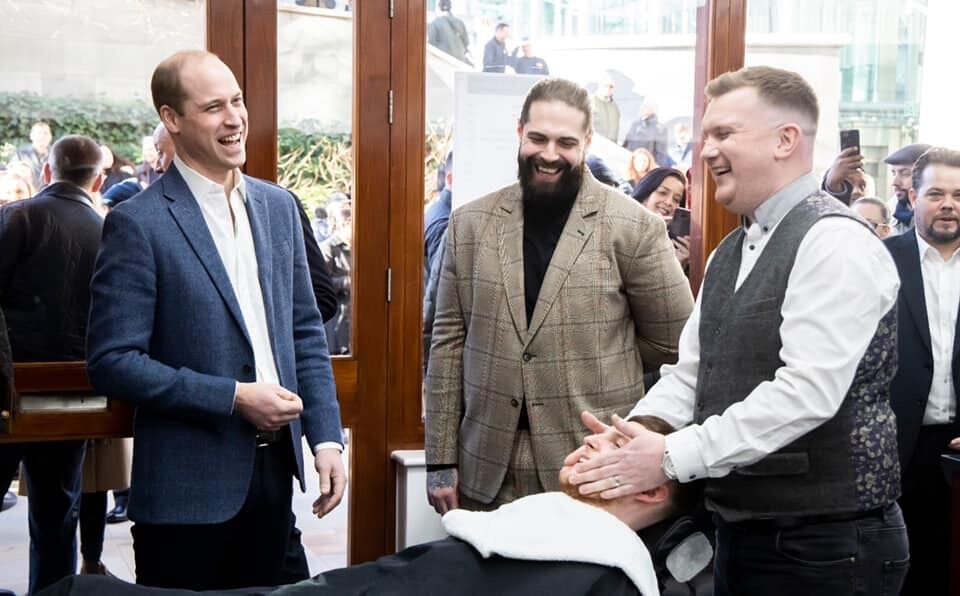 Our Mental Health Solutions
Working in London can be particularly taxing on our mental health, with increasing stress levels, exhausting commutes, and anxiety. Stressful jobs and expensive rents, as well as the increasing phenomenon of loneliness exacerbated by social media,  build into a perfect storm. Men are less likely to visit a doctor for treatment of their mental health issues, and young men are also the most likely to die by suicide. Our work with Lions Barber Collective is vital in helping our clients open up, recognize symptoms and find support and treatment.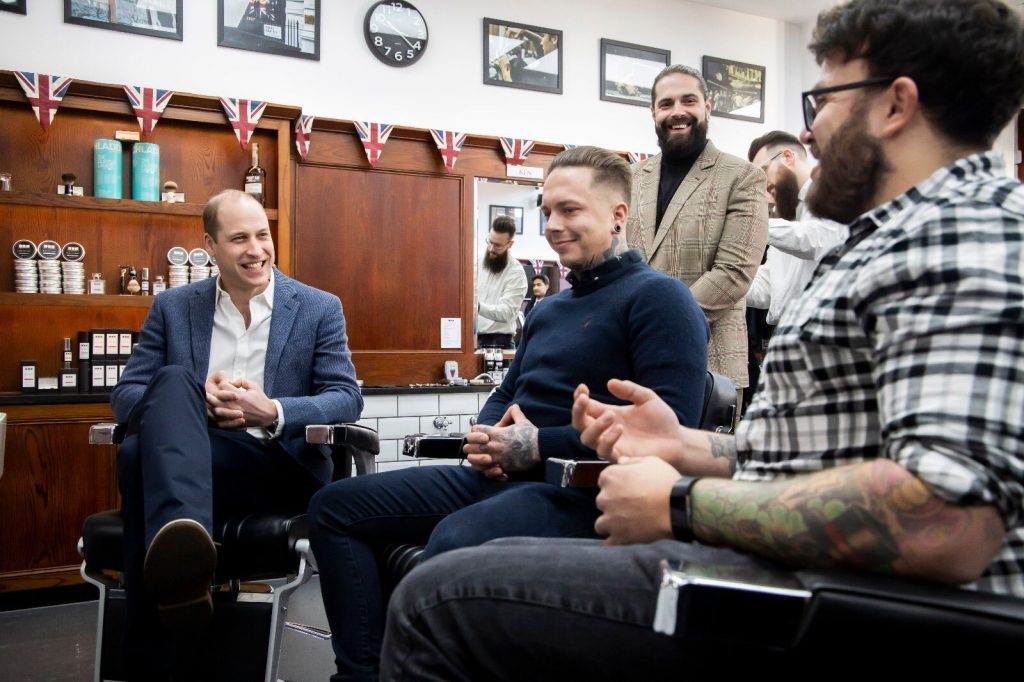 Please contact info@thelionsbarbercollective.com for more information about the Lions Barber Collective, or call the Samaritans on 116 123 if you are in crisis.
Winning Big in Hollywood!
We were awarded the RLI Rising Star Award at the 14th Annual RLI Awards, this year held in Hollywood! On April 3rd, the Retail Leisure International Awards were held at Universal Studios – celebrating innovation in retail and leisure experiences around the world. Members of the Pall Mall Barbers team were in attendance as we were shortlisted for the RLI Rising Star 2019 Award. After taking home the award at the ceremony, we were invited to explore the Wizarding World of Harry Potter and celebrate the win!
Celebrating Excellence
At the beginning of the night, RLI Publisher Jayne Rafter said: "Tonight, we pay tribute to the very best of the best, the innovators and those that dare to push the boundaries; we reward those dynamic projects and concepts that excite the senses with stunning architecture, exemplary customer service, products that 'wow' and that aren't afraid to take risks, refusing to settle for anything but the very best."
Multiple Award Winning Barbers
This year we didn't just win in Hollywood but were recognized by official bodies for our work at home and overseas too.
Board of Trade Champions Award
We also won an award from the Department for International Trade, naming us as the Board of Trade Champions for our work exporting both services and products globally, particularly in recognition of our work opening our New York barbershop. This marks a huge step for us at Pall Mall Barbers as the Government is actively supporting homegrown talent through promoting exports in markets around the world.
The award is a result of our working with the Department for International Trade in growing our export business for our award-winning grooming and styling products, and the opening of our New York barbershop in NYC's historic Rockefeller Center. These two strategies are key to our growth and working to build Pall Mall Barbers into a truly international brand.
Our General Manager Daniel Davies and Head Barber of our Bishopsgate Barbershop Christian attended the award ceremony, doing Pall Mall Barbers proud. The award was presented by the Right Honourable DR Liam Fox MP, who is Secretary of State for the Department for International Trade & President of the Board of Trade.
Pall Mall Barbers have been recognized by the Department for International Trade for special recognition for our contributions to improving the UK's export market and international reputation, as well as recognizing excellence in trade and investment. As they work with thousands of businesses across the UK, this is a huge honour to be recognized as such.
Make your first impression count – Nearby barbers open now – we are on a mission to be the Best New York Barbershop has to offer for our clients. Our barbers near Rockefeller Center Station, we are known as the best barbers near Midtown – our reviews, reputation, and results speak for themselves. Our team of expertly trained and well-experienced barbers near Midtown East NYC on hand to serve you with the barber services. If your searching for a barber near me, barbers near me, barber, barbers, barbershop, best barber, best barbers, barbers new york, new york barbers, nearby barbers open now.

---
Most Anticipated Opening of the Year
Before we had even opened our Birmingham barbershop, we were awarded the Most Anticipated Opening of the Year award at the Corporate LiveWire Birmingham Awards 2019 – cementing the expectation for our continuing expansion outside of London and place in the industry.
Highly Commended Recognition
The 5th Official London Hair & Beauty Awards 2019 bestowed us with a Highly Commended Recognition in place of the award, and we're absolutely thrilled with the recognition here at Pall Mall Barbers. Long may it continue!