How to ask your barber for elegant curly hair
Ask for the top to be around 6 to 8cm, and the sides and back around 4cm. Also, make sure you ask to keep the hairline around the ears and neck longer over the years, nothing too neat. Remember, a bit wild can also be elegant.

How to style curly hair for an elegant finish
Add a small amount of Flexible Shine from PMB to damp hair for maximum sleekness. If you use a hairdryer, make sure you don't blow directly to the hair and keep the heat at a low setting.
The most comfortable and most versatile way to manage unruly hair is with a short back and sides haircut that leaves more length on top. This lets your curls do the talking and gives you the option of sweeping them to the side or the back with an optional pompadour or letting them hang forward, embracing the tousled look with a fringe.
What products to use for curly hair:
Flexible Shine hair product by PMB provides messy textured looks that can be re-worked throughout the day. This hair putty also works on locks of all lengths. To use, rub a small amount between the fingers through damp or dry hair for a high definition and shine finish.
---
Best elegant hairstyle for straight hair
Straight hair can be worn in a whole variety of ways and always look fantastic. Whatever you want to achieve, a polished look with a slick back still works!
How to ask your barber for elegant hairstyle for straight hair
Classic scissor cut looks with roughly 4 to 5 inches on top, which is then layered into the back and sides. The back and sides should come off the ears and into the nape.
How to style straight hair with an elegant finish
Use shampoo and conditioner in your hair then spray it with Pall Mall Barbers Salt Spray, this will add body and texture. Using a vent brush, blow-dry the hair up and back from the face before styling the hair. Once the hair is dry, use pompadour Paste, which manipulates and separates the hair into the desired style. It gives medium to firm hold, plenty of natural shine and texture to the hair. Apply with your hands and use your fingers to style your hair back.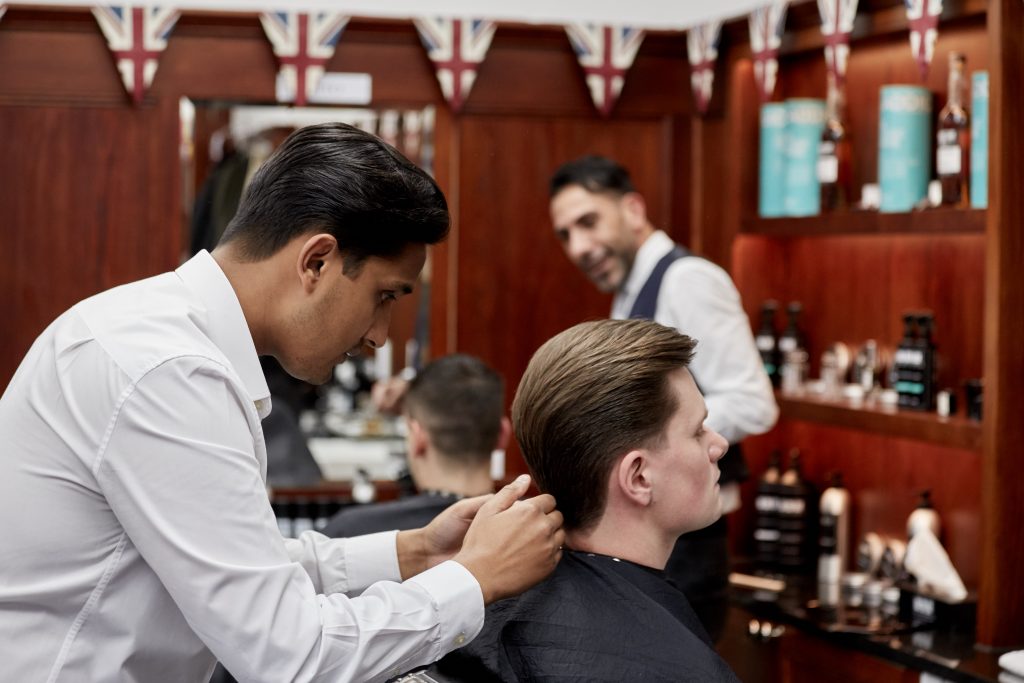 What products to use for straight hair:
To keep your hair styled the whole day, use pompadour paste. To apply, rub a small amount of the styling product between the fingers and work from root to tip for a natural texture.
---
Best elegant hairstyle for long hair
Once considered popular only among rock gods, surfers, and skateboarders, the community of long-haired men continues to rapidly gain members thanks to fashionable appeal. From shoulder-scraping styles to manes that reach the lower back, long hair is stylish and adaptable.
However, thanks to trailblazers like David Beckham and Jared Leto, shoulder-skimming cuts can be smart enough to work even if your job involves daily suit-wearing – it's all about getting the right products in your grooming cabinet.
What to ask your barber for an Elegant Hairstyle for Long Hair
Discuss your ideal look and how your hair naturally reacts. To keep long hair looking smart, you should be getting it trimmed approximately every 4 to 6 weeks to avoid split ends. In between cuts, use split-end repairing products. Try a slicked-back look for a sophisticated yet stylishly undone appearance.
How to style long hair with an elegant finish
This look is wearable for almost any face shape but is best suited to those with some natural movement and a layered cut. To replicate, apply a styling mousse to clean damp hair, scrunch liberally, and either leave to air dry or dry with a diffuser directing the front section of hair backwards. Then once the hair is almost completely dry, take the front part and lightly back-comb before setting it with a flexible hairspray or PMB Sea Salt Spray.
What products to use for long hair:
Try Argan shampoo & conditioner because it is explicitly designed to improve lustre while leaving hair smooth and moisturized. Leave your head enriched with luxurious and powerful Argan oil for vitality and shine.
Make your first impression count – Nearby barbers open now – we are on a mission to be the Best New York Barbershop has to offer for our clients. Our barbers near Rockefeller Center Station, we are known as the best barbers near Midtown – our reviews, reputation, and results speak for themselves. Our team of expertly trained and well-experienced barbers near Midtown East NYC on hand to serve you with the barber services. If your searching for a barber near me, barbers near me, barber, barbers, barbershop, best barber, best barbers, barbers new york, new york barbers, nearby barbers open now.
---
Luxury Barbers in Lenox Hill on the Upper East
This area is the go-to place for high-end everything. Whether it's real estate or real quality garments, you know you're going to get deluxe addresses and dress wear here. Lenox Hill barbershops don't match that though; there is something unsatisfactory about the barbers near Lenox Hill because they all lack experience and expertise. That is until now! Pall Mall Barbers near Lenox Hill is a premium salon for gentlemen who want the best for themselves. We've got over a century of experience cutting hair and shaving beards, hailing from across the pond where we have seven stores. If it's a classic wet shave or a new hairstyle you want, make your way towards our barbershop near Lenox Hill.
Follow @pallmallbarbers.nyc
We've spent years fine-tuning our in-store experience and the result is the best quality barbershop NYC has to offer. Men's haircuts are no longer a laborious task but rather a lavish experience, performed by artisan barbers who love to please, pamper and produce the perfect style for you. When you step into our NYC barbershop, you'll be greeted by one of our team like you're a member of the family. Then you'll sink into one of our luxurious leather chairs and you'll be consulted by your master barber who will ask you what you want to achieve. They'll give you feedback and offer you suggestions where necessary – ideas and looks you may not have even contemplated! We believe barbers should be artists and architects. That means they really care about sculpting the best possible head and facial appearance for each and every gentleman who graces our doorstep here at Pall Mall Barbers NYC.
Pall Mall Barbers Midtown Address: 10 Rockefeller Plaza Lower Concourse, New York City, NY 10020, United States