Do faces have shapes? Of course, they do! The dimensions of your face will have an impact on which hairstyles suit you best. A talented, trained barber such as those found in our shops can expertly analyze yours to advise you on the best looks for your locks.

Comb Over Hair
What length do I need to do comb-over Haircut?
One of the more contemporary trends is an undercut comb over which combines the traditional horizontal direction of the style with the fresher, edgier undercut haircut. With scissor cut sides of around 1.5 inches in length gradually tapering towards the neck.
How to ask your barber for the comb-over haircut?
Ask your barbers to use clippers or scissors to cut the back and sides to a lower gradient than the rest of your hair. While you might not have to touch the top at all, a small amount of snipping may be required to give the desired shape.
What to use to maintain the comb-over haircut
Use pliable Clay by PMB, of course! To apply, rub a small amount of the styling product between the fingers and work from root to tip for a robust and matte hold.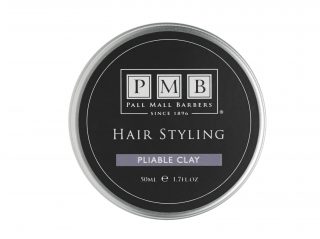 ---
Buzz Cut Hair
What Length Do I Need to Get Buzz Cut Haircut?
For a Buzzcut, you should ask for a number 4 cut, which leaves hair 1/2-inch-long, making it the medium length of the clipper guards. With the four sizes, you can start to get a brush or crew cut, which is like a buzz cut but includes a skin fade on the sides and longer hair on top. This works well for both thick and thin hair.
How to Ask Your Barber for a Buzz Cut Haircut?
You should ask for a number 4 cut. The buzz cut is probably the most low-maintenance and easy men's haircut to get. Some guys buzz their hair at home using quality clippers.
What to Use to Style the Buzz Cut Haircut?
We suggest using texture enhancer by Pall Mall Barbers, a resinous styling product that is suitable for short hair. It helps both thicken and add texture at once, giving the hair a strong yet supple hold with a matte finish.
---
 Side Swept with Part Hair
What length do I need to achieve a side-swept look with part haircut?
For a Side Swept with part Haircut, ask for a "Number 2 Haircut", it's one of the most famous clipper sizes for fade haircuts. Not too short or long, 1/4 of an inch in length, allowing for a fuller hairstyle that doesn't expose the scalp.
How to ask your barber for a side-swept with part Haircut?
Ask for the guard length you want on the top of the back and sides, and to maintain length on the side where your parting is – this will help emphasize the clean look of the parting. Then, it should fade down from there.
What to use to maintain a side-swept with part Haircut? 
Use Pompadour Paste; it gives medium to firm hold, plenty of natural shine and texture to the hair.
---
How to create the perfect hair-care routine
A gentleman never underestimates the importance of a haircut. Your choice of hairstyle is pivotal in the way the world perceives you.
Shakespeare's Polonius may have professed that the apparel oft proclaims the man (clothes make the man). Yet, he neglected to consider what his entourage saw of him during his self-absorbed monologue.
Step One: shampoo 
Choose shampoo and conditioner wisely, for dry hair look for moisturizing or hydrating products that contain oils, Argan Shampoo by PMB is designed specially to improve lustre and hair strength, while leaving hair smooth and moisturized.
For oily or excellent hair, look for clarifying products such as Tea Tree Shampoo and Tea Tree Conditioner, which hydrate the hair while relieving itchy and flaking scalps. Be sure to use warm or cool water instead of hot.
Step Two:
 Use a gel or pomade, but not too much. If you like a neat style, use a pomade while your hair is still wet as it can help your hair look freshly groomed throughout the day.
Step Three: 
 Comb your hair gently but thoroughly after applying the product.
Step Four: 
 Maintain longer styles. If your hair is longer than an inch or two, you'll need to take a few extra steps to make sure it stays in good condition and looks great.
Step five:
 Take regular trips to the barber shop; a great routine won't make a difference if you are not visiting Pall Mall Barbers now and then for top-ups and tips.
Make your first impression count – Nearby barbers open now – we are on a mission to be the Best New York Barbershop has to offer for our clients. Our barbers near Rockefeller Center Station, we are known as the best barbers near Midtown – our reviews, reputation, and results speak for themselves. Our team of expertly trained and well-experienced barbers near Midtown East NYC on hand to serve you with the barber services. If your searching for a barber near me, barbers near me, barber, barbers, barbershop, best barber, best barbers, barbers new york, new york barbers, nearby barbers open now.
---
Find us at:
Pall Mall Barbers Midtown Address: 10 Rockefeller Plaza Lower Concourse, New York City, NY 10020, United States
Please see a map of the concourse below.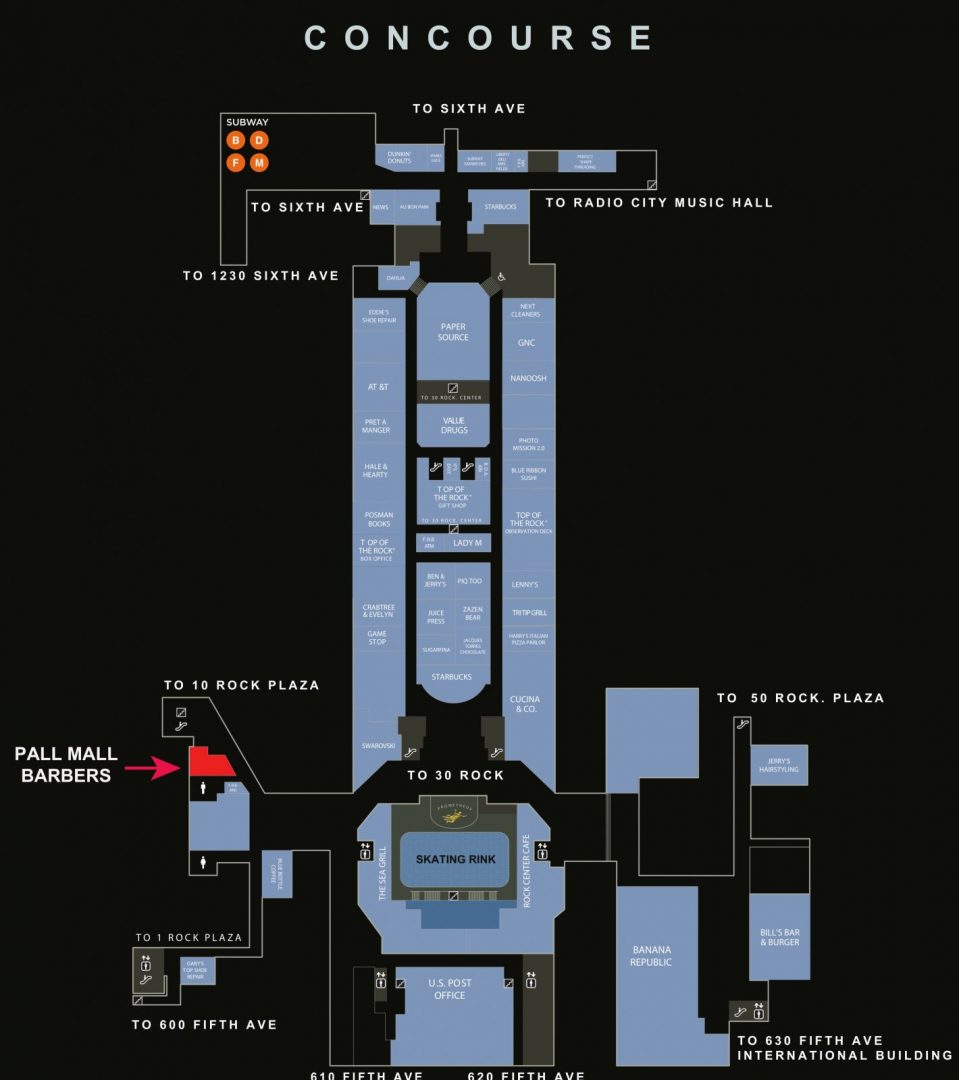 Follow @pallmallbarbers.nyc

Inside Pall Mall Barbers NYCHow to book an appointment
Book online here and follow the quick and easy booking process.
Call the store directly on +1 (212) 586 2220.
WhatsApp: +1 (646) 877 2602
Walk-in.
Pall Mall Barbers NYC – To Look and Feel Your Best!
Are you ready to rock out to your favourite band at the TODAY Citi Concert Series? The energy and excitement of live music are unmatched but don't forget to take care of yourself once the show is over. Head on over to Pall Mall Barbers NYC for a relaxing and refreshing experience. Our expert barbers will give you a new and polished look, perfect for your next concert outing. Take some time to pamper yourself and unwind after an amazing performance. Don't miss out on the opportunity to look and feel your best!
Pall Mall Barbers NYC
10 Rockefeller Plaza Lower Concourse,
United States (US)
Phone: +1 (212) 586 2220

Pall Mall Barbers NYC Address: 10 Rockefeller Plaza Lower, New York City, NY 10020, United States
Nearest Subway Stations
Nearest Train Stations
Book an appointment with our awesome team at Midtown, this can be done via our Website Booking System or by using the free PMB app (available on iOS and Android). Alternatively, call the shop and speak to one of our friendly team members, who will be delighted to make a booking for you.
The service menu provides a full description of what to expect when you visit Pall Mall Barbers Midtown.
Please bring your face covering with you for your appointment. We want to save the NHS. Please find information on our services and visiting restrictions in our COVID-19 section here. 
Barber | Barber Shop New York | Barber Shop | Barbers Shop | Barber Shops Near Me | New York Barber Shop Near Me | Barber Shop NYC | Men's Barber Shop | Mens Barber Shop Near Me | Barber Near Me | Best Barbers in NYC | Best Barbers NYC | Master Barbers NYC | NYC Barbers | Midtown Barbers | New York Barbers | Barbers in Manhattan | Barbers Manhattan | Best Barbers in Manhattan | Barbers in Rochester NYC | Astoria Barbers | Barbers Astoria | NY Barbers | Best Barber in Brooklyn | Brooklyn Barbers | Pall Mall Barbers NYC | Men's Haircut