Let's help you with your sensitive skin. We live in cities where the air is as clean as the ground and our skin soaks it in. Though our barbershop in central New York is a haven of hygiene and cleanliness, we can't change the environment around us. The stores are packed with products which look friendly but are foes, conjured up in labs with chemicals. Here are 3 ways to help if you have sensitive skin.

3 Ways To Help People With Sensitive Skin
Buy a facial scrub with natural ingredients and apply it to your facial hair to soften. Hydrate the skin with lukewarm water for at least 2 minutes. The softer your facial hair is, the easier it is to cut with minimal fuss, friction and irritation. Of course, we recommend you to use our very own Pall Mall Barbers pre-shave scrub. Packed with cocoa butter and shea butter, it helps to lubricate and soothe the skin, whilst leaving a soft and supple finish on the skin. Ideal for sensitive skin, our pre-shave scrub will help you get a smoother and closer shave.
You also should hydrate skin with warm water for at least three minutes to further soften your facial hair and make it easier to shave. Nicks and cuts to your skin which can add fuel to an inflamed dermis, are eliminated if you take this 'softly, softly' approach.
Apply a non-drying dermatologist-tested shaving cream to double the protection, depending on how sensitive your skin really is. Before you go ahead and begin the barbering process (assuming you're doing it yourself of course), ensure that your blades are sharp and not dulled through overuse. Check out how to use our Pall Mall Barbers shaving cream here. With its soothing elements, our shaving cream can be used on all skin types, even sensitive skin. The soft fragrance of sandalwood and clove helps to give a luxurious added scent on the skin that will last all day.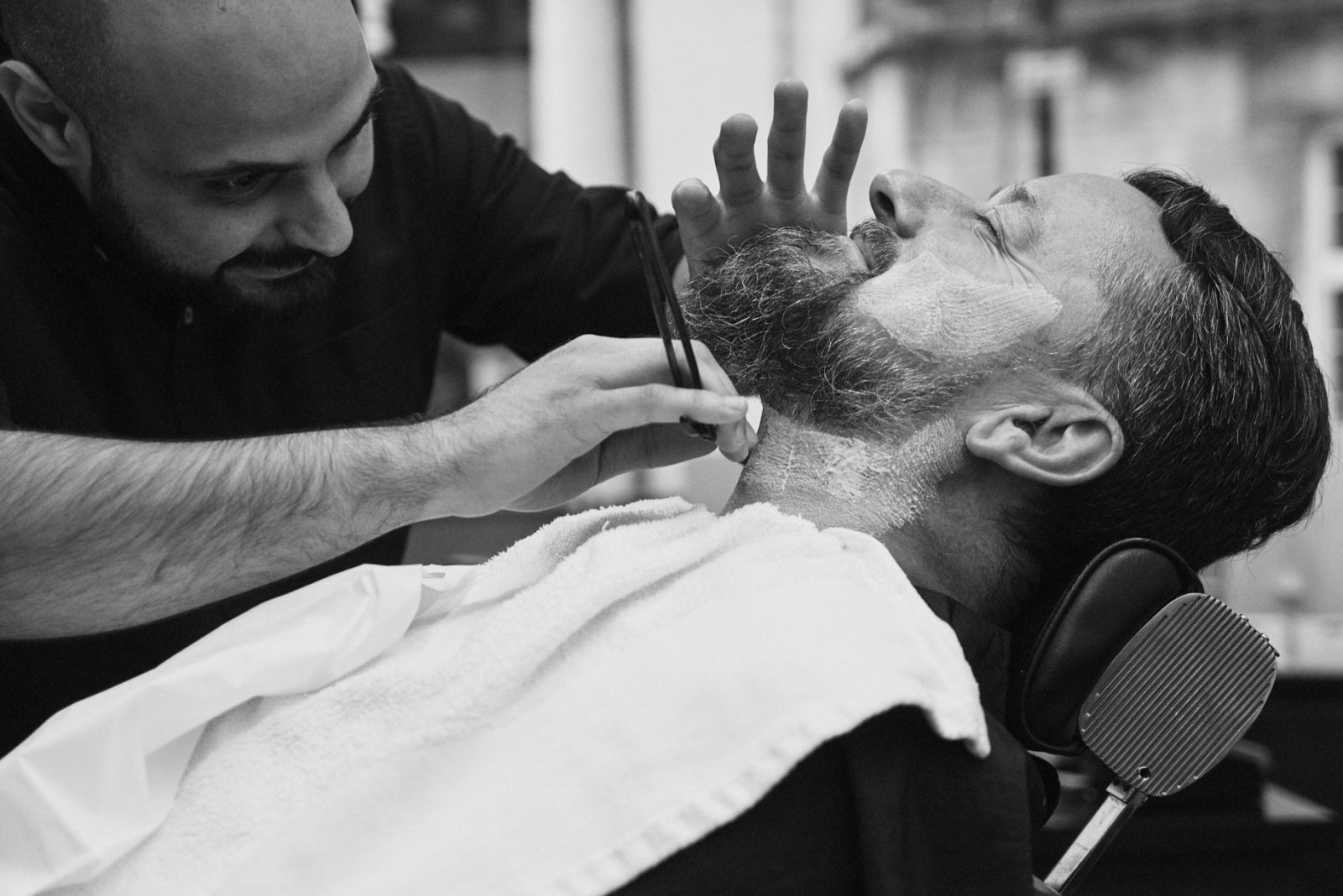 Don't have the time?
We hear from you! An experienced, expertly trained barber like the masters found in our central New York Barbershop are ready to consult and take care of your beard whatever your condition may be.
If your skin is a little on the sensitive side and you're not quite sure what to do or how to treat it, your first port of call would be to find an established, luxury barbershop in NYC where you'll find barbers who have been delivering the best-wet shaves and understand beard grooming better than anyone else in the city. Pall Mall Barbers is your one-stop shop for advice and action when it comes to men's haircuts in Manhattan and of course, we are expert beard specialists too. Treating your skin properly should be of utmost importance and if you are experiencing rashes, rough patches or redness then they may be problems with the way you are shaving or the products you are using to wash with. When we deliver our traditional wet shaves, we use premium quality products packed with natural ingredients – at Pall Mall Barbers, we wouldn't sell or give something to you which we wouldn't buy or use ourselves.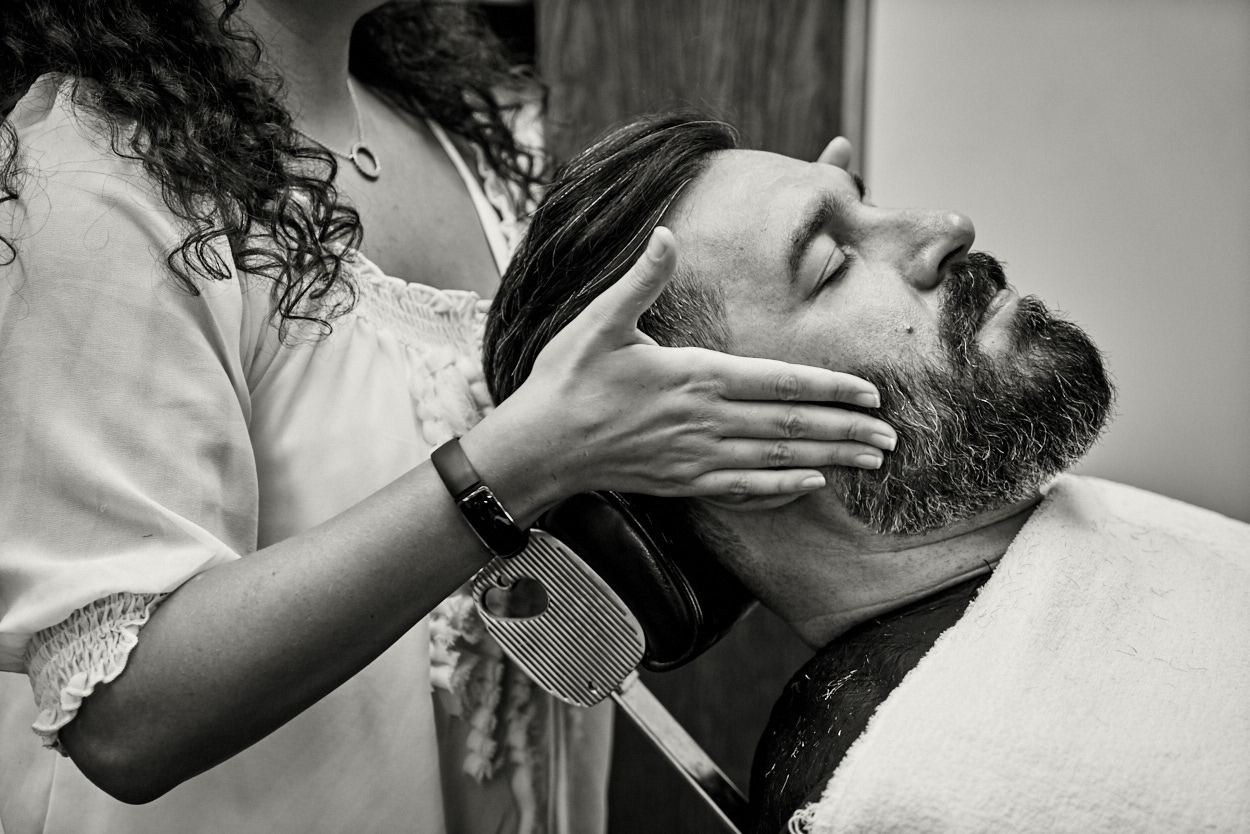 Visit The Best Barbers in New York
Then there's the service itself, the experience we execute every day which gives us the title of New York's luxury barbershop. Men's haircuts in Manhattan have been taken up a notch, and the guy who enters our store leaves as a gentleman with his head held high and astride instead of a step. That's the top barbershop service you should come to expect. In terms of shaving for sensitive skin, it all comes down to knowledge, experience and talking to the man in the chair. We don't just want to meet your requirements for your skin, we want to wow you so much with the way we shave and serve that you'll want your beard to hurry up and grow so you can come back for some more!
Upgrade your pampering routine today with Pall Mall Barbers. You may not know but we've been the hair and beard specialists in London for some years now, and this news has now spread west to big, beautiful New York City. We're bringing British barbering to New Yorkers! You can read more about our London barbershops here.
Follow @pallmallbarbers.nyc
How to apply for barbers jobs in NYC
Initially, please get in touch by email with a section about yourself and your barbering experience, as well as some photos of your work if you have some – send emails to hiring@pallmallbarbers.com for our barber's jobs in NYC and London. We will do our best to get back to as many people as possible.

Pall Mall Barbers Midtown Address: 10 Rockefeller Plaza Lower Concourse, New York City, NY 10020, United States
Please see a map of the concourse below.