Who is Tommy Egan?
Known as the knuckle-crunching Caucasian in the hit TV series 'Power', Tommy Egan played by Joseph Sikora has become an underworld icon for avid screen watchers. A little-known fact about Sikora is that he actually featured in a TV commercial with Michael Jordan when he was a child.
He went from starring with the man on the court to being the man in court as Tommy in the super popular 'Power' series. Most commonly associated with his ruthlessness but also his style and appearance, we thought it would be a good idea to bring you in on his haircut as we count down to Season 5!

What is the Tommy Egan Haircut?
It can be called a Bald Fade, a Skin Fade or a Zero Fade but they are all pretty much the same look. The Bald Fade absolutely suits Tommy's personality, his ego and his knuckle-dragging, roughneck mentality but don't worry, this cut doesn't necessarily reflect you in the same light.
You could be from any walk of life and this style might suit you depending on your preferences and the actual structure of your face. The best thing to do to find out if you would be suited is to have a consultation with a master barber at our luxury barbershop in Manhattan. That way, before a single hair is snipped, you can get assessed and consulted into making an informed decision.
How to get the Tommy Egan haircut
If you do go for it, you should know that these cuts are best accompanied by a quiff, a combover, pompadour or something else which creates a cool contrast. The shaven sides make this cut feel and look clean and modern – perfect for the summer. The fade just means that the level of hair decreases as it goes down your head, it is an awesome effect produced using both clippers and blades.
This hairstyle works particularly well if you have a beard because the contrast between the facial hair and the fading sides is very aesthetically pleasing – it looks great! Tommy doesn't have a beard but having one doesn't put you out of the game for this style because if the facial hair is defined enough, it will add to the magic rather than subtract.
You might literally be walking around with a masterpiece on your head so if you start getting women staring at you in public, feel free to blame us. Even if you are a clean-shaven kind of guy, it works! Just take a look at Tommy's smooth face and see how that suits him.
You can get a traditional wet shave in New York from our barbershop in Manhattan, this will give you that smooth, clean face to match Mr Egan's. Overall, it's a versatile look which will definitely make you noticeable and help you leave an impact everywhere you go, particularly if you have a personality to match it.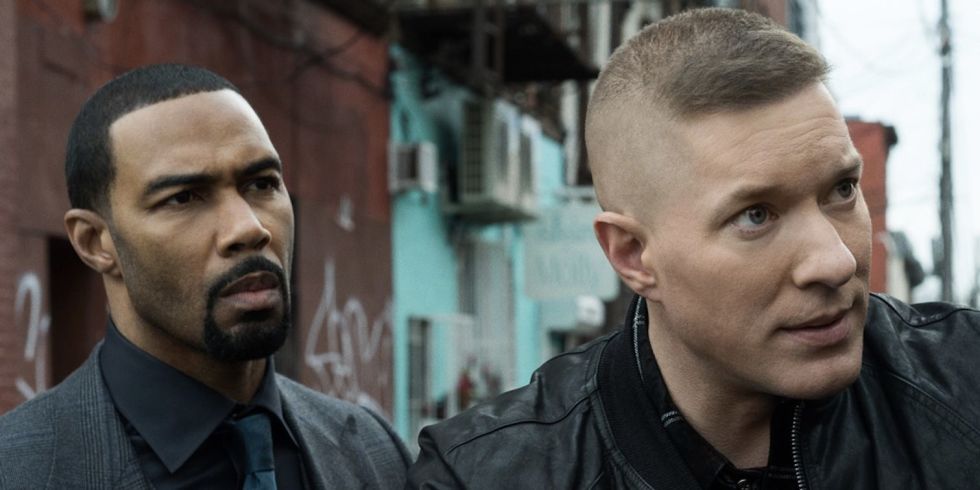 Visit the best barbershop in New York to get the Tommy Egan haircut
Fades are definitely highly technical cuts which need precision, experience and expertise to pull off. If you are looking for a good barber in NYC, look no further than our luxury barbershop in Manhattan where you'll find we are equipped with the tools and the tradesmen to get you trimmed just the way you desire.
Remember, if you can get your style right the first time it makes the second, third and fourth easier to replicate, maintain and adjust. The art of 'getting it right is what we do here in our luxury New York barbershop.
We are starting to build a real reputation for being the local experts for men's haircuts in Midtown, don't just take our word for it though, come over to the best barbershop in NYC located at the Rockefeller Centre and try us for yourself.
Pall Mall Barbers New York Location
Pall Mall Barbers New York Address: 10 Rockefeller Plaza Lower, New York City, NY 10020, United States
Nearest Subway Stations
47-50 Streets Rockefeller Center Subway Station
7 Avenue Station
Times Sq-42 St
5 Avenue-Bryant Park Station
42 St – Grand Central Station
Lexington Av-53 St
Book an appointment with our awesome team at Midtown, this can be done via our Website Booking System or by using the free PMB app (available on iOS and Android). Alternatively, call the shop and speak to one of our friendly team members, who will be delighted to make a booking for you.
The service menu provides a full description of what to expect when you visit Pall Mall Barbers Midtown.
Please bring your own face covering with you for your appointment. We want to save the NHS. Please find information on our services and visiting restrictions in our COVID-19 section here. 
Barber | Barber Shop New York | Barber Shop | Barbers Shop | Barber Shops Near Me | New York Barber Shop Near Me | Barber Shop NYC | Men's Barber Shop | Mens Barber Shop Near Me | Barber Near Me | Best Barbers in NYC | Best Barbers NYC | Master Barbers NYC | NYC Barbers | Midtown Barbers | New York Barbers | Barbers in Manhattan | Barbers Manhattan | Best Barbers in Manhattan | Barbers in Rochester NYC | Astoria Barbers | Barbers Astoria | NY Barbers | Best Barber in Brooklyn | Brooklyn Barbers | Pall Mall Barbers NYC