Do you want your hair like Chris Pratt's? Here's how!
When he's not guarding the galaxy or dodging dinosaurs, Chris Pratt is being the cool, Hollywood gentleman he is. The Chris Pratt haircut is excellent for summer, it's low maintenance so you can spend less time in the mirror and more at the beach, by the bar or on board to faraway lands. This is slightly playful and very experimental which makes it ideal for the sunshine season because you can let your hair down, relax and still retain your manly essence.
When Chris was 19 he was waiting tables at a shrimp restaurant in Maui, a director discovered him and took him to the screen and as you can tell he turned out to be quite a catch. Don't get caught in the net of mediocrity, it's important to find a hairstyle which matches your personality and you fully identify – and hey, the Chris Pratt look might be for you!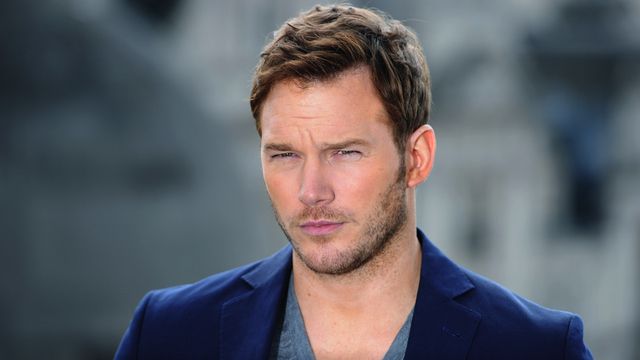 What to do first
The first step is to pick an experienced, good barber shop in New York to take care of your haircut and style. Your next move is before you even sit in the chair and it involves some description so; you need to tell your barber you are looking for something low-maintenance, textured with a few inches on the side and longer on top. It can be described as a fusion of an 'Ivy League' and a 'Gentlemen's cut' that's about 2 inches on the sides and 4 inches on top. These are just rough measurements and your master barber will be well-equipped to know what suits your face and what doesn't.
How to style
So, how about styling? This style is all about getting some roughness, giving a shabby chic effect which is produced by adding texture. Once your cut has been executed to perfection and the style is just right, you might be wondering how you can keep this look alive at home. While it is definitely a low-maintenance style, if you want it to look its best then you should think about applying a little styling product with your hands. Use clay to push the top over and keep it in place because it will give strength without the shine of pomade.
Pomade
Our luxurious pomade was designed specifically for those with thicker hair. With its distinctive and masculine scent, our fragranced oil will help to style your locks in a classic way that's both sleek but also provides some stronghold because of the fragrance! Suitable for all types including short or medium length scalps – you can use this product without sacrificing any styling needs at all.
Directions: To apply use a small amount of damp or dry hair and style it into place.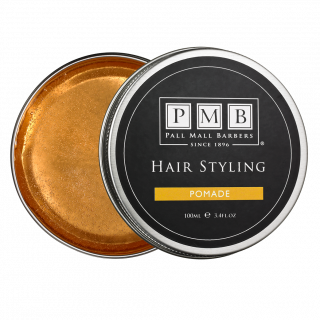 What product to use
We recommend using our Pliable Clay which gives definition to short textured hair and creates styles that can be reworked throughout the day. It provides your hair with a dry matte finish and fortunately, it can be easily washed out whenever you wish. You should start off by rubbing a small amount of this styling product between your fingers and then firmly work from the roots to the tips of the hair in order to achieve a strong, matte hold with added texture.
Pliable Clay
Pliable clay is a versatile styling product that can be used to create textured looks and offers the user an option of long-term wear. It creates styles that are easily reworked throughout their day by adding volume or texture in just one application! With its dry, matte finish and ability to be easily washed away at any time — pliable clay is an essential styling tool for adding texture or volume.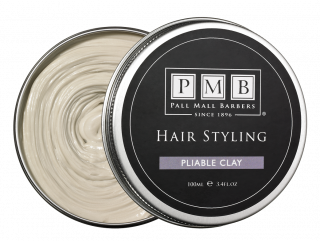 Visit the best barbershop in New York to get the Chris Pratt haircut
The Chris Pratt haircut is all about being natural, authentic and understated – which ironically, makes a big, impressive statement. Big statements start with strong sentences and when it comes to the language of men's haircuts in NYC, we are the best barbers in New York. Cool barbers in Manhattan exist but there aren't any with the experience, expertise and swagger that we bring to the table.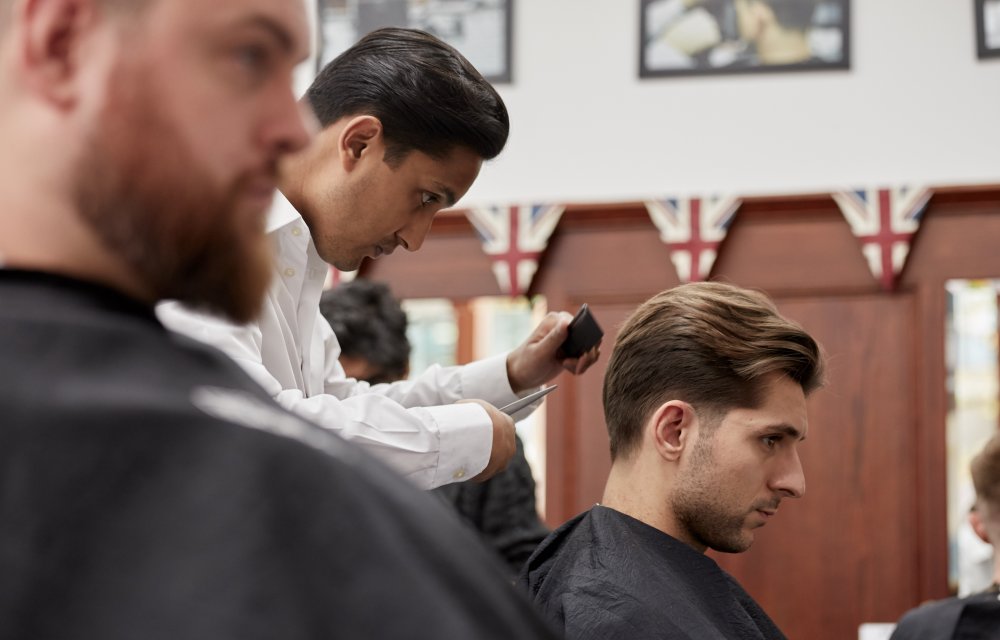 Having a pool of barbering knowledge to help you with, we can advise you no matter what type of hair you have and that's one of the things which makes us the top luxury barbershop in Midtown. If you have fine or thinning hair which lacks natural volume, you can blow dry first before you begin styling. As with everything, it is always good to ask for an expert opinion from somebody with lots of experience. Step into our luxury barbershop in Manhattan and speak with one of our master barbers about your desired look – we'll be grateful to give some advice!
Nearest Subway Stations
47-50 Streets Rockefeller Center Subway Station
7 Avenue Station
Times Sq-42 St
5 Avenue-Bryant Park Station
42 St – Grand Central Station
Lexington Av-53 St
Book an appointment with our awesome team at Midtown, this can be done via our Website Booking System or by using the free PMB app (available on iOS and Android). Alternatively, call the shop and speak to one of our friendly team members, who will be delighted to make a booking for you.
The service menu provides a full description of what to expect when you visit Pall Mall Barbers Midtown.
Please bring your own face covering with you for your appointment. We want to save the NHS. Please find information on our services and visiting restrictions in our COVID-19 section here. 
Barber | Barber Shop New York | Barber Shop | Barbers Shop | Barber Shops Near Me | New York Barber Shop Near Me | Barber Shop NYC | Men's Barber Shop | Mens Barber Shop Near Me | Barber Near Me | Best Barbers in NYC | Best Barbers NYC | Master Barbers NYC | NYC Barbers | Midtown Barbers | New York Barbers | Barbers in Manhattan | Barbers Manhattan | Best Barbers in Manhattan | Barbers in Rochester NYC | Astoria Barbers | Barbers Astoria | NY Barbers | Best Barber in Brooklyn | Brooklyn Barbers | Pall Mall Barbers NYC