All You Need to Know About Beard Oil
Although beard oil has become a recent hot topic, it has long-standing popularity. In fact, beard oils were readily used during the Victorian era. On your first thought, It might not seem like a mandatory accessory for your grooming routine, but you will surely realize its amazing benefits after you read our article. In this guide, we will walk you through the basics of it, why you need it, how it should be applied, and our recommendation on the best beard oil for you!
Many men are quick to neglect their facial hair, thinking it doesn't need as much care and attention as your head hair deserves. But, how many times have you turned to look at a by-passer with a well-maintained beard? How many times did you ogle at the screen at the sight of lavish and impeccably masculine beards of your favourite TV stars? So, dear gentlemen, a good beard can be everything regardless of the style you opt for. But, if you need to sport a handsome beard – be it a stubble or grizzly beard, you need to take care of it. What if we say that we know the right magic potion that can transform your dull beard into a nourished and envious one? Enters the beard oil!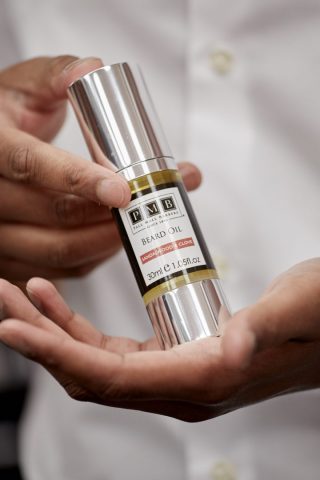 What is Beard Oil?
Beard oil is a potent blend of essential oils and carrier oils that are proven to be effective in conditioning and hydrating your beard. Some of the common ingredients found on it are jojoba oil, vitamin E, almond oil, argan oil, castor oil, and grape seed oil which are vital elements in nourishing facial hair. Jojoba oil is perhaps the most popular component found in beard oils because of its ability to moisturize and soften hair while stimulating growth.
In addition, It can also consist of other essential oils, like clove, and sandalwood, to produce a pleasant and fresh smell. So, it's important to pay attention to these ingredients to determine the potency of the fragrance.
Beard oils don't make your beard feel oily as they absorb very well into the skin. Plus, they come in handy bottles to fit your pocket perfectly! All in all, beard oils are primarily designed to make your beard look very alluring. So, if you are struggling to keep your messy beard in shape or need your wispy beard to gain more shape, It is your godsend solution.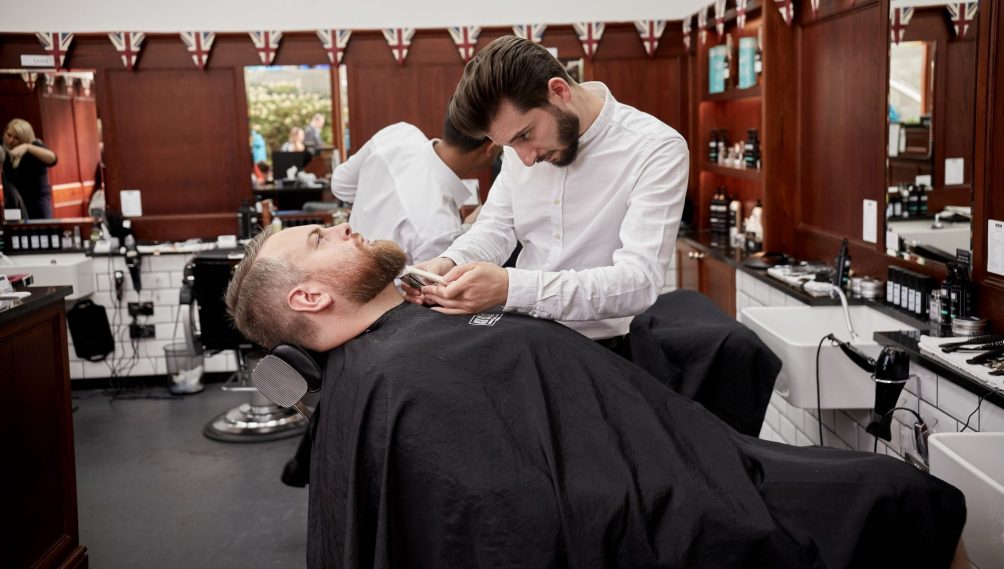 Why Should I Use Beard Oil?
The benefits of beard oil are manifold, and you would be surprised to know the wonders a good beard oil bottle can do! But, here are the specific roles it plays in improving the look and
feel of your beard.
 It  nourishes your beard
In its very essence, beard oil is designed to condition your beard with its rich ingredients. Your beard would feel voluminous, soft, healthy, and a bit shiny. If you are struggling with a dry, wiry, and unhealthy-looking beard, this is the answer.
 Bear oil may promote the growth of facial hair
Although not backed by adequate scientific studies, some claim that it promotes growth. In fact, some brands promote it containing specific ingredients for hair growth
like argan or castor oil. If your facial hair growth is stunted and scanty, you could always give this a try.
 It moisturizes your scalp
The rewards of using beard oil are not only limited to revitalizing facial hair. It also hydrates your skin underneath and prevents it from being dry. Your skin would feel better and softer after
use. It also helps in combating excess sebum production that makes your skin oily. Double wins!
Why Should I Use It?
 Beard oil keeps beard-druff away
Men with long beards are more likely to ensure the trauma of itchy and flaky skin. The nasty reason behind it is beard dandruff! Does this mean your long beard has to go? Absolutely not.
Using it regularly will keep your beard in a healthy state, leaving no room for dandruff. However, if the situation is worse, you would want to seek the advice of your trusted barber and
adopt an exfoliating routine.
 It helps you to tame your beard
Your lush beard might be your note of pride, but unruly flyaway strands can greatly diminish its macho appeal. Beard oil is your way to keep your facial hair tamed, groomed, and neat. It's handy for men with medium to long beards.
 Beard oil makes your beard look and smell oh-so-good!
Finally, let's not forget the therapeutic and pleasant smell of the essential oils in the little bottle! Selecting good beard oil can help your facial hair atone a good smell throughout the day. So, while your beard looks shiny and healthy, it will also emanate a seductive fragrance.
Do I Actually Need to Use Beard Oil?
We know that growing a handsome beard takes time and effort. Following a good beard grooming routine is important with regular visits to the best barber in your town. But, if you want to maintain its good look consistently, it's important to use the right products as well. Only the right efforts bring rewards! You may have assigned it for those with long locks that need constant and thorough grooming. But, it's far from the case. Beard oil is great for every man – with a beard, of course.
Experts in the hair care industry endorse it as an essential product. If your beard is longer than ½ inch or more, a splash of oil as a part of your grooming session can go a long way. It gives a shine and healthy look to the beard, which anyone is bound to love. But, if you only maintain a simple stubble, you can go without the oil. Many substitute the use of beard oil with a moisturizer but adding a drop of it can provide some shine to the beard.
Do Beard Oils Work?
The simple answer is yes. Beard oils are not a commercial scam that lures you to use more products in your beard grooming routine. They include hair revitalizing natural ingredients that
are friendly to your skin. They don't strip the natural oils off your skin like products with harsh chemicals. However, natural ingredients can also be allergenic, and it's important that you test
the oil and see if it works out for you. As beard oil doesn't leave a residue, it's a better option compared to ordinary lotions or creams.
It's formulated to be highly absorbent with a non-greasy texture. So, your beard would look sleek and stylish but without the trace of the product used! As experts in the skin and hair care industry, we also like to emphasize the importance of selecting the best men's beard oil. The market is oozing with a countless number of brands promoting beard oils with a variety of ingredients, and choosing the wrong one can easily cause a disaster. We recommend you purchase from a trusted brand that's reputed for quality and safe products. More importantly, look for the ingredients in it.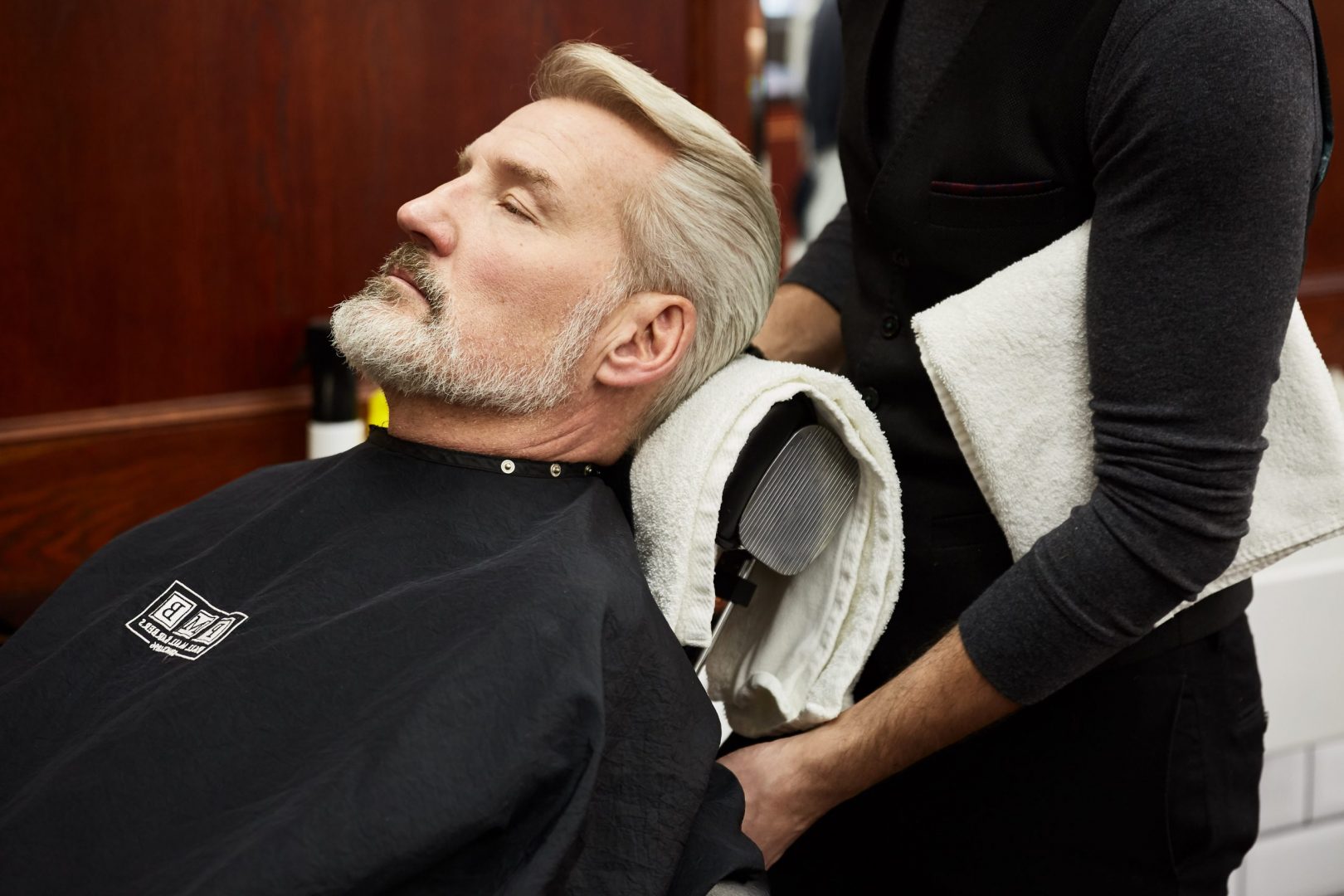 Which Beard Oil is the Best?
Finally, we are ready to answer the million-dollar question. In a pool of choices, how do you pick a beard oil brand that delivers the expected results? Beard oils that contain natural ingredients are the best because they won't be harsh on your skin or facial fuzz. If you read silicone, sulfates, parabens, or other similar chemicals in the ingredient list, it's best to avoid them. They may work well at first but will leave your skin and hair damaged at the end. Next, buy your beard oil from a company or brand reputed for its quality products.
Make sure you read reviews and check for ratings before you buy as well. After all, you don't want to ruin the beard you have grown with so much effort! Looking for the best men's beard oil that hits all the right notes? Then, you should consider the iconic Sandalwood and Clove Beard Oil by Pall Mall Barbers. Here's what you should know about it.
Sandalwood and Clove Beard Oil by Pall Mall Barbers
The Sandalwood and Clove Beard Oil by Pall Mall Barbers is not your ordinary beard oil. It's your secret to sport your favourite beard in perfect shape and style. As an exclusive and luxurious product especially formulated by our highly experienced team of barbers, the beard oil delivers exactly what men desire; a healthy-looking and attractive beard. It is crafted with powerful natural ingredients that are famed for revitalizing, nourishing, and hydrating facial hair.
The combination of sweet almond oil, jojoba oil, and vitamin E will ensure your beard and skin beneath is looked after with care. It's perfect for gentlemen who need an ointment to tackle dry, brittle, or patchy facial hair. But that's not it. Using it will also prevent the infamous itching that haunts you when the newly-trimmed beard grows back. It soothes the skin and prevents beard dandruff. The beard oil is further enhanced with its fragrant-inducing ingredients like sandalwood, clove, and cypress. It leaves a subtle yet fresh and spicy smell lingering in your beard throughout the day. The beard oil is suitable for all kinds of beards, and a couple of drops can go a long way.
Apply it regularly to get a sleek and polished look! At Pall Mall Barbers, we focus on addressing issues that men face, whether it's itchy and scaly skin or undernourished beard. Our beard oil was formulated keeping all that in mind, so you have a potent solution. We can assure you that our Sandalwood and Clove Beard Oil is the only beard oil you will ever need in life.
How to Use Beard Oil?
The best time to apply beard oil is right after a shower when your facial hair is fresh and clean. However, make sure your beard is dried completely before applying. Any moisture will prevent
absorption, making it less effective. Now, although the application is by no means a complicated matter, here are a few tips to keep in mind. Facial hair is usually thicker than head hair, and therefore it's important to apply the oil thoroughly without overdoing it.
The amount of oil depends on the thickness and length of your beard. But, our advice is to start less because you can always add more. So, pour 2-3 drops into your palm and rub your hands to warm the oil a bit. Then apply to the beard, ensuring it's distributed evenly. Continue massaging upwards and downwards so that it reaches the skin underneath, and every hair follicle receives its share.
Once done, smoothen your beard and groom it using a beard brush or comb. The frequency of use depends on the condition of your beard. Is it flaky, dry, itchy, or brittle? Then, you need to consider applying beard oil as an everyday ritual. If you encounter no such issues and want to use beard oil as a touch of nourishment and shine to your facial hair, every other day or twice a week should be enough. Before you adopt a routine, start off with regular intervals to check how your beard is getting along with its new friend!
Do I Need to Shampoo and Condition My Beard?
It's important that you cleanse and exfoliate your beard to avoid beard dandruff. For this purpose, men with short beards can use a facial cleanser. If you have a long or thick beard, it's best to use shampoo and conditioner. There are specific beard shampoos designed for men in the market. You can either choose one o them or go with your regular shampoo – as long as it's not very strong. It's advisable to check for ingredients first, as harsh chemicals can leave your beard looking frizzy and untamed.
One important aspect to remember is to clean thoroughly, ensuring your beard is washed properly, leaving no residue of shampoo or conditioner behind. However, shampooing regularly can take away the natural oils in the hair follicles, making your facial hair dry. So, our best recommendation is to wash it thoroughly once or a couple of times a week. You can follow up with a moisturizer and/or beard oil to prevent it from becoming dry. Have more burning questions about beard oil? Don't worry. You can always contact our team and get your doubts clarified easily. We at Pall Mall Barbers are always delighted to educate you on essential hair care products,beard oil men !
Pall Mall Barbers NYC – To Look and Feel Your Best!
Are you ready to rock out to your favourite band at the TODAY Citi Concert Series? The energy and excitement of live music are unmatched but don't forget to take care of yourself once the show is over. Head on over to Pall Mall Barbers NYC for a relaxing and refreshing experience. Our expert barbers will give you a new and polished look, perfect for your next concert outing. Take some time to pamper yourself and unwind after an amazing performance. Don't miss out on the opportunity to look and feel your best!
Pall Mall Barbers NYC
10 Rockefeller Plaza Lower Concourse,
United States (US)
Phone: +1 (212) 586 2220

Pall Mall Barbers NYC Address: 10 Rockefeller Plaza Lower, New York City, NY 10020, United States
Nearest Subway Stations
Nearest Train Stations
Book an appointment with our awesome team at Midtown, this can be done via our Website Booking System or by using the free PMB app (available on iOS and Android). Alternatively, call the shop and speak to one of our friendly team members, who will be delighted to make a booking for you.
The service menu provides a full description of what to expect when you visit Pall Mall Barbers Midtown.
Please bring your face covering with you for your appointment. We want to save the NHS. Please find information on our services and visiting restrictions in our COVID-19 section here. 
Barber | Barber Shop New York | Barber Shop | Barbers Shop | Barber Shops Near Me | New York Barber Shop Near Me | Barber Shop NYC | Men's Barber Shop | Mens Barber Shop Near Me | Barber Near Me | Best Barbers in NYC | Best Barbers NYC | Master Barbers NYC | NYC Barbers | Midtown Barbers | New York Barbers | Barbers in Manhattan | Barbers Manhattan | Best Barbers in Manhattan | Barbers in Rochester NYC | Astoria Barbers | Barbers Astoria | NY Barbers | Best Barber in Brooklyn | Brooklyn Barbers | Pall Mall Barbers NYC | Men's Haircut