The Citi Summer Concert Series on TODAY is here! Rockefeller Center is again the place to be on weekday mornings this summer, like the Citi Summer Concert Series on TODAY returns for its 16th season. The lineup features some of music's biggest names, performing live on the plaza from 7 to 9 a.m. every weekday morning. 
Concert-goers can expect to hear everything from pop and rock to country and R&B, with something for everyone to enjoy. And of course, it's all free and open to the public. So if you're in New York City this summer, swing by Rockefeller Center on a weekday morning to catch some great live music.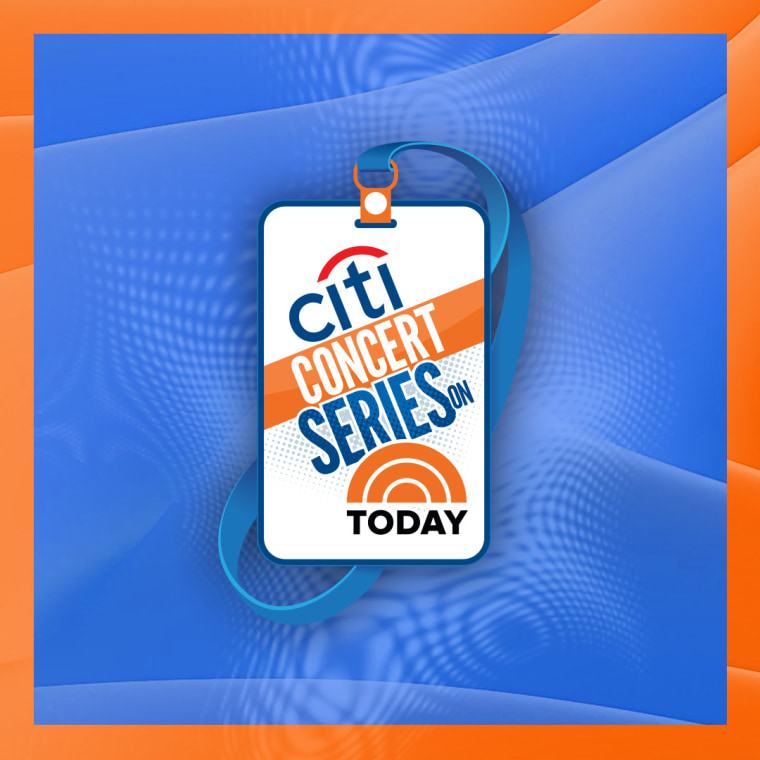 Upcoming Concerts Schedule
You can find the full 2022 Citi Summer Concert Series line-up at TODAY.com/Concerts. You can also sign up for TODAY concert alerts here.  TODAY concerts are free and open to the public. The concerts will take place on our TODAY Plaza in Rockefeller Center, located at 48th Street, between 5th & 6th Avenues, in New York City. 
Every concert offers a limited number of Fan Passes available by advance request. Guests who receive Fan Passes will be notified by email prior to the scheduled concert date. If you do not receive a Fan Pass, you can still join the General Admission line on the morning of the concert, and those fans will be admitted if space permits.
Fan Pass and General Admission
Fan passes give fans priority access to the show, ahead of General Admission. Fan Pass lottery recipients will be notified via email before the concert date. Fan passes are not transferable. If you can no longer attend, your pass will be released on the morning of the show. 
We encourage any guests to attend as part of the General Admission audience. If you do not receive a Fan pass, you can still join the General Admission line on the morning of the concert, and those fans will be admitted if space permits.
Fan Pass holders are invited to the Plaza ahead of the general public. Exact placement is at the discretion of security. We recommend that Fan Pass recipients and General Admission arrive by 5 a.m. For security purposes, a concert line cannot form until 7 p.m the day before the performance.
Check-In, Re-Enter and Exit of the Concert
General Admission and Fan Pass check-ins are usually located at 48th Street between 5th and 6th Ave Rockefeller Plaza. For security reasons, re-entry is not allowed. Once attendees enter the concert area, they must stay for the duration of the show or until they decide to leave the premises.
All guests will go through a security checkpoint upon arrival. Guests are welcome to bring beverages and snacks. Large items, such as luggage, are not permitted. TODAY reserves the right to deny admission at any time, for any reason. Guests with disabilities should proceed to the front of the check-in line, and let the TODAY Plaza staff or security of their accessibility needs. There are no restrooms on the Plaza. Guests are advised to use the restrooms prior to arrival, but in case of emergency, there are public restrooms on the concourse level of Rockefeller Center. 
Keith Urban is Coming to TODAY!
The country superstar will take the stage on our TODAY Plaza on Thursday, June 30. Check-in time will be at 5:45 AM and concludes at 9:00 AM. The concert will be at Rockefeller Plaza, 35 West 48th Street (Between 5th and 6th Avenues) New York, NY 10112. You require to attend with proof of vaccination and a valid photo ID for each invited guest. 
A limited number of Fan Passes are available by advance request. Guests who receive Fan Passes will be notified by email prior to the scheduled concert date. If you do not receive a Fan Pass, you can still join the General Admission line on the morning of the concert, and those fans will be admitted if space permits. Generally, concerts happen rain or shine.
Concerts COVID-19 Protocols 
All guests must be fully vaccinated on the day of attendance and will be required to adhere to all applicable COVID-19 protocols. Please note that "fully vaccinated" means at least fourteen (14) days after receiving the second dose of the Pfizer/BioNTech, Moderna, AstraZeneca or Sinovac vaccines, or of a single dose of the Johnson & Johnson (Janssen) vaccine. 
Proof of vaccination must be a valid and approved digital pass or your physical vaccination card, which shows an FDA/CDC or WHO-approved vaccine (Moderna, Pfizer/Biontech, AstraZeneca, Sinovac or Janssen/Johnson & Johnson). This will be required upon arrival. Guests that fail to provide proof of vaccination will not be admitted.
In connection with your attendance, please be advised that TODAY's policies, CDC guidelines, and the recommendations of health officials must be followed. Please note that any public location where people are present provides an inherent risk of exposure to COVID-19, and we cannot guarantee that any person will not be exposed during a visit.
Protection Officers for Pall Mall Barbers' Clients
Rockefeller Center Protection officers will be located throughout the concourse and lobby to assist our clients going to Pall Mall Barbers. Enjoy and feel renew with your fresh haircut with Pall Mall Barbers NYC.

Rockefeller Centre Amenities and Services
Rockefeller Center has the amenities and services for you to be at your best. With everything from a classic shoe shine establishment that harkens back to turn-of-the-century New York to a most respected international barbershop business, you'll find everything you need to do more and to be more, right here. Rockefeller Center also has its own app that puts all of the centre's offerings right at your fingertips, as well as a comprehensive website listing every shop, restaurant, service, and event taking place in the complex. Rockefeller Center wants you to have everything you need to succeed, and with its world-class facilities and services, it's no wonder that so many people consider Rockefeller Center the perfect place to achieve their goals.

Pall Mall Barbers Midtown NYC
Pall Mall Barbers Midtown NYC in Rockefeller Center is one of the most respected barber shops in New York, providing the best barber services for the modern man. We are empowering and developing every gentleman's distinct style for over 500 years of combined experience in the barber industry and we know exactly how to make your first impressions count.
Our NYC barber shop services include the best men's haircuts, finest wet shaves, and beard trims – using our very own award-winning barber product range, it's an experience that seamlessly blends our history with the excellent services from the best New York barbers. One of the first things that people notice when they meet you is your hairstyle. Make sure you leave a great first impression!
Every barber service starts with an in-depth consultation which helps your barber deliver the perfect barber service, so you can look and feel fantastic and make the right impression, every time. Not sure what you want? Why not have a chat with our barbers to see what would best style to suit your face shape and personality?

Barbers Shop in New York Team
Our team of talented New York barbers in Rockefeller Center can offer grooming advice as well as classic and, modern gents haircuts and all manner of barber services from luxury wet shaves to beard trimming and beard styling, Providing the best haircuts in Midtown New York, along with that great barber banter.
We know how important it is to keep yourself looking groomed all year round. That is why we produced a vast range of luxury men grooming products, inspired by our client's needs and lifestyles. It reveals a character that asserts itself independence and determination, for the city gentleman who chooses his own destiny.
Our men's grooming product range is used by our barbers in-store and can be purchased therefore you can recreate that unique style with ease – with a little friendly advice from one of our highly skilled team of New York Barber shop.
We like to consider ourselves consultants as well as master New York barbers. The team of New York barbers is on hand to advise and guide you toward healthier hair and a style you are truly happy with. It is important that both you and your master barber have a clear image of the end result. At our esteemed New York barbers, we love imparting our wisdom to you so that you can maintain your hairstyle at home, with the help of our premium product range. – Rockefeller Center
Our barbers near Rockefeller Center Station, are known as the best barbers near Midtown – our reviews, reputation, and results speak for themselves. Our team of expertly trained and well-experienced barbers near Midtown East NYC is on hand to serve you with barber services.
If you searching for a Barber | Barber Shop New York | Barber Shop | Barbers Shop | Barber Shops Near Me | New York Barber Shop Near Me | Barber Shop NYC | Men's Barber Shop | Mens Barber Shop Near Me | Barber Near Me | Best Barbers in NYC | Best Barbers NYC | Master Barbers NYC | NYC Barbers | Midtown Barbers | New York Barbers | Barbers in Manhattan | Barbers Manhattan | Best Barbers in Manhattan | Barbers in Rochester NYC | Astoria Barbers | Barbers Astoria | NY Barbers | Best Barber in Brooklyn | Brooklyn Barbers | Pall Mall Barbers NYC – You are in the right place… We'll let you make your own decisions – if we make the cut in our New York Barber Shop – You are in the right place…