United Kingdom Secretary of State for International Trade Anne-Marie Trevelyan and United States Trade Representative Ambassador Katherine Tai hosted the second UK-U.S. Dialogue on the Future of Atlantic Trade in Scotland and London. 
Richard Marshall, CEO of Pall Mall Barbers was invited last Tuesday, 26th of April to the beautiful Lancaster House, which is next to Buckingham Place just off Pall Mall, by the Department of International trade. He had the pleasure of talking to our new UK Trade Secretary Anne-Marie Trevelyan and Emma Wade-Smith OBE, Trade Commissioner for North America.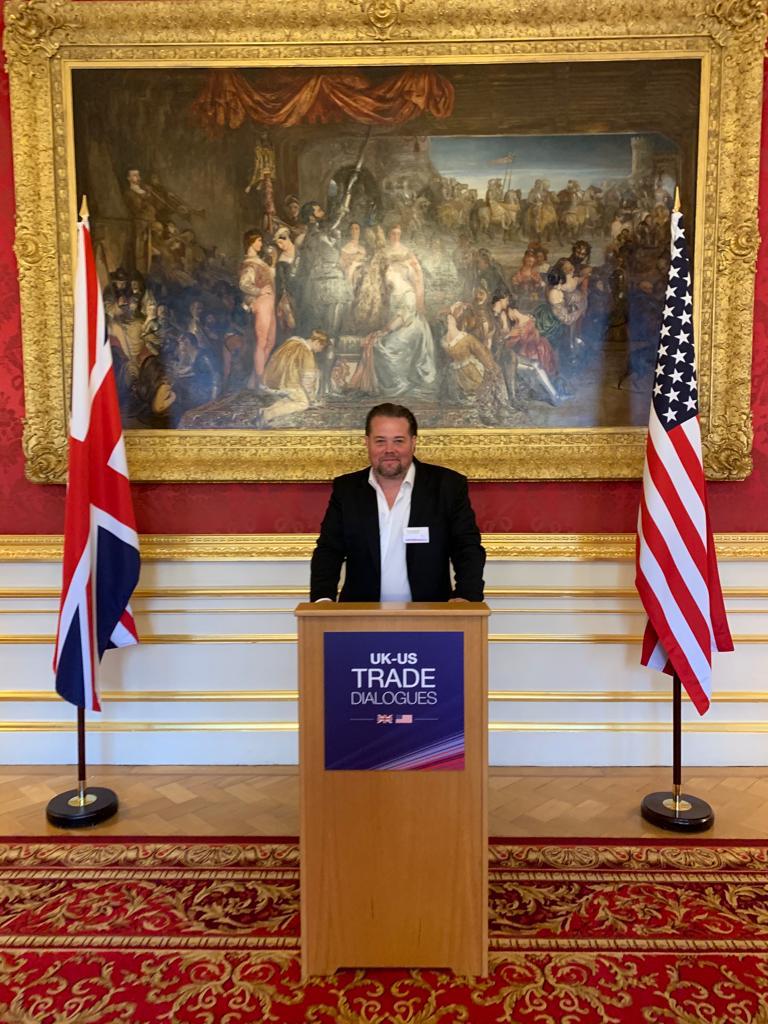 Follow Richard Marshall's Socials
Facebook – https://www.facebook.com/Rich.Marsha11
Instagram – https://www.instagram.com/mr.rich.marshall/
LinkedIn – https://www.linkedin.com/in/pallmallbarbers/
Secretary of State Trevelyan and Ambassador Tai agreed to collaborate further on: 
Delivering practical support for SMEs.

Digitising UK-U.S. trade in the modern economy.

Building resilience in critical supply chains.

Addressing the global trade impacts of Russia's invasion of Ukraine.

Promoting environmental protection and the transition to net-zero

Supporting high labour and environmental standards and promoting innovation

Inclusive economic growth for workers and businesses on both sides of the Atlantic.
They hosted a series of roundtable discussions with a diverse group of stakeholders from the UK and U.S. business community, trade unions and civil society, in addition to bilateral discussions between UK and U.S. officials.
They directed their teams to work at pace over the next several weeks to develop an ambitious roadmap with economically meaningful outcomes, including in the areas of:
Supporting SMEs to trade

Harnessing the benefits of digital trade

Levelling up and worker-centric trade

Supporting resilient supply chains

Food Security

Supporting the environment and climate action
Source: gov.uk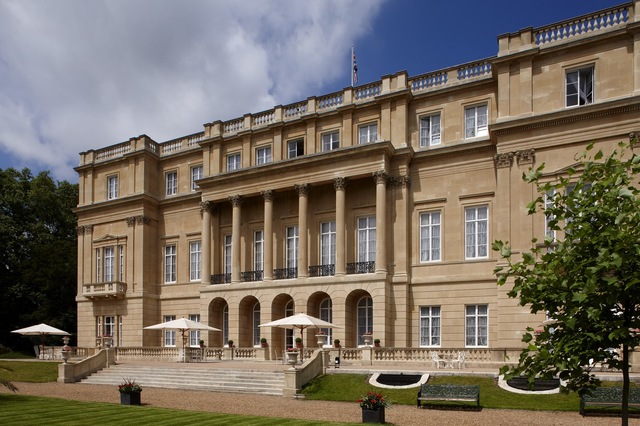 Lancaster House – A World-Class Venue
Lancaster House is managed and run by the Foreign, Commonwealth & Development Office.
Situated close to Buckingham Palace, this historic house offers a magnificent setting, a prestigious central location, and first-class facilities for all types of events and hospitality.
Steeped in political history and magnificently preserved, Lancaster House has a wide range of rooms and a large garden – the ideal place in central London for meetings, conferences and entertaining. It is the perfect backdrop for any occasion, from an intimate dinner to an international summit.
Lancaster House also has a glamorous side and has been used for receptions and shows during London Fashion Week. The house has been used extensively for filming as well, including Disney's National Treasure: Book of Secrets, BBC/HBO's production of Churchill at War, Sherlock Holmes: A Game of Shadows, The King's Speech, and Netflix's The Crown.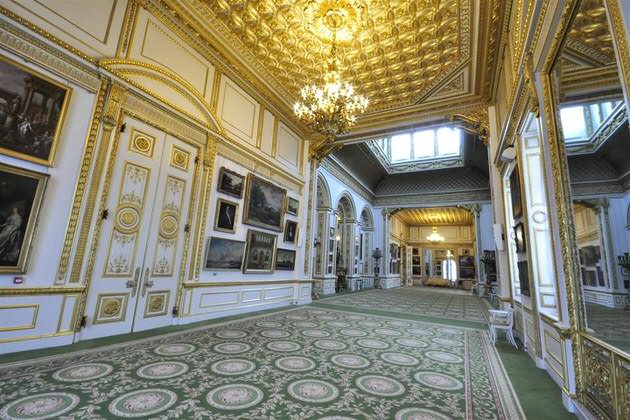 The Long Gallery of Lancaster House
At more than 35 metres in length, the Long Gallery dominates the whole east side of the house. With 18 windows and a large ornate skylight, the room is filled with natural light. Winston Churchill gave a Coronation Banquet for the newly crowned Queen Elizabeth II here in June 1953.
The Long Gallery can host:
receptions, press conferences or ceremonies for up to 350 people

200 people seated theatre-style

a conference table for up to 60, with a further 120 people seated beside and behind the table

lunch or dinner with seating for 150 people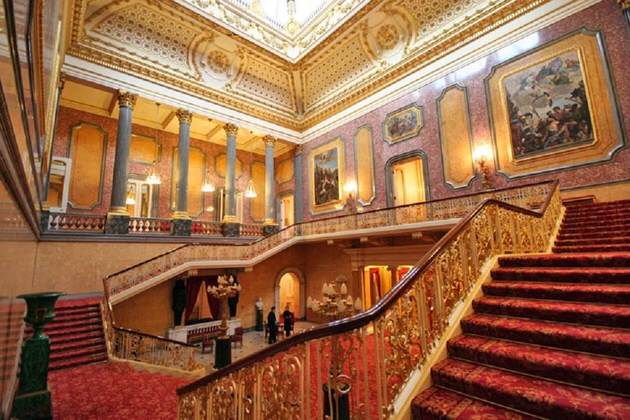 The Grand Hall and Staircase of Lancaster House
On entering the house, the Grand Hall opens up to reveal a sweeping staircase in an echo of the Palace of Versailles, part of architect Benjamin Wyatt's original design.
Over the past two centuries, numerous high-profile occasions have taken place here, from society banquets to international summits and receptions.
The Grand Hall, with its beautiful ornate ceiling, marble walls and beautiful frescoes is an extraordinary, atmospheric location to hold receptions, with a capacity of up to 200.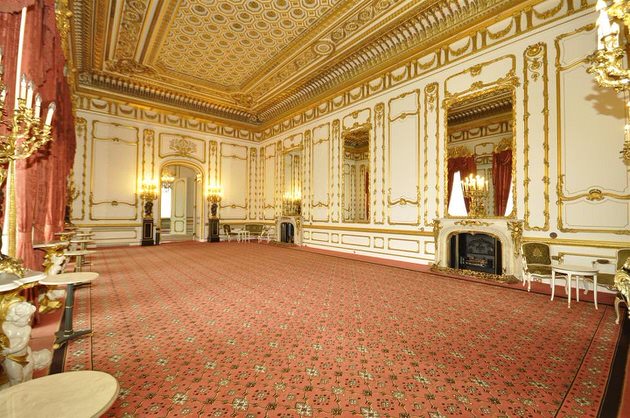 The State Drawing Room of Lancaster House
Many dignitaries have enjoyed the splendid setting of the State Drawing Room. Between the windows, which look onto St James's Park, candelabra are supported by a swarm of cherubs.
The State Drawing Room accommodates:
receptions for up to 120 people

boardroom style meetings for up to 40 people

lunch or dinner with seating for 50 people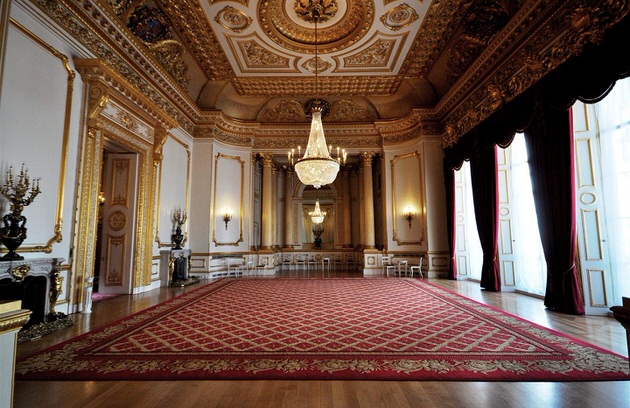 The Music Room of Lancaster House
With windows opening onto a balcony overlooking Stable Yard and recesses flanked by Corinthian columns, the music room is a wonderful venue for meetings, press briefings or formal dinners. It can accommodate:
a boardroom table for 40 people

theatre-style seating for 100 people

lunch or dinner with seating for 80 people
It was named the Music Room because throughout the 19th century the Sutherland family hosted evening parties here. Leading musicians performed in this room when they came to London, including Frédéric Chopin, who played here for Queen Victoria and Prince Albert in 1848.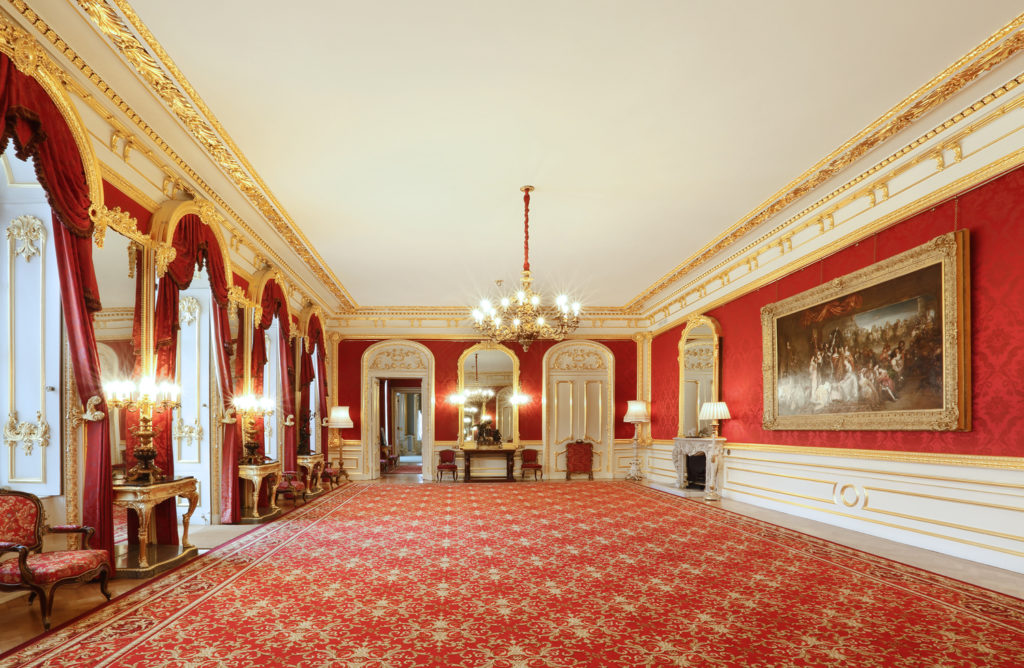 The Eagle Room of Lancaster House
Four magnificent eagles form the centrepiece of this room, proving particularly popular with American delegations. Accompanied by elegant chandeliers made in 1829, the finery of the Eagle Room makes it an ideal place to entertain.
The Eagle Room is well placed to host a range of smaller gatherings, able to accommodate:
Receptions for up to 50 people

22 people at a boardroom table

30 people seated in theatre style

Lunch or dinner with seating for 22 people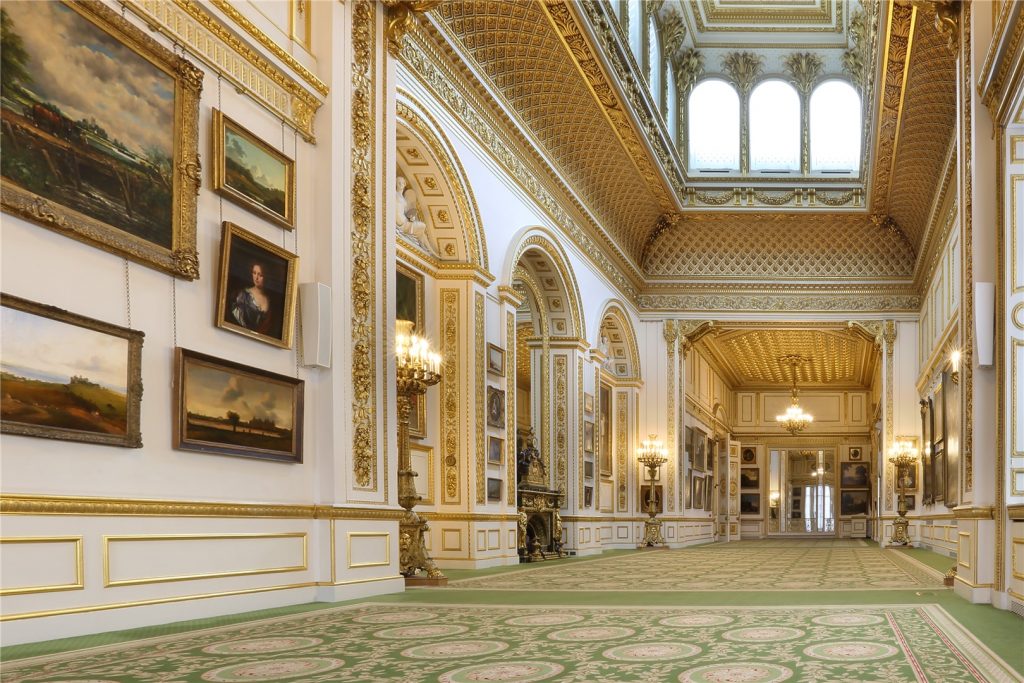 The State Dining Room of Lancaster House
The most conspicuously 'old French' room in the house, the State Dining Room commands an impressive view across the Mall and St James's Park. The clock on the table against the west wall is said to have belonged to Napoleon when he was First Consul.
The State Dining Room can hold:
Receptions for up to 120 people

80 people seated in theatre-style

boardroom meetings for up to 40 people seated

Lunch or dinner with seating for 67 people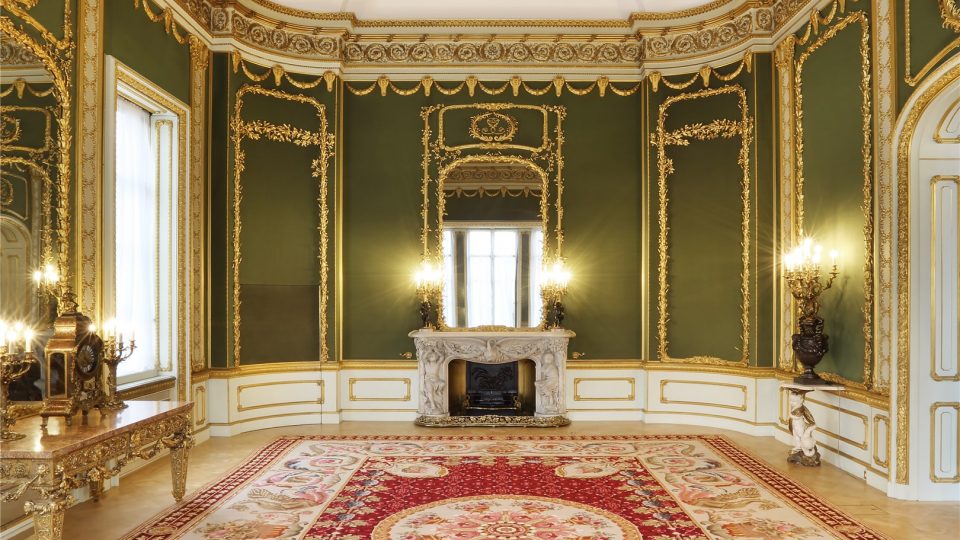 The Gold Room of Lancaster House
With its original chandelier and antique clock by Thuillier of Paris, the Gold Room is resplendent. It retains its wealth and splendour from the time when it housed the London Museum's Cheapside hoard of Elizabethan treasures.
The Gold Room is well placed to host a range of smaller gatherings, able to accommodate:
receptions for up to 40 people

boardroom meetings for up to 16 people

20 people seated in theatre style

lunch or dinner with seating for 16 people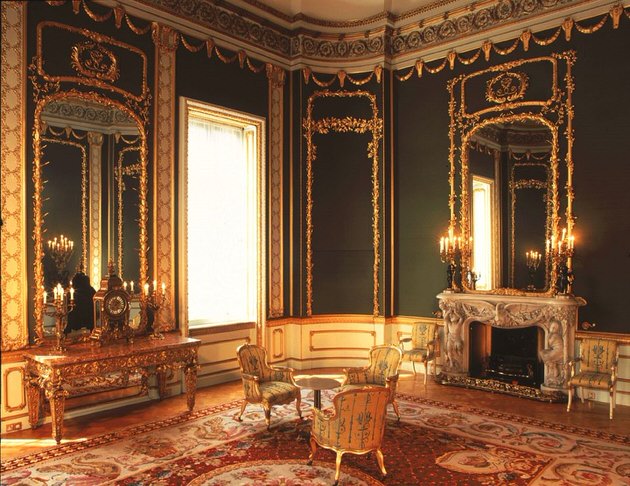 The Green Room of Lancaster House
The ceiling of the Green Room is decorated with a painting of the solar system featuring all the signs of the zodiac, while the chimneypiece is carved with figures of Summer and Winter. With its original furnishings dating from the 1820s, this room, once the second Duchess of Sutherland's boudoir, is a vibrant piece of living history.
The Green Room is well placed to host a range of smaller gatherings, able to accommodate:
Receptions for up to 40 people

boardroom meetings for up to 20 people

28 people seated in theatre style

Lunch or dinner with seating for 20 people
The Art of Lancaster House
Approaching the grand, sweeping staircase with its iron gilt balustrade and walking past a suite of verde antico (green marble) Corinthian columns, one begins to understand the vision that the Marquess of Stafford had for this house.
A painting by David Roberts, commissioned by the Marquess in 1830, and now in the Government Art Collection, captures this sumptuous example of classical monumentality mixed with rococo revival and designed by architects Benjamin and Philip Wyatt.
Notable by their absence from this picture is the copies of mythological and religious paintings by Paolo Veronese and Il Pordenone, made by Giuseppe Gallo Lorenzi in 1846 and placed on the scagliola walls at the top of the staircase.
The Architecture of Lancaster House
Situated next to Buckingham Palace and Green Park, Lancaster House is one of the last surviving examples of extravagant private palaces which were the focus of social and political life in Victorian and Edwardian London.
Over its history, the House has had 3 different names, each given by successive owners.  It was known as York House (1825 to 1827), then Stafford House (1827 to 1914) and finally Lancaster House (1914 to Present). It also had three different architects designing it and took fifteen years to build.
The Start of York House
When George IV came to the throne in 1820 his younger brother Frederick, the Duke of York, was the next in line of succession.
He already owned property on this site which he had bought in 1807. But with his new position he wanted something grander and in 1825 he decided to rebuild it – the start of York House.
York House was originally designed as a two-storey house – a suite on the ground floor for everyday use and a set of state apartments on the first floor.
The completed building was eventually three storeys in height, with family living rooms on the ground level, State Rooms on the first floor, and family bedrooms on the second floor.
The Entrance to Lancaster House
Originally planning to use the architect Robert Smirke, the Duke of York instead used Benjamin Dean Wyatt, who came recommended by the King. Wyatt was prominent for introducing his wealthier clients to a version of the style of Louis XIV, which he claimed rivalled Versailles Palace.
By 1827, Wyatt had completed the main framework of the House when the Duke died. The Marquess of Stafford then bought the half-completed house to display his impressive art collection. Costing £72,000, the house was assessed for property tax purposes as the most valuable private house in London at the time.
Wyatt then went on to complete the renamed Stafford House. He was also one of the two architects responsible for constructing the Foreign, Commonwealth & Development Office building on King Charles Street.
Source: FCDO.gov.uk
Location
Lancaster House is a 5-minute walk from the Green Park underground station.
Lancaster House Address
Stable Yard, St James's, London SW1A 1BB
Joint Statement on UK-U.S. Dialogue on Future of Atlantic Trade
The event was held at Lancaster House – A World-Class Venue and it was a great opportunity for Richard Marshall to network with some influential people from all over the world. If you're interested in finding out more about this event or our company, please visit our website or give us a call. We would be happy to chat with you!