What is the Ivy League Haircut?
An Ivy League is a type of crew cut where the hair on the front of the head is long enough to style with a side part, while the crown of the head is cut short. The length of the top hair and the degree of a gradient, from the front hairline back, varies with the shape of the skull, density, and coarseness of the hair. Pall Mall Barbers Midtown Address: 10 Rockefeller Plaza Lower Concourse, New York City, NY 10020, United States

Step by Step How to Style the Ivy League at Home
STEP 1: Prepare hair by washing with Pall Mall Barbers Cleanse Shampoo and Treat Conditioner.
STEP 2: Spray 2 pumps of our Sea Salt spray and lightly blow-dry hair.
Step 3: Scoop a small amount of Pall Mall Barbers Light Dressing Cream, best to apply a small amount using the fingers to damp on dry hair, and work from roots to ends for natural shine.
Step 4: Style the hair with your fingers or a comb to achieve your desired look.
How To Ask the Barber For The Ivy League Haircut
First, check with your barber or stylist to see if they're familiar with the cut. If you're coming to Pall Mall Barbers, you know you're in safe hands. It's a fairly common style, but not all stylists may know it. In that case, we recommend showing your stylist pictures and describing the characteristics below.
Show your barber photos of some variations of the Ivy League hairstyle that you like. This will help them to suggest what can be done with your hair. Take a picture of the style you want to achieve – their interpretation may not always be the same as yours, leaving a rather awkward situation for you both!
One of our barber's favourite products for Ivy League Haircuts is Light Dressing Cream and Workable Paste hold and styling – and benefits anyone with medium to longer length styles. Ask your barber about it next time you're in store.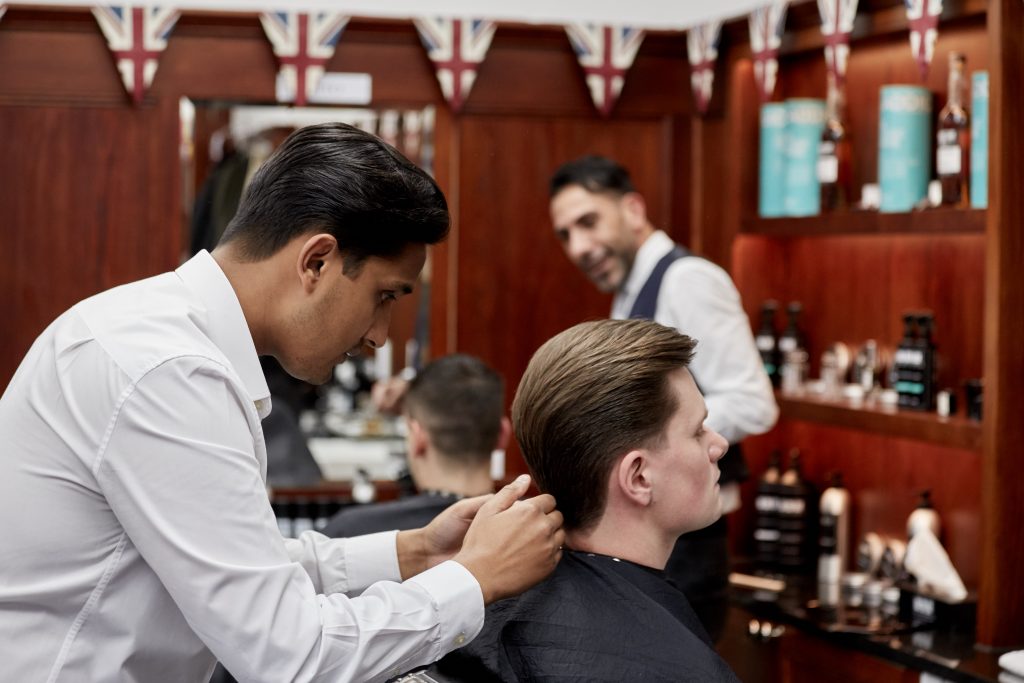 What Products to Use to Style the Ivy League Haircut
Because the Ivy League is low maintenance by design, you don't need to do much to style it. Traditionally, it's side-parted. Get your barber to add texture throughout the hair, this will give you that messier, textured look that makes the hair easier to style.
What Hair Length Do I Need To Get The Ivy League Haircut?
The length at the top is always short (i.e. less than 2 inches) that can then be styled; typically, an Ivy League haircut will have the crown at 0.5-1 inch in length while the front is longer and up to 1.5 inches in length (hence the top is tapered by up to 1 inch depending on what you choose for the front and crown). When going to the barber, if you want to get the Ivy League haircut, you should ensure to denote what length you want at the top (front and back) so that a good taper can be achieved.
Follow @pallmallbarbers.nyc

Luxury Barbers in Lenox Hill on the Upper East
This area is the go-to place for high-end everything. Whether it's real estate or real quality garments, you know you're going to get deluxe addresses and dress wear here. Lenox Hill barbershops don't match that though, there is something unsatisfactory about the barbers near Lenox Hill because they all lack experience and expertise. That is until now! Pall Mall Barbers near Lenox Hill is a premium salon for gentlemen who want the best for themselves. We've got over a century of experience cutting hair and shaving beards, hailing from across the pond where we have 7 stores. If it's a classic wet shave or a new hairstyle you want, make your way towards our barbershop near Lenox Hill.
The Best Barbershop Near Upper West Side
Some of the gentlemen who frequent our barbershop near the Upper West Side tell us that they've struggled to find a reliable, luxury barbershop in Upper West Side for years. There are a lot of guys with razors and chairs but the results are always inconsistent! If you live in such a picturesque place and are surrounded by natural beauty, you don't want to stick out like a sore thumb. That's why you need an expert, premium barbershop near Upper West Side to visit to keep you groomed and handsome rather than just grubby and hairy. So, while you're taking a walk down Columbus or a stroll through Amsterdam, check your look in the mirror and head to Pall Mall Barbers Upper West Side. We've been an established barbering brand since 1896 and last year decided to create a barbershop Upper West Side residents could be proud of.

Get the Battery Park Barbering Treatment You Deserve
If you're lucky enough to live here with your family, you're doing the right things in life sir! You're taking care of your loved ones and your lifestyle but who is taking care of you? Specifically, that facial hair and head? It needs to be treated monthly by a classy, luxury barbershop near Battery Park City. I know what you're thinking – all the barbers near Battery Park are kind of samey-samey. That's where we come in, we built our Manhattan barbershop near Battery Park in order to serve gentlemen like you with the greatest grooming experience in the world.
We come from across the pond where we have 7 successful stores and where we have been cutting hair since 1896. Now we're here to deliver you quality barbering near Battery Park. Don't just take our word for it, take a look at our reviews online – we're the best barbershop Battery Park has ever had nearby.