Pall Mall Barbers – Your Best Midtown Barber NYC
Are you looking for a basic haircutting service or an exceptional grooming experience from Midtown barber NYC? The former would give you a haircut alright, but the latter would elevate you in confidence, style, and self-esteem. Yes, we know what you have picked! In fact, every gentleman looks forward to a fabulous grooming experience from a qualified and professional Midtown barber NYC.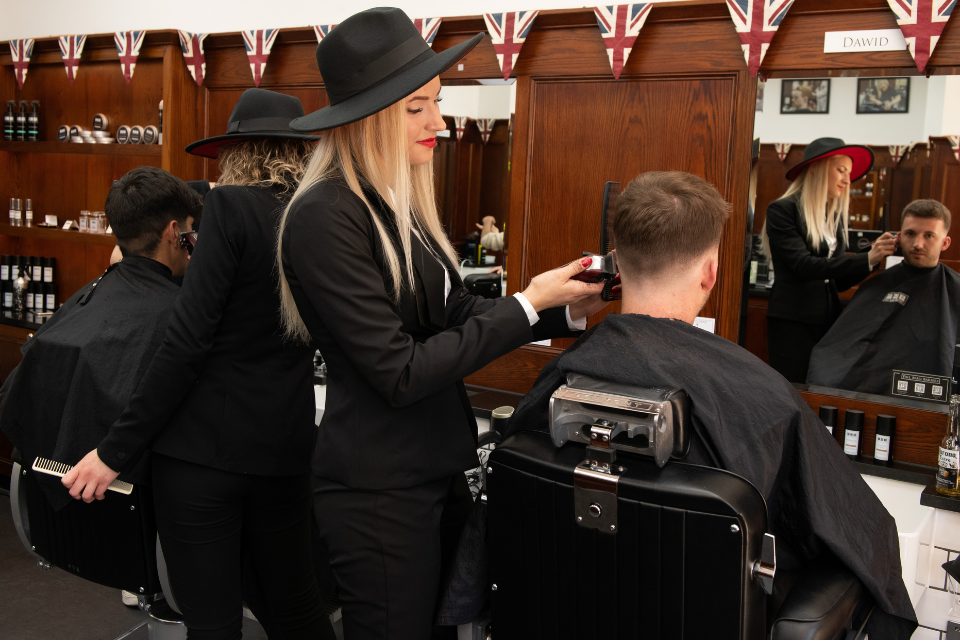 Best Midtown Barber NYC
Welcome to Pall Mall Barbers New York, a British-owned venture that aims to provide our American customers with the intimate, and luxurious services offered by an old-styled yet modern-fashioned classic barbershop.
Our story starts in London when our founder Richard Marshall pursued his passion for barbering with Pall Mall Barbers London. The unique service offered by the barbershop helped us eventually expand, bag many awards, and emerge as one of the finest barbers in London. Pall Mall Barbers was extended overseas with a barbershop Midtown East, New York, to bring customers a sophisticated English barbershop experience.
If you are looking for nothing but the best Midtown barber NYC, you have come to the right place. Pall Mall Barbers Midtown, NYC offers a range of services from haircutting to beard care. So, it's your one-stop Midtown barbers NYC for a perfect grooming session. Here are the services offered by Pall Mall Barbers Midtown, NYC.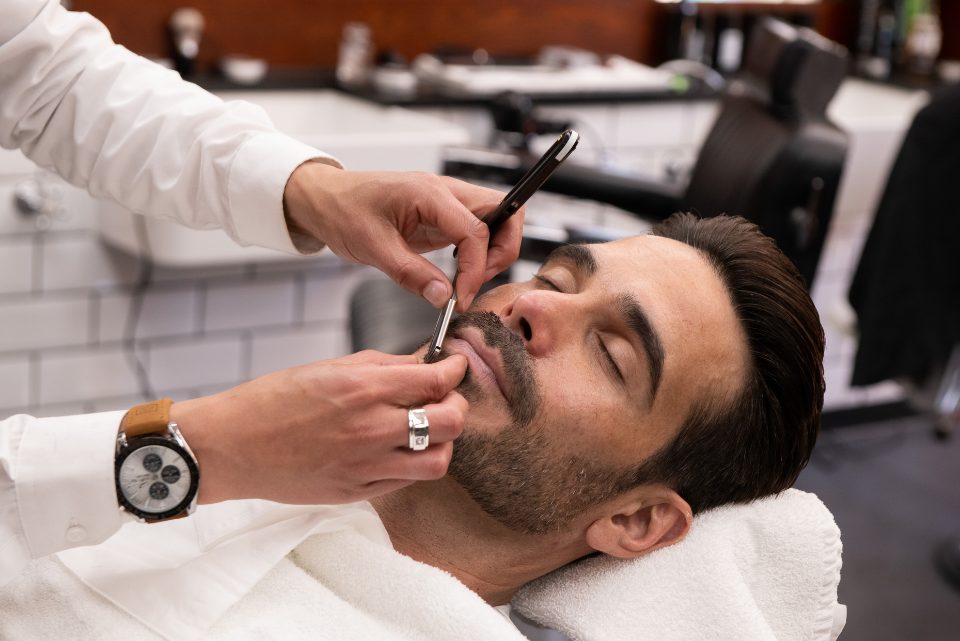 Top-Notch & World-Class Haircutting Services from the Best Midtown Barber NYC
Best Midtown Barber NYC is known for their skill, precision, knowledge, and creativity. So, it's an assurance that every new haircut you get at a leading Midtown barber NYC like Pall Mall Barbers will be a novel experience. Our Midtown barber NYC specializes in a wide range of haircuts and hairstyles as opposed to stylists at a salon.
You can choose a classic, old-fashioned, or modern haircut to go with your appearance. They are capable of customizing a haircut to suit your hair type and face shape. This is why many seek Pall Mall Barbers as the best Midtown barber NYC – because you really can't go wrong with your choice here!
A Consultation with Your Best Midtown Barber NYC
The most significant aspect of Pall Mall Barbers Midtown, NYC is that every appointment starts with a one-to-one consultation between the Midtown barber NYC and the client. You can clearly explain the kind of hairstyle you require, whether by using only clippers or scissors.
Our barbers will listen to your requirements attentively and even provide recommendations based on their years of expertise in catering to different clients. It's only then your haircut will begin at our best Midtown barber NYC.
Don't worry if you don't have time to spare for a consultation and have a fixated haircut you want to get. Customers' preferences are our top priority at Pall Mall Barbers Midtown, NYC. So we design our services based on them. You can book an appointment, walk in, and get a haircut right away.
We offer a "just trimmers" service for clients who need a quick makeover! But, we have to say the camaraderie we have developed within our barbershop spaces is our biggest asset.
Our clients love the casual chatter they can have inside the barbershop Midtown while relaxing and getting pampered in a grooming session. You no longer will be dreading walking into a Midtown barber NYC as we make you feel relaxed and at ease right away. Our expert Midtown barber NYC knows how to make each client feel confident and great about themselves with a refreshing conversation and a top-notch haircut!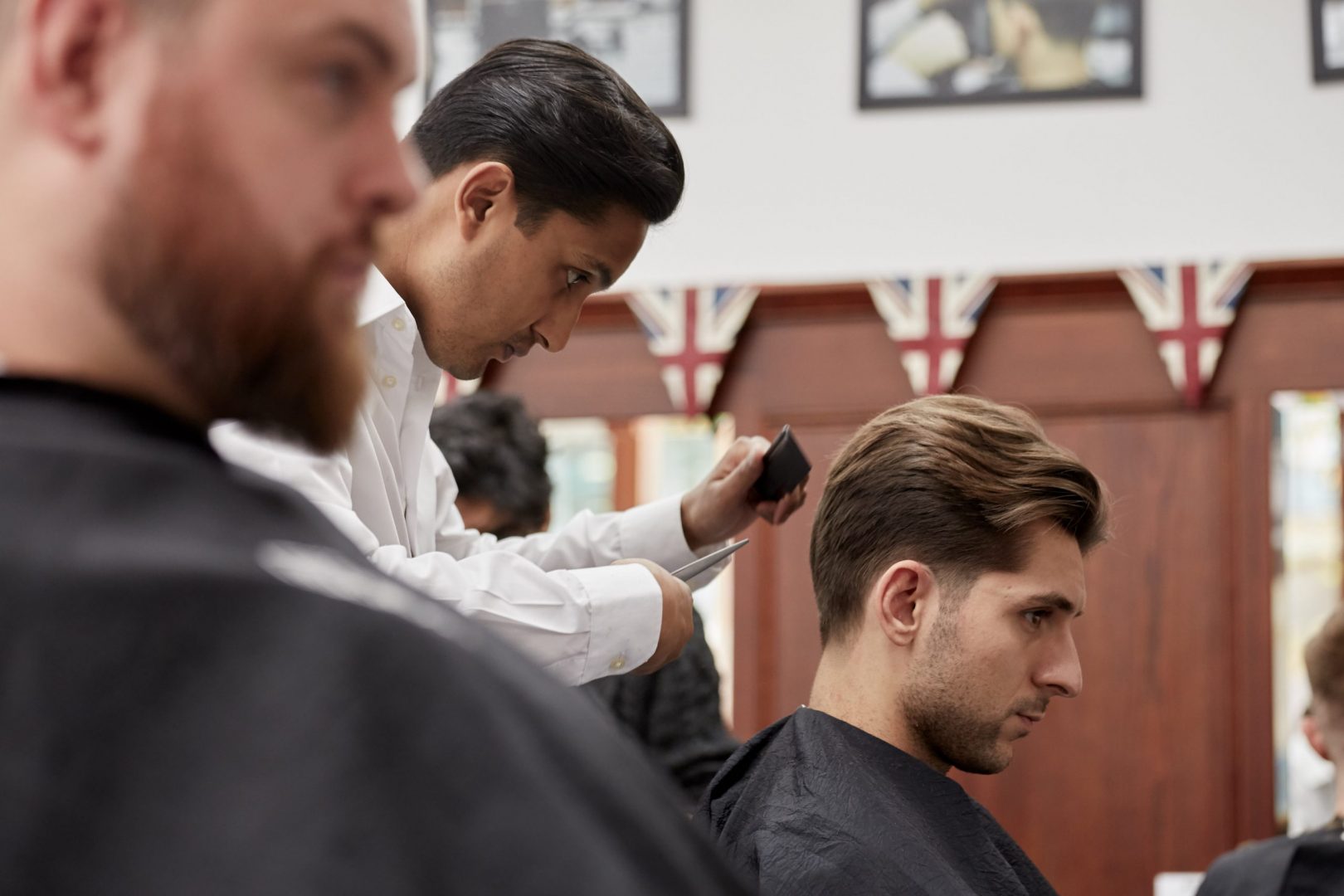 All Kinds of Hairstyles in One Place
Pall Mall Barbers Midtown, NYC specialize in all kinds of haircuts for short, medium, and long-length hair. Whether you are looking to trim your existing haircut, get a simple buzzcut or military cut, or need an elaborate hairstyle like pompadour or quiff, we have got you covered.
As the best Midtown barber NYC, we will not only provide you with the exact hairstyle at the exact length you need. We will also give you valuable hair care and styling advice to maintain the haircut in good shape. That's not something every Midtown barber NYC will offer.
We only use high-quality equipment and tools to serve our clients. It is our high-quality customer experience that has brought us forward as a reputed barbershop in London and New York. If you select Pall Mall Barbers New York as your regular Midtown barber NYC, rest assured you will look fabulous on all occasions.
During this pandemic, we ensure all the required health and safety measures are in place. We sanitize our barbershop Midtown, NYC regularly and perform temperature checks on our staff members every day. Protective gear is also worn to maintain social distancing measures.

Best Beard Trims & Shaves from Best Midtown Barber NYC
There would be times when you want to grow a beard and there would also be a time when you prefer to sport a clean-shaven look. Either way, it's important that you maintain the look to appear well-groomed all the time. Looking for the best Midtown barber NYC to get a nice beard trim or shave?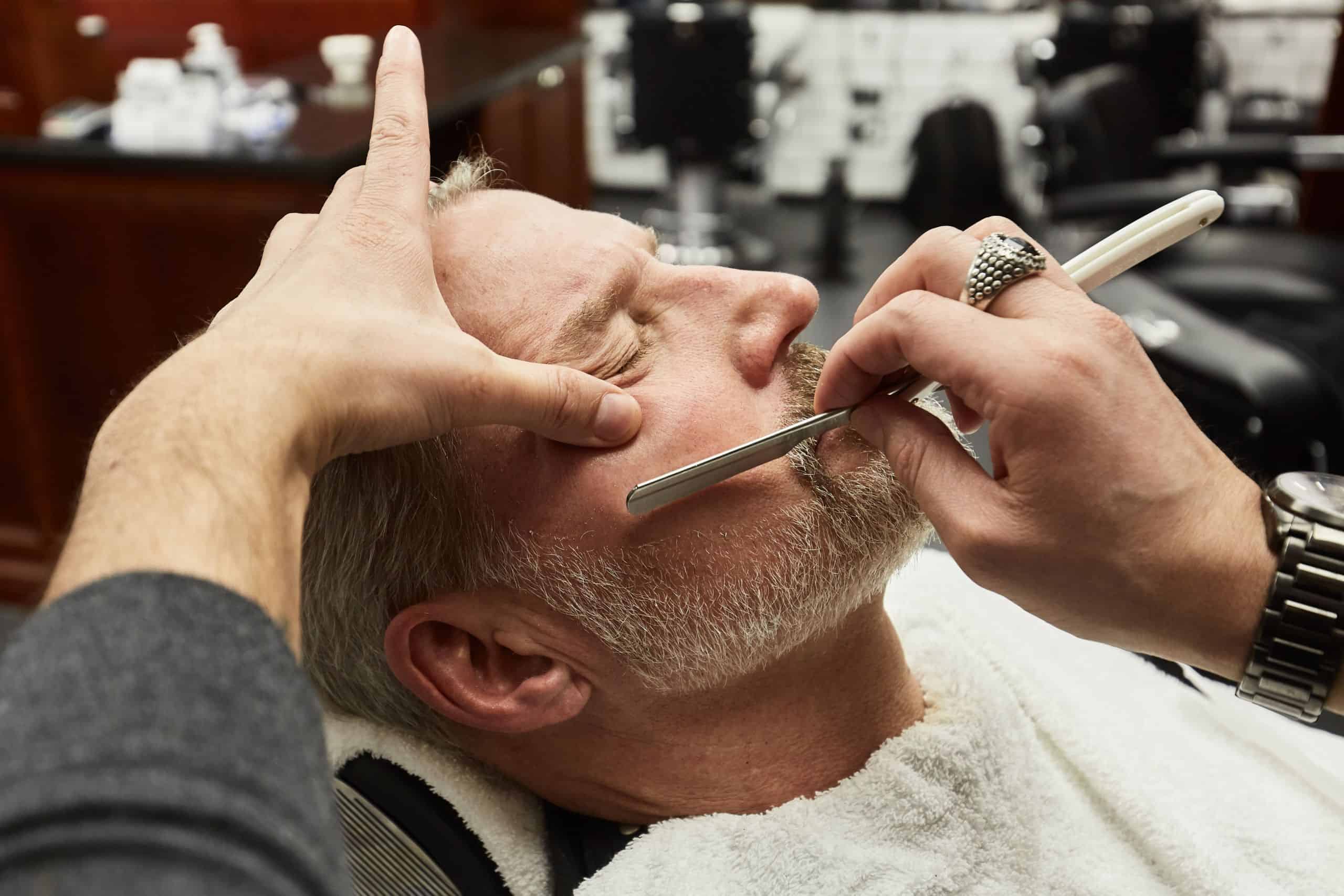 Beard Stylings
At Pall Mall Barbers Midtown, NYC, we offer beard trimming, shaping, and styling services for varying price ranges. Short beards require less effort and time for trimming. Long beards need more care, effort, and time. As the best Midtown barber NYC, we have a perfect understanding of this and offer their services accordingly.
If you don't have an idea as to how you should shape your beard, what style you should go for, and how to maintain it thereafter, don't worry. Our expert Midtown barber NYC can help you adopt a smart beard grooming routine. They will also teach you how to maintain it with good products.  All you have to do is call us and book an appointment with your best Midtown barber NYC.
Moreover, they can also advise you on the best beard style based on the texture, type, and length of your facial hair. It's great if you know what beard style you need, but it's even better when an expert Midtown barber NYC guides you along the way.
The Supreme Wet Shave Experience
Have you heard of wet shaves? It is the process of shaving using traditional barbershop Midtown, NYC equipment like razors and shaving cream as opposed to using a trimmer. It's gentle on your skin and offers an immaculate look.
Our wet shaves service is simply iconic. It is loved by most of our clients for its luxuriating experience. As the best Midtown barber NYC, we are specialized in performing wet shaves with hot towel massages. If you desire a clean-shaven look that makes you look prim and precise and flawless, step into our barbershop Midtown, NYC.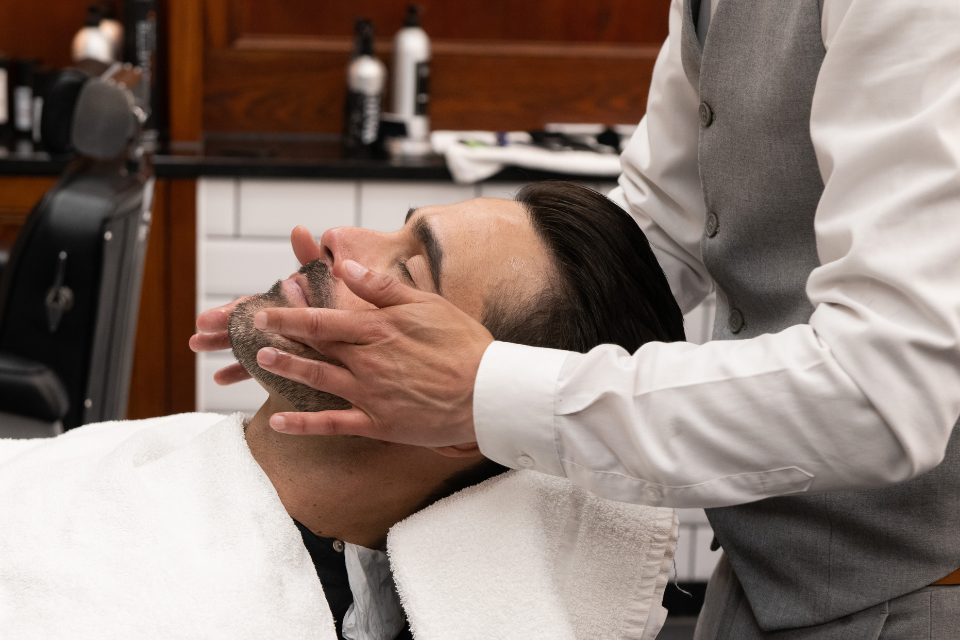 Although many think shaving is a quick and easy job, it's hardly the case. You have to prep the skin and hydrate it adequately to make it easy to shave without causing cuts and burns. More importantly, you should use reliable Midtown barber NYC products for the task. It's important that dead skin cells are scrubbed off first.
A hot towel treatment should then follow, softening your facial hair and skin. This makes it easy to give a smooth shave. That's exactly what our expert Midtown barber NYC does. If you sign up for one of our shaving sessions, there's a high chance you will come seeking the service again! If you think it's easier to learn how to shave flawlessly at home, you can sign up for our shaving tutorial.
We offer Shaving Lessons
The Pall Mall Barber Midtown, NYC offers shaving lessons for clients. One of our expert Midtown barber NYC will guide you through each step with product recommendations. They are easy to understand and follow, helping you master a clean shave wherever you are. Taking a lesson from our Midtown barber NYC can be helpful, especially if you don't have time to visit the barbershop Midtown, NYC regularly and want to maintain a clean-shaven look all the time.
In addition to helping you maintain a great haircut and beard, we also help you maintain a perfect overall look with clean ears and necks. You just have to book an appointment with our barbershop Midtown, NYC specifying the services you need, and our barbers will help you with it! If you have any queries, don't hesitate to contact our barber shop Midtown, NYC at +1 (212) 586 2220.

Grab Your Favourite Grooming Products from Pall Mall Barbers
Over the years, we have developed a premium range of products by taking our customers' preferences and requirements into account. The Pall Mall Barbers Midtown, NYC men's grooming products are specifically geared towards gentlemen who like to look their best all year round! We know it's important that you keep your hair and beard looking healthy and attractive between your visits to the best Midtown barber NYC.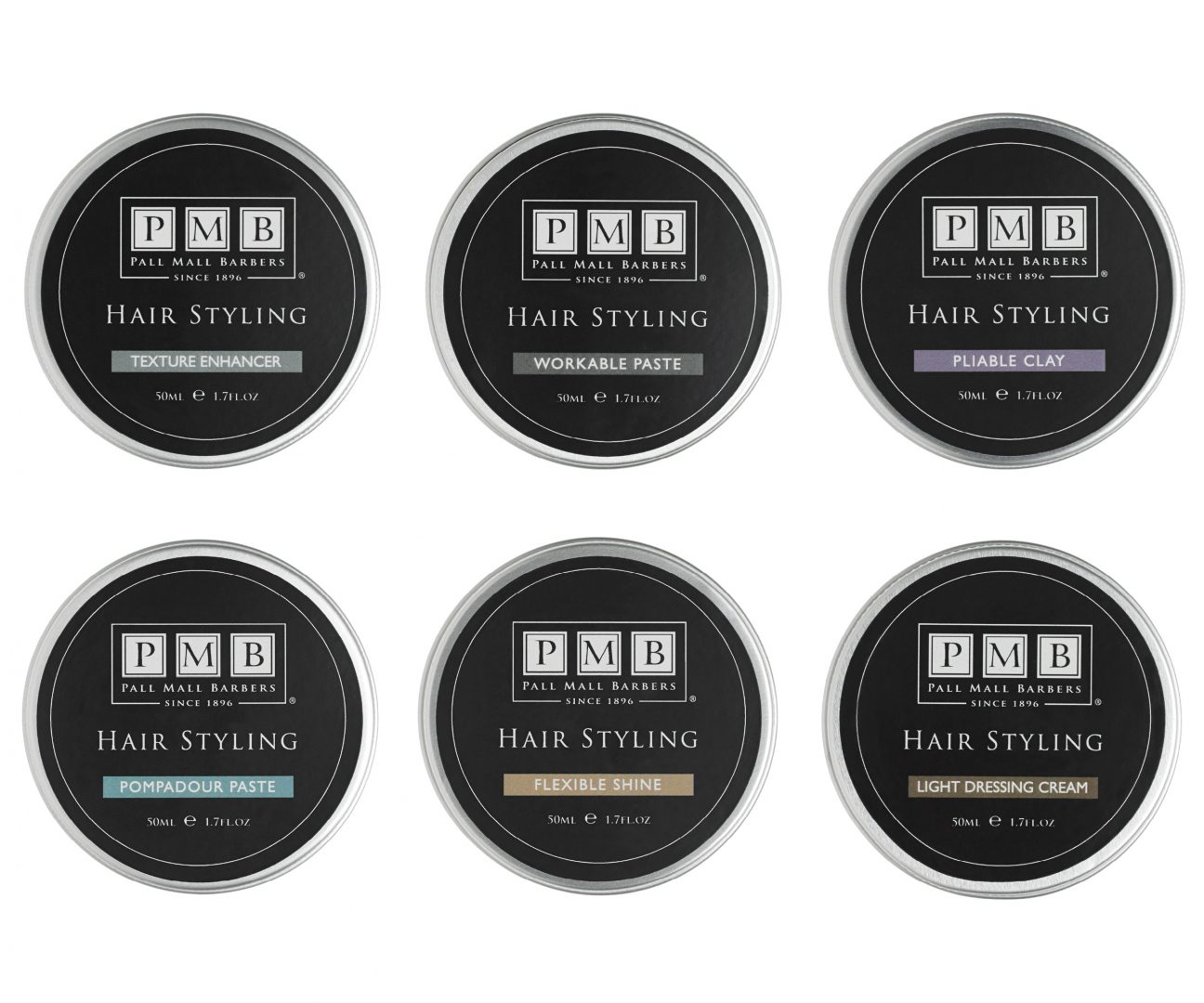 Haircare and Styling Products
To keep your haircare in check, we offer two fine-quality shampoos and conditioners. Our Argon-infused Shampoo and Conditioner and Tea Tree-infused Shampoo and Conditioner are renowned for tackling dry, unruly, curly, and unhealthy hair. With regular use, they can nourish and hydrate your hair while adding a healthy shine.
The Pall Mall Barbers Midtown, NYC also offers an assortment of hair styling products ranging from pomade to dressing cream. You can consult one of our expert Midtown barber NYC and ask for recommendations on the best product to use on your hair.
They will suggest products based on the hairstyle you want to achieve, the volume and texture of your hair, and the length of your hair. Knowing the "hold" and "shine" level, you require to style your hair can also be very helpful.
For example, if you are looking for a stronghold and shine product, pomade is an excellent product to consider. If you are a rookie to the men's haircare world, we highly suggest you speak with our Midtown barber NYC!
Products offered by the best barbershop in Midtown East include,
Pompadour

Pomade

Light Dressing Cream

Texture Enhancer

Pliable Clay

Flexible Shine Paste

Sea Salt Spray
Beard Care
As the best Midtown barber NYC, we also help our clients keep their beards and moustache healthy and hydrated with our famous Beard Oil and Moustache Balm. They contain nourishing natural ingredients to enhance the shine and overall appeal of your facial hair. The beard oil, in particular, is one of our best-selling products as it has helped many bearded gentlemen combat beard dandruff, and itchy, and dry facial hair. If you are dealing with such annoying issues, make sure you request a sample on your next visit to Pall Mall Barbers NYC.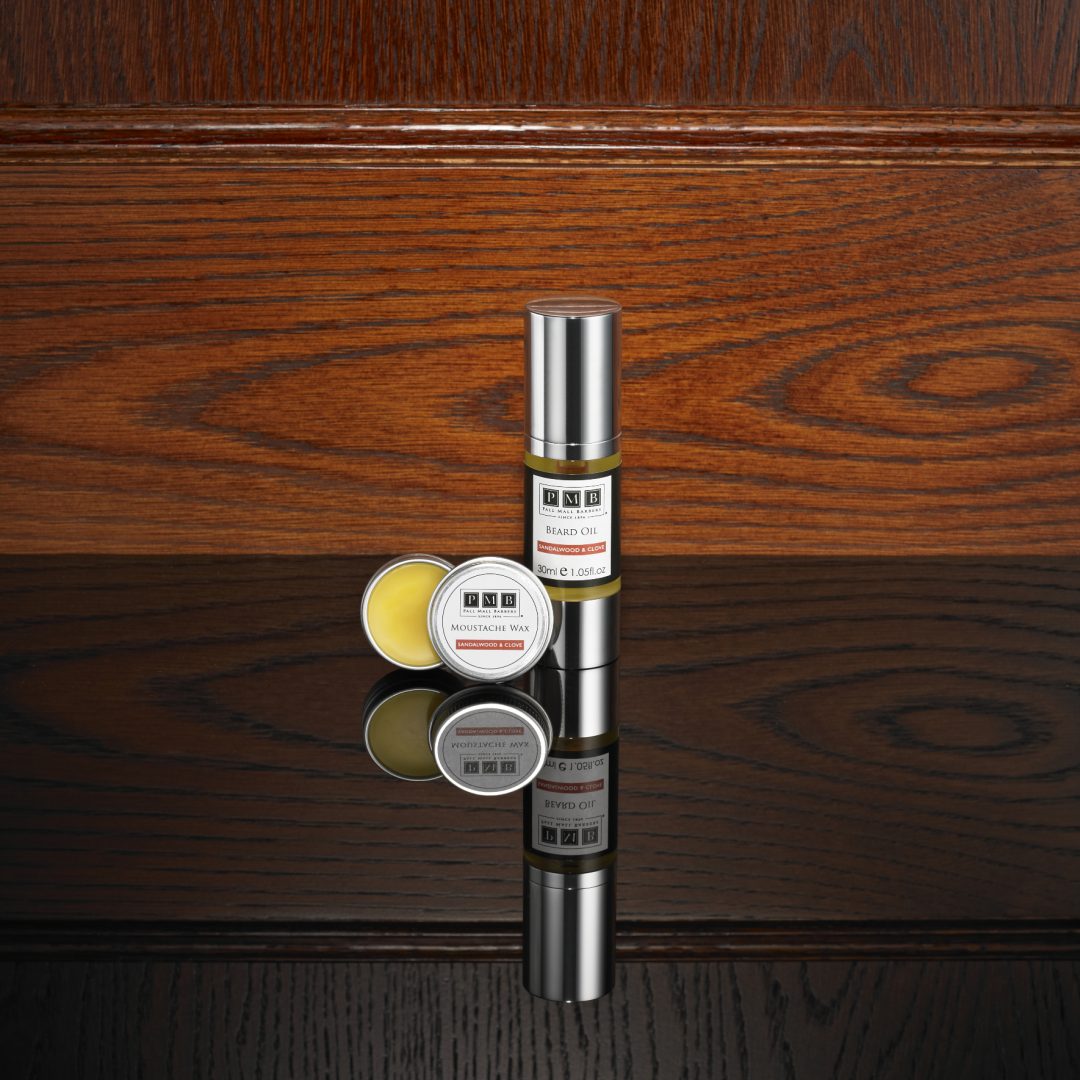 Shaving Kits
We, the best Midtown barber NYC, also offer shaving kits for clients who want to perform shaves at home. If you have already signed up for our shaving lessons, you would need good quality equipment to shave at home.
To make matters very convenient for our customers, Pall Mall Barbers, the best Midtown barber NYC offers shaving equipment that can either be purchased as bundles or individual products. Whether you need a razor, shaving brush, or pre-shaving scrub, we have got you covered. If you want to step up your shaving regime even further, we recommend you try our Sandalwood & Clove Cologne by Pall Mall Barbers NYC.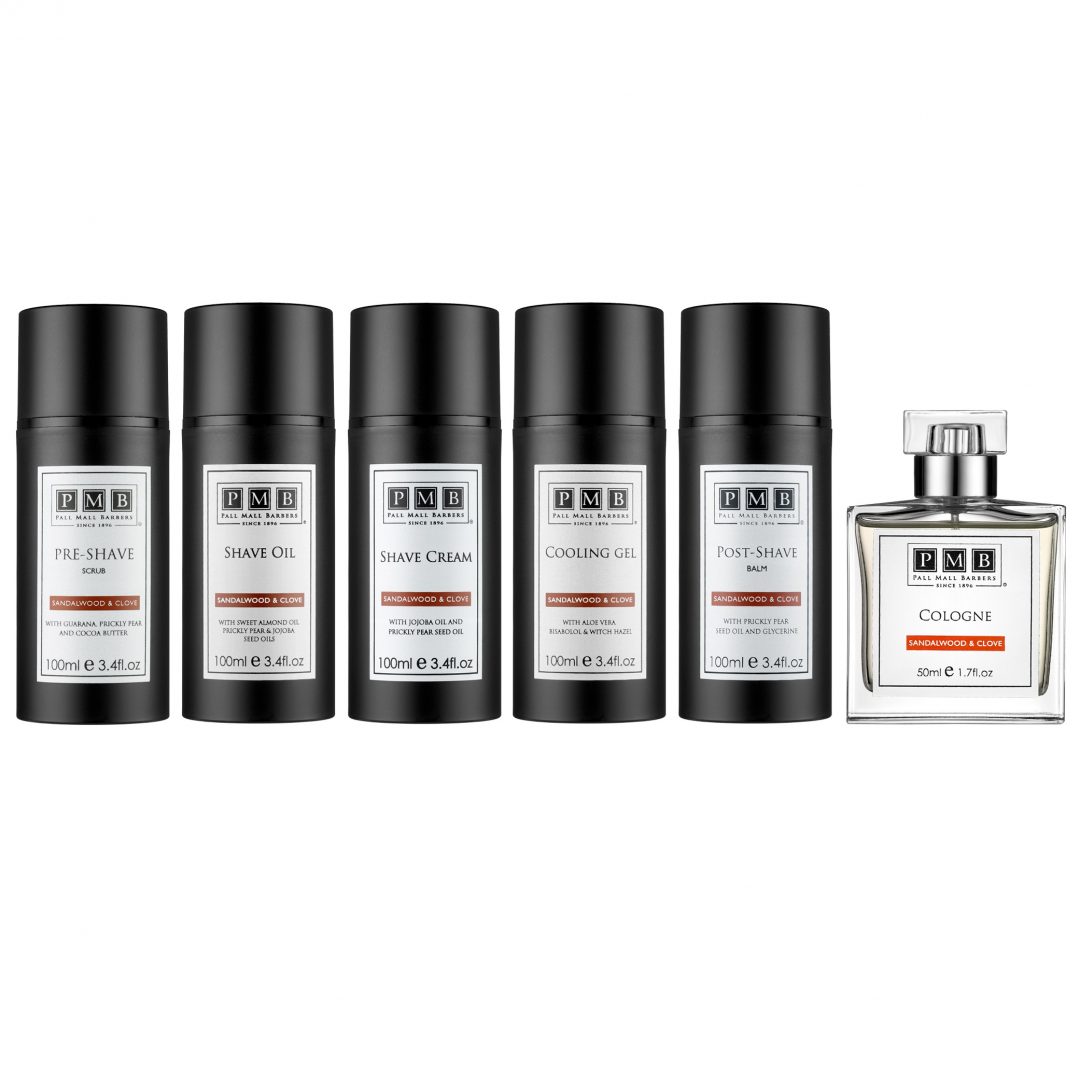 Best Midtown Barber NYC – Pall Mall Barbers
If you are looking for the best barber in New York, you are already there! You can easily book an appointment with Pall Mall Barbers by calling us on +1 (212) 586 2220. Alternatively, you can also book an appointment via our website or our very own Pall Mall Barbers app! The mobile app supports both Android and iOS devices and is free to download. We are open from Monday to Saturday from 9:00 to 19:00 (except on Saturday when we close at 18:00).
Nearest Subway Stations
47-50 Streets Rockefeller Center Subway Station
7 Avenue Station
Times Sq-42 St
5 Avenue-Bryant Park Station
42 St – Grand Central Station
Lexington Av-53 St
Book an appointment with our awesome team at Midtown, this can be done via our Website Booking System or by using the free PMB app (available on iOS and Android). Alternatively, call the shop and speak to one of our friendly team members, who will be delighted to make a booking for you.
The service menu provides a full description of what to expect when you visit Pall Mall Barbers Midtown.
Please bring your own face covering with you for your appointment. We want to save the NHS. Please find information on our services and visiting restrictions in our COVID-19 section here. 
Barber | Barber Shop New York | Barber Shop | Barbers Shop | Barber Shops Near Me | New York Barber Shop Near Me | Barber Shop NYC | Men's Barber Shop | Mens Barber Shop Near Me | Barber Near Me | Best Barbers in NYC | Best Barbers NYC | Master Barbers NYC | NYC Barbers | Midtown Barbers | New York Barbers | Barbers in Manhattan | Barbers Manhattan | Best Barbers in Manhattan | Barbers in Rochester NYC | Astoria Barbers | Barbers Astoria | NY Barbers | Best Barber in Brooklyn | Brooklyn Barbers | Pall Mall Barbers NYC