The 14th Annual RLI Awards
On April 3rd, the Retail Leisure International Awards were held at Universal Studios in Hollywood at a spectacular evening – a celebration of all the innovative retail and leisure experiences and concepts from around the world. The Pall Mall Barbers team were in attendance as we were shortlisted for the RLI Rising Star 2019 Award.

A Night to Remember
The evening started with a champagne reception on the red carpet, as well as a studio tour. We were treated to a three-course dinner and entertainment with a medley of Broadway musical numbers before the awards ceremony, where we received the RLI Rising Star 2019 Award!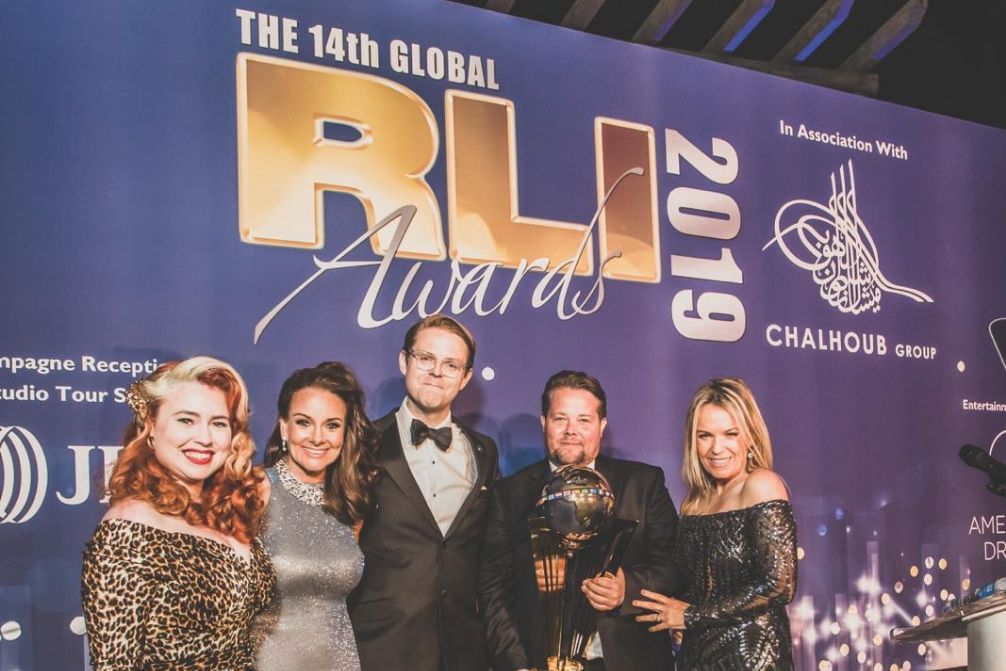 Presented by the Department for International Trade, the Rising Star Award recognizes "the entrepreneurial spirit, achievements and long-term ambitions of up-and-coming retail businesses embarking on an international expansion program" – and for us is an acknowledgement to our commitment to excellent service and customer experience that we value so much here at Pall Mall Barbers. After the ceremony, we were invited to explore the Wizarding World of Harry Potter and celebrate our win!
Rewarding Excellence
At the beginning of the night, RLI Publisher Jayne Rafter said: "Tonight, we pay tribute to the very best of the best, the innovators and those that dare to push the boundaries; we reward those dynamic projects and concepts that excite the senses with stunning architecture, exemplary customer service, products that 'wow' and that aren't afraid to take risks, refusing to settle for anything but the very best."
Speaking of the win, Managing Director and Founder of Pall Mall Barbers Richard Marshall said: "It is so exciting for all of our hard work in developing Pall Mall Barbers into a global brand to be recognized with such a prestigious award – and drives us all to keep Pall Mall Barbers growing and expanding!"
Recognized by Retail's Best
The winners of the RLI Awards 2019 were selected by a distinguished panel of 15 judges who represent the best of the best in the retail and leisure industries, including the Managing Director of Harrods, CEO of Nobu Hospitality and Chief Executive of Walpole –highlighting the provenance of these prestigious awards.
The full list of winners at the RLI Awards 2019
RLI Future Project 2019 Presented by Chalhoub Group Winner: Tunis Garden City, Tunis, Tunisia Highly Commended: Caselle Open Mall, Turin, Italy
RLI Most Anticipated Opening 2019 Presented by Village Roadshow Theme Parks Winner: Jewel Changi Airport, Changi, Singapore Highly Commended: American Dream, New Jersey, US
RLI Most Innovative Retail and Entertainment Project 2019 Sponsored by Necsum Winner: Mercedes Platz, Berlin, Germany Highly Commended: Love, Bleecker, New York, US
RLI International Retail and Leisure Destination 2019 Presented by Urban Adventure Winner: Landmark Riverside Park – Phase II: Danzishi Old Street
RLI International Shopping Centre 2019 Sponsored by MK Illumination Winner: Changsha IFS, Changsha, China Highly Commended: Suzhou Hong Leong City Center, Suzhou, China
RLI Shopping Centre Renovation 2019 Presented by InoventiQ Winner: Optimum Izmir Expansion, Izmir, Turkey Highly Commended: T.O.P This Is Our Place, Kowloon, Hong Kong
RLI Unique Retail Concept US 2019 Presented by Grandscape Winner: Sugarfina
RLI Unique Retail Concept International 2019 Presented by Cushman & Wakefield Winner: FOMO
RLI Emerging Market Retailer 2019 Presented by American Dream Winner: Chalhoub Group
RLI Leisure & Hospitality Group 2019 Presented by Sands Retail Winner: Nobu Hotels
RLI Most Innovative F&B Concept 2019 Presented by JLL Winner: Pink Fish
RLI Developer 2019 Sponsored by Design International Winner: Triple Five
RLI Designer 2019 Presented by MAPIC Winner: 5+design
RLI Interior Excellence 2019 Sponsored by 5+design Winner: Nike NYC, House of Innovation by Nike Highly Commended: Harrods Wine & Spirits by umdasch The Store Makers
RLI Rising Star 2019 Presented by Department for International Trade Winner: Pall Mall Barbers Highly Commended: Room Mate Group
RLI Recognition for Innovation and Technology to Retail Presented by RLI Awarded to Necsum for Torrecardenas

Pall Mall Barbers NYC – To Look and Feel Your Best!
Are you ready to rock out to your favourite band at the TODAY Citi Concert Series? The energy and excitement of live music are unmatched but don't forget to take care of yourself once the show is over. Head on over to Pall Mall Barbers NYC for a relaxing and refreshing experience. Our expert barbers will give you a new and polished look, perfect for your next concert outing. Take some time to pamper yourself and unwind after an amazing performance. Don't miss out on the opportunity to look and feel your best!
Pall Mall Barbers NYC
10 Rockefeller Plaza Lower Concourse,
United States (US)
Phone: +1 (212) 586 2220

Pall Mall Barbers NYC Address: 10 Rockefeller Plaza Lower, New York City, NY 10020, United States
Nearest Subway Stations
Nearest Train Stations
Book an appointment with our awesome team at Midtown, this can be done via our Website Booking System or by using the free PMB app (available on iOS and Android). Alternatively, call the shop and speak to one of our friendly team members, who will be delighted to make a booking for you.
The service menu provides a full description of what to expect when you visit Pall Mall Barbers Midtown.
Please bring your face covering with you for your appointment. We want to save the NHS. Please find information on our services and visiting restrictions in our COVID-19 section here. 
Barber | Barber Shop New York | Barber Shop | Barbers Shop | Barber Shops Near Me | New York Barber Shop Near Me | Barber Shop NYC | Men's Barber Shop | Mens Barber Shop Near Me | Barber Near Me | Best Barbers in NYC | Best Barbers NYC | Master Barbers NYC | NYC Barbers | Midtown Barbers | New York Barbers | Barbers in Manhattan | Barbers Manhattan | Best Barbers in Manhattan | Barbers in Rochester NYC | Astoria Barbers | Barbers Astoria | NY Barbers | Best Barber in Brooklyn | Brooklyn Barbers | Pall Mall Barbers NYC | Men's Haircut