Something is daunting about the close and clean-shaven look, which is why a good faction prefers that instead of maintaining a beard. But, achieving that perfection requires time, effort, and of course, good shaving products. Otherwise, shaving becomes another word for a nightmare of itchiness, redness, dryness, and unhealthy skin. No one likes that. While the market may promote many products to try, it's essential to be cautious when selecting shaving essentials for you.
After all, you are dealing with facial skin, which is delicate and prone to injuries. Using products with harsh chemicals can strip off natural oils and do more harm than good. If you are someone who loves a close and immaculate shave, this guide is for you. We are going to brief you on the essential products that are mandatory for a healthy shaving routine. It's necessary to use them step-by-step to ensure your skin receives the protection and hydration required to shave. Moreover, we have recommended some great products right off our shelf – so you can get your hands on products that are reliable and excellent in quality. Products from Pall Mall Barbers are products you can trust to deliver the best results.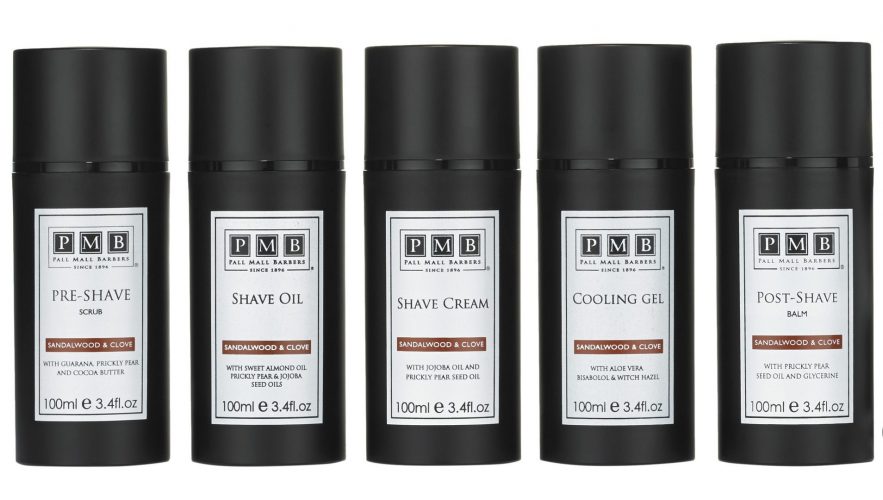 Pre-shave Essentials
To help the razor glide smoothly on your skin, it's crucial to prep it with the right pre-shaving products. Using a scrub to exfoliate your skin before you begin to shave will remove dead cells built up on your skin layer. It also contributes to reducing the friction between your razor and skin by eliminating any dirt that lies stagnant in between your facial hair strands. A pre-shave scrub is essential for those dealing with oily skin, although it can give a refreshing experience for any skin.
Sandalwood and Clove Pre-Shave Scrub by Pall Mall Barbers If you are looking for an effective pre-shave scrub to add to your shaving routine, consider our Sandalwood and Clove Pre Shave Scrub. It is formulated with rich ingredients such as prickly pear seed oil and Amazonian guarana seeds to remove dead cells effectively and remove dirt clogged in pores. The cocoa and shea butter will moisturize your skin, preparing it for a smooth shave. That's not it. We have gone much further to help your skin heal with its notes of sandalwood and clove.
Pre-shave Oil
The application of pre-shave oil will add a protective layer to your skin and prevent any significant cuts that can occur when shaving. It's essential if you have extra sensitive skin susceptible to scratches and burns. The oil is a necessary pre-shaving treatment to help the razor glide smoothly, allowing you to achieve a flawless finish. But, pre-shave oils aren't very greasy, and therefore won't affect the razor's grip. They absorb into the skin quickly, leaving a hydrated and smooth feel. Your facial hair will become much softer, making it easy and comfortable to shave.
Sandalwood and Clove Oil by Pall Mall Barbers. This signature pre-shave oil by Pall Mall Barbers contains many essential oils vital for moisturizing your skin and bristles. It has the goodness of sweet almond oil and jojoba oil to nourish your skin. Your worries about rashes, itchy skin, and razor burns are one step less with the use of this soothing oil. With a thorough massage, your skin is ready to embrace the shaving routine. But, make sure you apply sparingly depending on your skin type and length of facial hair.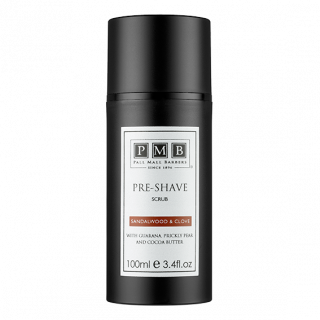 Shaving Essentials
Selecting a good shaving razor is perhaps the most essential aspect of your shaving routine. When you are opting for a close shave, we don't recommend using an electric razor. It doesn't offer the smooth finish you need. Cartridge razors are an excellent option to consider, but they require constant replacement. But, if you lack practice, the use of these razors can make your skin prone to cuts and bruises very quickly. It's essential to be very careful.
If you are looking for a smooth and close shave with minimal dents and scrapes, you need a safety razor (double-edge razor). It's the best option available for you. It will protect your skin from the harsh blade and ensure every hair strand is removed effectively. While these razors can be quite an investment initially, they are long-lasting and don't require replacing blades very often. Browse our range of shaving razors to purchase the ideal one you are looking for!
Shaving Brush
A shaving brush is needed to apply shaving cream evenly onto your skin. It helps you get the right consistency and lather more easily. Shaving brushes usually come in 3 different grades of badger bristles, namely pure badger, best badger, and silvertip. They are of varying degrees of suppleness, and you can select what best suits your requirements. The handles of shaving brushes can come in different materials as well. The choice depends on whether you need something ornamental or purely functional. If you love to own a great shaving set that will not only do a top-notch job but also look great on your bathroom shelf, then you should definitely consider our high-quality shaving sets. They include a safety razor, shaving brush, and a stand to hold them.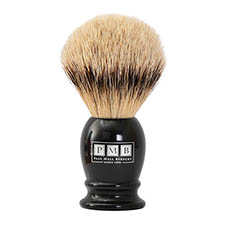 Shaving Cream
Your facial hair is usually complex and wiry, whereas the skin beneath it is delicate. So, if you try to shave without using a cream or soap, there's a high chance for your skin to be bruised easily. The razor will encounter a high resistance when you try to do that. The primary purpose of shaving cream is to hydrate your facial hair, making it easier for the razor to cut it. It locks moisture in place, tames your bristles, and makes it whole lot fun to shave. It's also a lubricant that protects your skin from being treated harshly in the process of shaving. That's not it. Applying shaving cream helps you shave in better order, starting from one side and ending from the other. Think of it as a visual aid that helps you spot shaved and unshaved areas!
Finally, shaving cream is also essential to help your skin recover after being in contact with a razor. To achieve the shaved look that you need, it's necessary to get your hands on excellent and effective shaving cream. It should contain any harsh chemicals or irritants that make matters worse! Sandalwood and Clove Shave Cream by Pall Mall Barbers Designed to suit all skin types, this Sandalwood and Clove Shave is a favourite among gentlemen who come to us seeking the best shaving products. The foam makes it very convenient to get a clean shave right at home. It's practical and mild at the same time, making it a wonder on your skin. The prickly pear seed oil and jojoba oil in it will hydrate your skin, reduce inflammation, and work proactively to minimize skin damage and razor burns. The scent of sandalwood and clove will leave a spicy and attractive scent lingering throughout the day.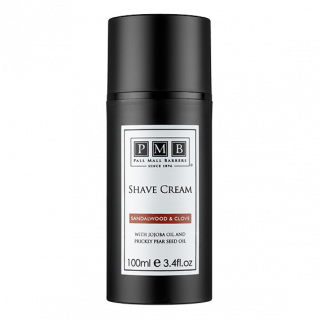 Post-Shave Essentials
There is nothing more irritating than razor burns and inflammation that you deal with after a shave. You could also face skin tightness, minor cuts, and dryness after shaving. While the above products can help minimize their effects. A cooling gel can provide a more soothing sensation for your skin. While you can be prompted to think of cooling gel as an additional product, we highly recommend you add it to your shaving routine, especially if you have sensitive skin.
Sandalwood and Clove Cooling Gel by Pall Mall Barbers Aloe vera are renowned for their anti-inflammation and anti-bacterial properties that help skin heal and retain its fresh appeal. It relieves you of any irritation that can be caused by shaving. The Pall Mall Barbers Cooling Gel contains the richness of aloe vera and witch hazel extract to provide a perfectly refreshing and relaxing feel. Aftershave Balm Even minor skin irritations can be a dreary experience for you. But, if you make the effort to treat your skin right, you can save yourself from a lot of trouble. So, it's vital to ensure your skin gets the proper pampering after a shave as well.

Aftershave Balm
An aftershave balm is a close alternative to aftershave cream, but many prefer lotion as it works great on all skin types. It's very gentle on sensitive skin and won't sting, unlike other products. A good aftershave balm should provide a richly hydrating and cooling effect on your skin. You would notice the instant effect of it. It's also helpful if you have undergone a horrible shaving experience and are desperately looking for measures to heal your skin. A balm can help your skin heal faster and reduce its soreness. Even if you feel absolutely nothing (hooray for that!), an aftershave balm can be an excellent protective layer for your skin.
However, make sure you don't over-apply it. Sandalwood and Clove Post Shave Balm by Pall Mall Barbers If you need a multi-purpose post-shave balm that heals and moisturizes your skin at the same time, then look no further. We know the trauma of a bad shave and the importance of enhancing the effects of a good shave. Our post-shave balm is ideal for both. Enriched with prickly pear seed oil to calm and heal irritated skin and glycerine for effective absorption, our aftershave balm is a must-have on the shelf. Say goodbye to inflamed, damaged, and rough skin after shaving as this balm sets to work instantly after application. It will hydrate your skin and protect it with its antiseptic properties. If sensitive skin is prone to redness, the balm can effectively reduce it and relieve your skin. The fragrance of sandalwood and clove will ensure your shaven skin gets a pleasant scent. If you use the Sandalwood and Clove Post Shave Balm once, you will never look back again. Say goodbye to harsh products that make even the thought of shaving a pain!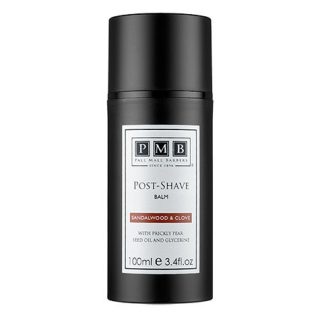 Aftershave Cologne
Who doesn't like a good splash of cologne to spark up their day? So, as a final touch-up to your shaving routine, don't forget to add a little bit of the best men's cologne for your neck. In addition to the scent, the use of cologne is also known for antiseptic properties. It can therefore speed up the healing process and disinfect any cuts. The alcohol content in the cologne is what contributes to this. Depending on your preferences, you can choose a cologne with fragrances of your liking. There are water, floral, citrusy, woody, and spicy notes that you can choose from.
Sandalwood and Clove Cologne by Pall Mall Barbers Our signature cologne will suit you up with a subtle, spicy, and masculine scent to help you conquer the day like a pro, just like you have perfected. The shave! The fragrance will keep you confident, positive, and energetic throughout your daily routine. Sandalwood and Clove Cologne includes top clove, rose, cardamom, and almond notes to give you a perfect balance of solid and subtle scents. It's the perfect combination of spicy and floral fragrances. Then you will be charmed by the heart note of sandalwood that gives a woody and warm aroma. Finally, the cologne settles on its base notes of vanilla and tobacco to leave a lasting pleasant smell.
Get your Shaving Products
Get Your Shaving Products from Pall Mall Barbers Today Our long-standing experience catering to men's grooming requirements has provided us valuable insights into the kind of products required to keep your shaving routine in check. It is why our expert barbers have instilled their knowledge and developed a range of men's shaving products that are high in quality, effective in functionality, and long-lasting in nature. We focus on minimizing waste and providing the best value for our clientele. We have got all your needs covered, from prepping your hair before a shave to revitalizing your skin after a shave. You can purchase all our products online or from our stores throughout London!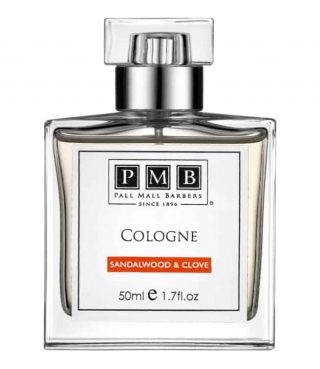 Pall Mall Barbers NYC – To Look and Feel Your Best!
Are you ready to rock out to your favourite band at the TODAY Citi Concert Series? The energy and excitement of live music are unmatched but don't forget to take care of yourself once the show is over. Head on over to Pall Mall Barbers NYC for a relaxing and refreshing experience. Our expert barbers will give you a new and polished look, perfect for your next concert outing. Take some time to pamper yourself and unwind after an amazing performance. Don't miss out on the opportunity to look and feel your best!
Pall Mall Barbers NYC
10 Rockefeller Plaza Lower Concourse,
United States (US)
Phone: +1 (212) 586 2220

Pall Mall Barbers NYC Address: 10 Rockefeller Plaza Lower, New York City, NY 10020, United States
Nearest Subway Stations
Nearest Train Stations
Book an appointment with our awesome team at Midtown, this can be done via our Website Booking System or by using the free PMB app (available on iOS and Android). Alternatively, call the shop and speak to one of our friendly team members, who will be delighted to make a booking for you.
The service menu provides a full description of what to expect when you visit Pall Mall Barbers Midtown.
Please bring your face covering with you for your appointment. We want to save the NHS. Please find information on our services and visiting restrictions in our COVID-19 section here. 
Barber | Barber Shop New York | Barber Shop | Barbers Shop | Barber Shops Near Me | New York Barber Shop Near Me | Barber Shop NYC | Men's Barber Shop | Mens Barber Shop Near Me | Barber Near Me | Best Barbers in NYC | Best Barbers NYC | Master Barbers NYC | NYC Barbers | Midtown Barbers | New York Barbers | Barbers in Manhattan | Barbers Manhattan | Best Barbers in Manhattan | Barbers in Rochester NYC | Astoria Barbers | Barbers Astoria | NY Barbers | Best Barber in Brooklyn | Brooklyn Barbers | Pall Mall Barbers NYC | Men's Haircut